We use GIFs and emojis now more than ever. We use a lot of social media platforms and instant messaging apps to chat and communicate with people. And our conversation tends to be incomplete without using an emoji or GIF. As you are just typing the message and sending it, the person on the other side won't be able to see your facial expression. This is where GIF keyboards help you.
Not all smartphones come with native support for GIFs on the keyboard. If you're using one such Android device, in which you do not have GIF support then this article is for you. Using a GIF keyboard will help you to type messages and at the same time send GIFs as well. The best part is that you will be able to directly send GIFs from the keyboard to different apps like WhatsApp, Facebook, messenger etc.
Almost all GIF keyboard apps for Android given below are free and can be downloaded from the Google Play Store. Just go through the list of best GIF keyboards for android, compare the features and install the one that you feel suits your needs better.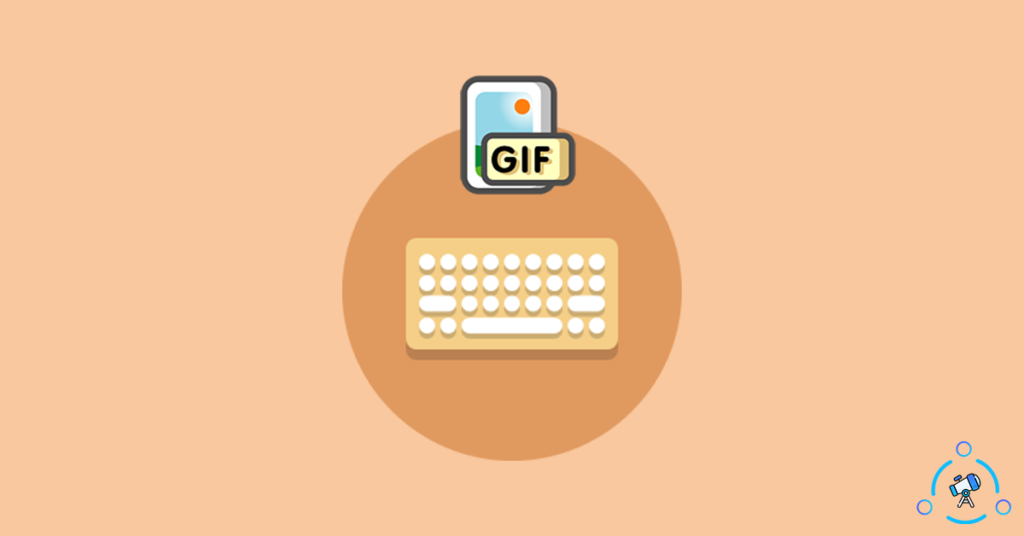 Also take a look at some emoji maker apps if you want to create customized emojis with your face and other elements.
10 Best GIF Keyboard for Android in 2023
Just click on the Get now link below every app to go to the Play Store to install the same.
1. GBoard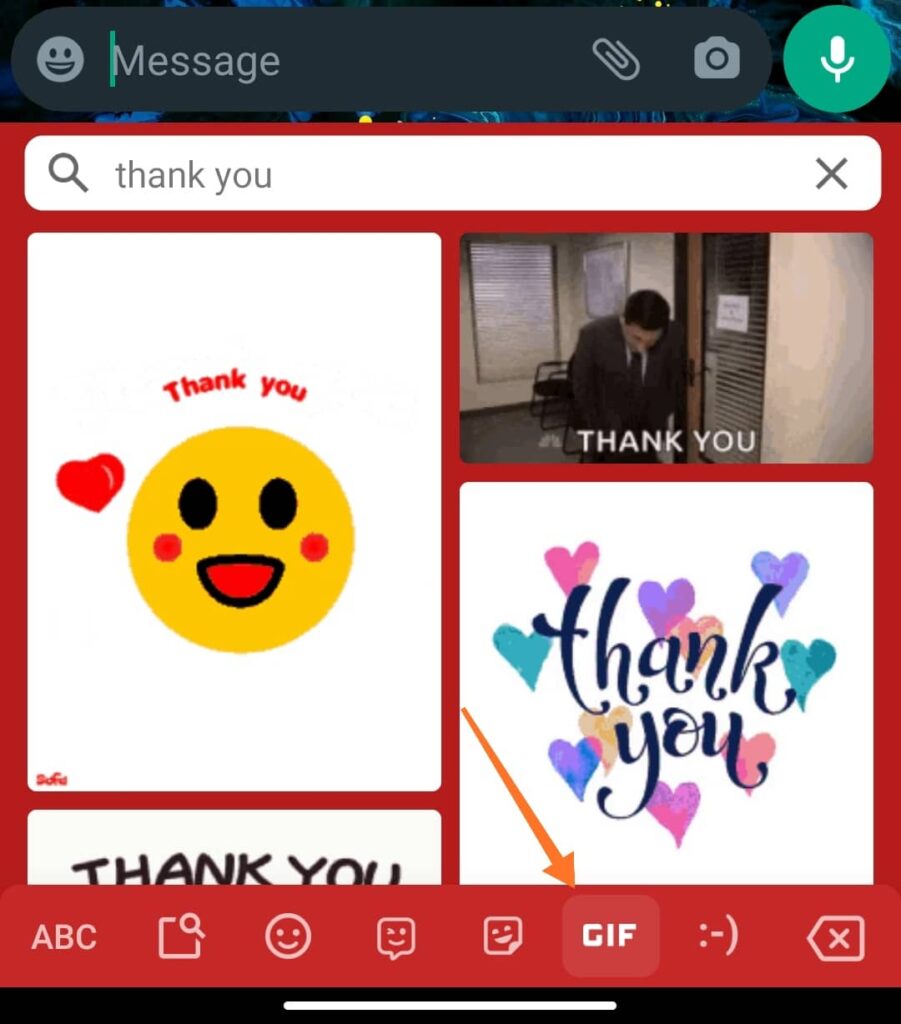 The first app on our list is the ever famous GBoard by Google. Chances are, the majority of you might already have GBoard installed on your device. Well, did you know that you can send GIFs using GBoard itself? In terms of features and customization options, Gboard is one of the best keyboard apps for Android. Since it also has GIF support, it is one of the best GIF keyboards for Android as well.
The AI-assisted prediction feature helps you to find relevant GIFs as you type for it. If you have no idea on accessing the gift section on the board then follow the steps given below:
Open GBoard
Tap on the G icon to reveal more option which inclues the GIF option too.
Tap on the GIF icon
Search for a term in the search box provided
Tap on any GIF from the search results to instantly send the same.
A lot of apps like WhatsApp support sending GIFs directly from GBoard. On the other hand, certain other apps like Instagram does not support this option. Instagram comes with a GIF section which can be accessed by tapping on the + button on the chat box. So make sure that the app that you're working on supports sending GIFs from other keyboards.
2. Fleksy Keyboard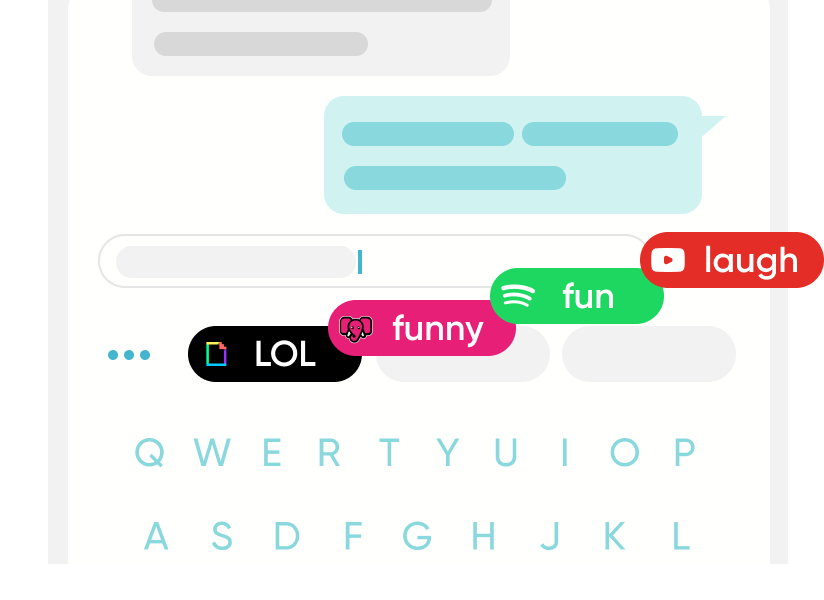 Fleksy Keyboard is yet another highly customizable GIF keyboard that you can use to send GIFs without having the need to use any other third-party app. This keyboard app comes with millions of free themes, tons of GIFs, stickers etc. A few highlighted features of Fleksy keyboard includes emoji suggestions, ability to resize keyboard, swipe to type glide typing, etc.
Millions of users all across the globe use Fleksy Keyboard for its immense customization opportunities. The dedicated theme section let you set any theme of your choice to change the entire look and feel of the keyboard on your Android device. And for the same reason, Fleksy Keyboard can be considered as one of the best keyboard apps for Android to use right now.
A lot of you might be already aware of GIPHY, the world's largest collection of GIFs and stickers. Fleksy pulls all the GIFs from GIPHY so you never run out of GIFs. Recently, SwiftKeyboard was acquired by Microsoft.
3. Microsoft SwiftKey Keyboard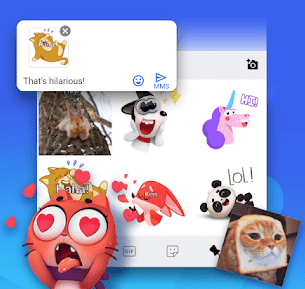 The Microsoft SwiftKey Keyboard is a popular keyboard app for Android. A lot of Xiaomi phones used to come with SwiftKeyboard pre-installed. Initially, I hated Swift Keyboard because it came as bloatware on my device. But later I realize that there are some features on SwiftKeyboard that a lot of users love. Super powerful text prediction and auto-correction are a few features to name. If you are someone likes me who would like to uninstall system apps and bloatware here's a guide on how to do the same.
Microsoft SwiftKey Keyboard comes with an extensive library of GIFs that you can use. Similar to the Fleksy keyboard, Microsoft SwiftKey Keyboard comes with GIF collections from GIPHY. As it is one of the biggest GIF repositories out there, you will find tons of GIFs for almost all search terms.
4. Facemoji Keyboard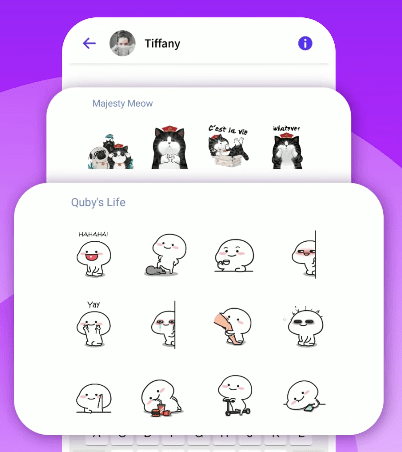 Facemoji is a keyboard for Android dedicated to emojis. But Facemoji Keyboard also contains tons of GIFs. The vast library of Facemoji Keyboard contains GIFs for just about any search term. Apart from GIFs, you can find tons of Emojis as well. When compared with other keyboard apps, the Facemoji keyboard for Android comes with huge collections of emojis and stickers. The app allows you to create custom stickers based on your face. All you have to do is just snap a selfie of yours and Facemoji Keyboard will turn it into beautiful face emoji stickers.
Just tap on the GIF icon from the options available to the bottom side. Tap on the search bar icon and search for any term of your choice. From the search results, tap on any GIF to instantly send the same. The whole process is as easy as that.
5. GIF Keyboard by Tenor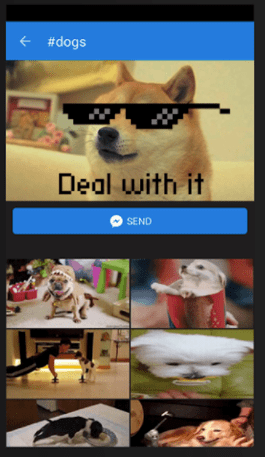 If you are looking for an exclusive GIF keyboard app for Android then GIF Keyboard by Tenor might be the one that you are looking for. Since it is a GIF exclusive keyboard, it does not come with alphanumeric buttons. All you can do is search for GIFs and use the same.
Tenor has a huge collection of GIFs from all categories. With the help of this keyboard, you can search and send any GIFs easily. Even after installing this app, only your default keyboard will show up when you want to type something. GIF Keyboard by Tenor will only be triggered when you want to send GIFs on your Android device.
Similar to GIPHY, Tenor is one of the world's largest GIF websites out there. You can find tons of GIFs for any given keyboard. Tenor also lets you upload your own GIFs as well. How cool, right?
6. iKeyboard
If you are looking for a keyboard with vereity of options like GIFs, stickers, emojis, all in one place then iKeyboard got you covered. With over 5000 plus themes to customize the looks of your Android keyboard, iKeyboard comes with immense customizational options. Not just that, you also have the option to change the keyboard color, font, key press sound and a lot more.
The built in GIFs option makes it a good GIF keyboard for Android. Simply tap on the GIF icon to reveal the search option. Find the GIF that you are looking for and send it in a conversation easily. Lastly, the keyboard suppports over 150+ languages and a vareity of keyboard layouts too.
7. Kika Keyboard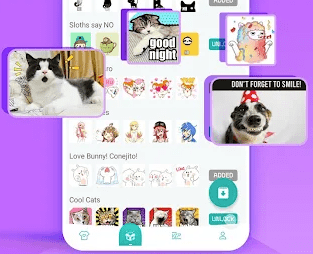 Kika Keybord app for Android comes with a lot of emoji, sticker and GIF related option making it one of the best GIF Keyboard for Android. If you are someone who uses a lot of reactions like GIFs and emojis then Kika Keyboard got you covered. Kika Keyboard comes with a plethora of different GIFs, stickers and emojis to spice up your conversation. You can directly send any of these GIFs to supported apps.
Furthermore, Kika Keyboard also offers cool customization of options. Starting from 60 well designed keyboard layout, different themes. You get everything that you want in a keyboard. Kika keyboard can be considered as an all in one solution that includes the regular alphanumeric keyboard and GIF keyboard.
8. GO Keyboard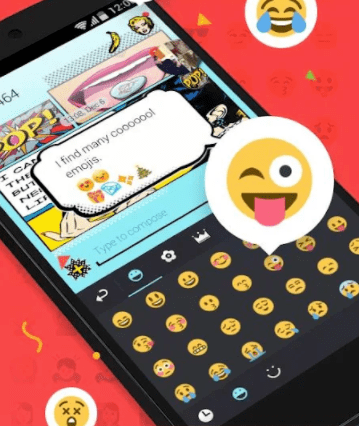 With over 10 million installations, GO Keyboard is a pretty popular GIF keyboard app for Android that lets you send GIFs, emojis and stickers. Apart from these reaction items, GO Keyboard is also a powerful alphanumeric keyboard as well. Just tap on the GIF icon from the top panel and search for any GIF of your choice and instantly send the same. The newly introduced your avatar emoji option lets you create emojis based on your face. The GIF icon is readily visible on the top bar always, so it is super easy to access it every time you want to send a GIF using the GO Keyboard app.
GO Keyboard offers customization options as well. The keyboard comes with 10,000+ colorful themes, 1000+ emojis, 800+ emocotions, 100+ fonts and supports more than 60 languages.
9. Bobble Indic Keyboard – Stickers, Fonts & Themes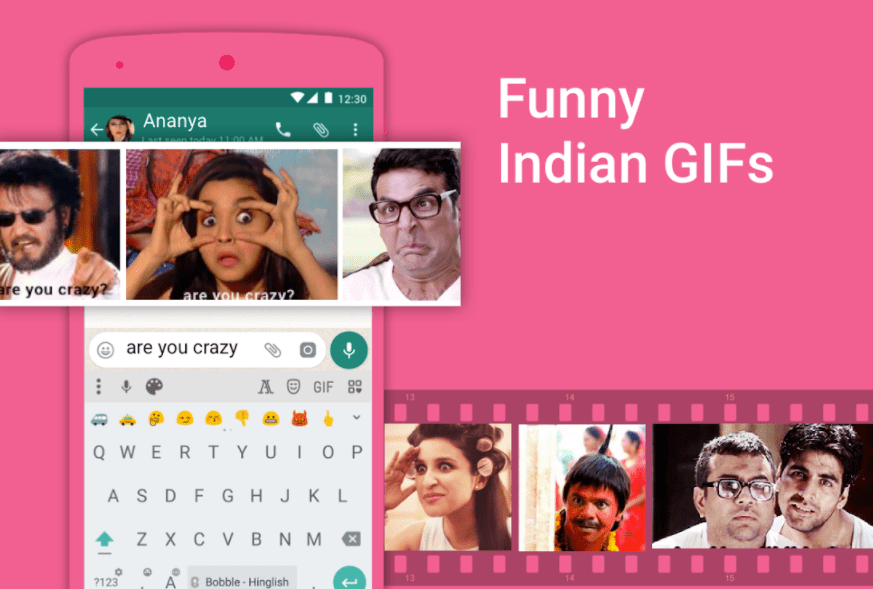 Bobble claims to be worlds 1st social keyboard out there. There are some interesting options and features that makes your every day conversation using Bobble fun and interesting. Apart from the regular keyboard, you get tons of other features like POP Text, YouMoji, BigMoji, stickers, GIFs, Fonts, Themes, etc. Since Bobble comes with support for GIFs, it makes it a good GIF keyboard for Android.
Not just GIFs, Bobble supports a number of different reactions items like emojis, pop text, Youmoji, BigMoji, etc. All these helps you in conveying your reaction and expression to the other person. If you want to spice up your conversation with a lot of fun related multimedia stuff then make sure to check out Bobble.
10. Xploree AI Keyboard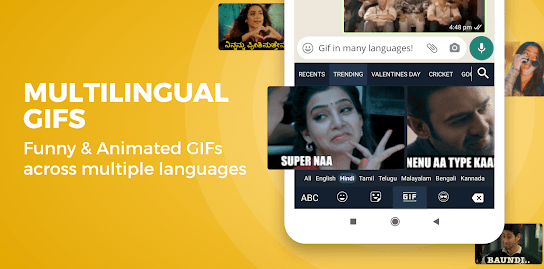 Xploree AI Keyboard is a cool GIF keyboard for Android. This keyboard app is known for multilingual typing, themes, GIFs & Stickers in Indic languages, cute emojis. What makes it's addition to this list is the GIF support. If you are in search of a keyboard to send GIFs on Android then Xploree AI Keyboard is something you need to consider.
The GIF library of Xploree AI Keyboard comes with lots of different GIFs that you can directly send on any supported apps. Definitely checkout Xploree AI Keyboard on the Google Play Store.
Best Keyboard Apps to Send GIFs in Android
These are some of the best GIF keyboard apps for Android. All apps mentioned in this list is completely free to use. Just go through the list, find the one that fits your need and finally, install the same from Google Play Store.