If you are a MacBook user, you know the pain of connecting external devices like SSD, HDD, Pendrive, SD Card, etc.
MacBook Air and MacBook Pro versions only come with USB C ports. In MacBook Air, we no longer even have a card slot.
But worry not. Let's look at OneOdio MacBook USB Hub.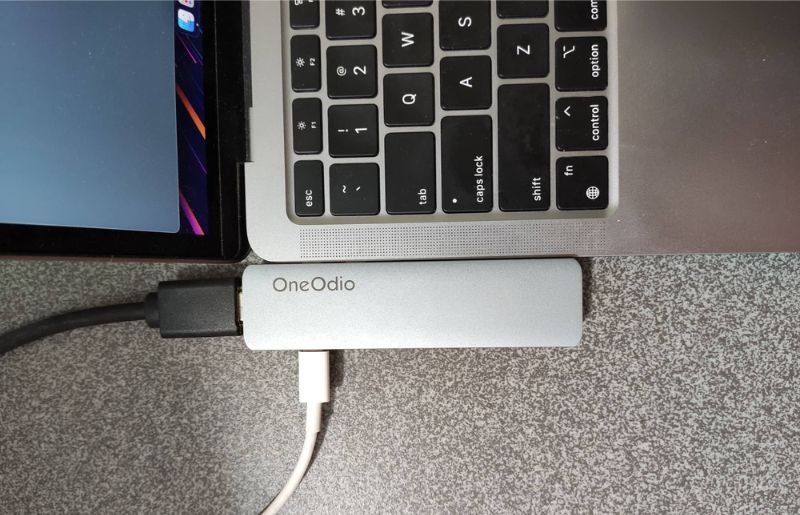 It's a sleek USB hub for MacBook that comes with two USB 3.0 ports, a thunderbolt port, an HDMI port, a USB type-C port, and a TF/SD Card reader.
7 in 2 OneOdio MacBook USB Hub
Design and Build
The design of the USB hub is something that needs to be talked about. The hub does not have a wire. It snugs well to the side of your MacBook.
Remember, the hub uses both the USB C ports of your MacBook to work, hence 7 in 2.
The build quality of the USB hub is exceptional. For the price range at which it is available, the premium and rigid design of the hub makes it well worth it.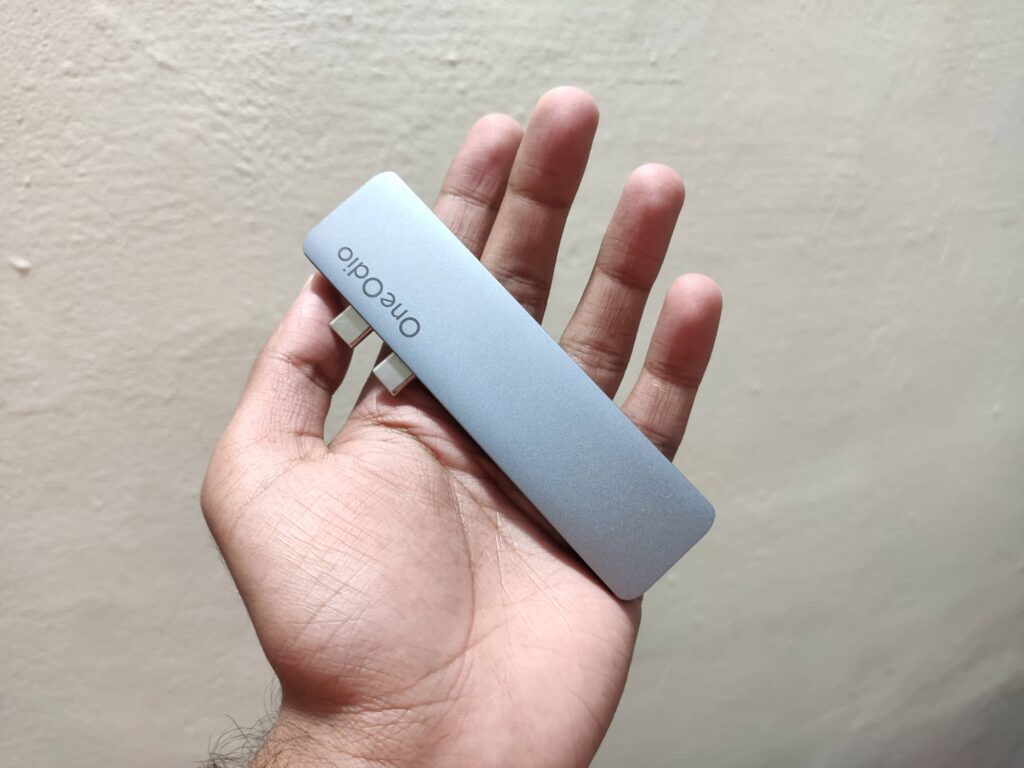 The hub weighs about 40 grams, and the dimensions are 13 x 5.6 x 1.4cm. The thickness of the hub is about 14mm, slightly thicker than the MacBook Air but it goes perfectly well with it without any issue.
All the ports are well arranged and easily accessible. The location of the HDMI port is well thought out.
The HDMI port on the hub is placed towards the backside, which will help you organize cables well.
At the hub's top, we have OneOdio branding, which is nothing else.
The compact design of the USB hub finally lets you say bye to all the bulky dongles you would otherwise have to use.
The hub comes in a space grey color, which will suit your space grey MacBook well.
Ports and Specs
As mentioned earlier, it is a 7-in-2 USB hub for Macbooks.
It utilizes both the USB C port on your MacBook.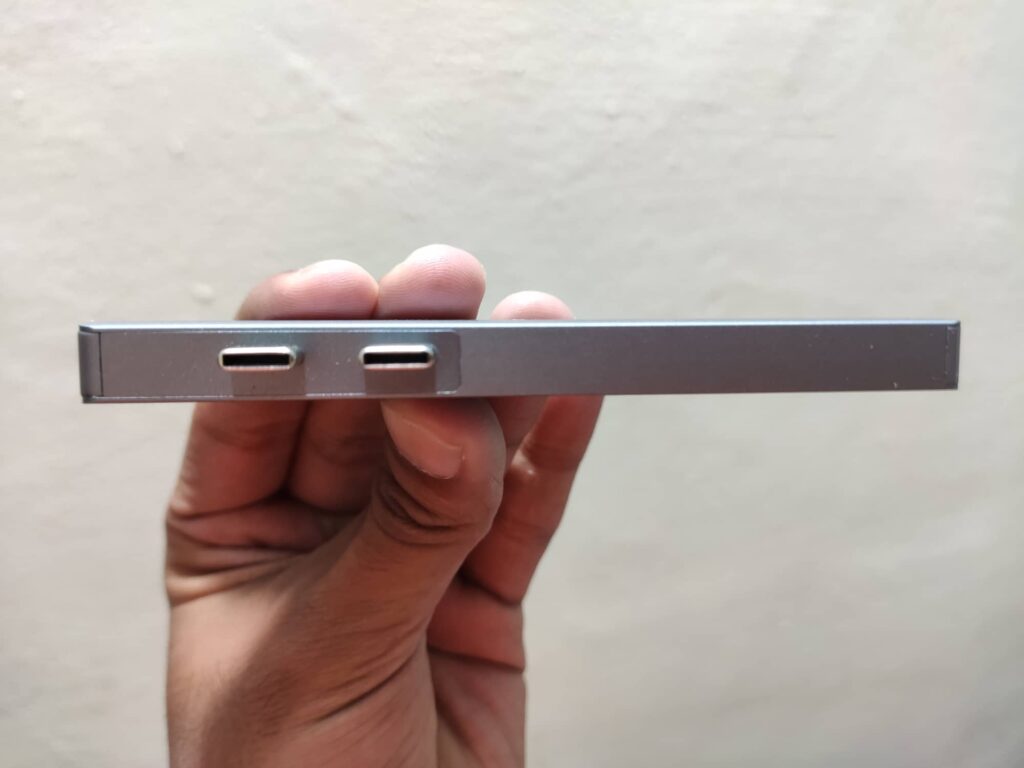 But don't worry. It has a pass-through charging port that you can use to charge your MacBook without any drop in charging speed.
Let's quickly look at the seven ports on this USB hub.
1x HDMI port
2x USB 3.0 port
1x USB C port (Pass through charging)
1x thunderbolt port
1x SD Card reader
1x Micro SD Card reader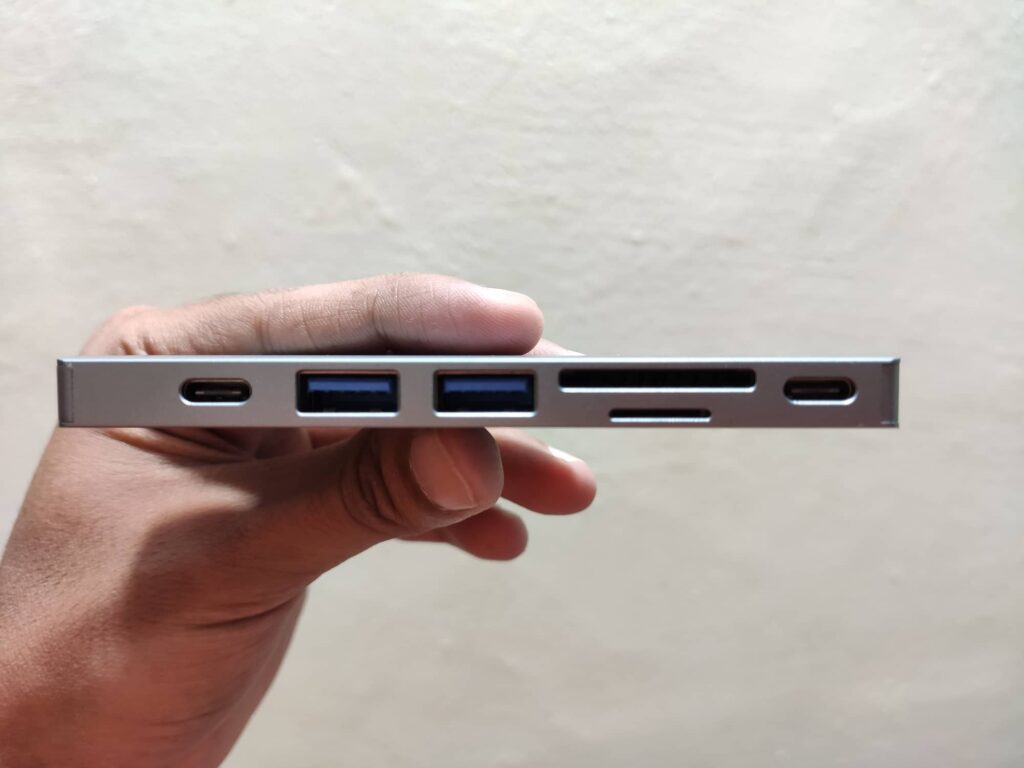 You can charge and use your Macbook simultaneously without any issues.
The pass-through charging port on the hub lets you charge your MacBook Pro up to 61W for 13-inch models and 87W for 15-inch models.
The USB 3.0 ports support high-speed data transfer of up to 5Gbps. You can connect your smartphone, storage devices, or wired peripheral devices like a mouse or keyboard.
Support
The 7 in 2 OneOdio USB hub supports the following MacBooks:
MacBook Air 2018/2019/2020
MacBook Pro 13"/15" 2016 / 2017 / 2018/ 2019 / 2020
I use it with my 2020 M1 MacBook Air, which works without hassle.
My Experience
I always use the HDMI port to connect my MacBook Air to an external Samsung monitor. I have never faced any issue with the hub to date.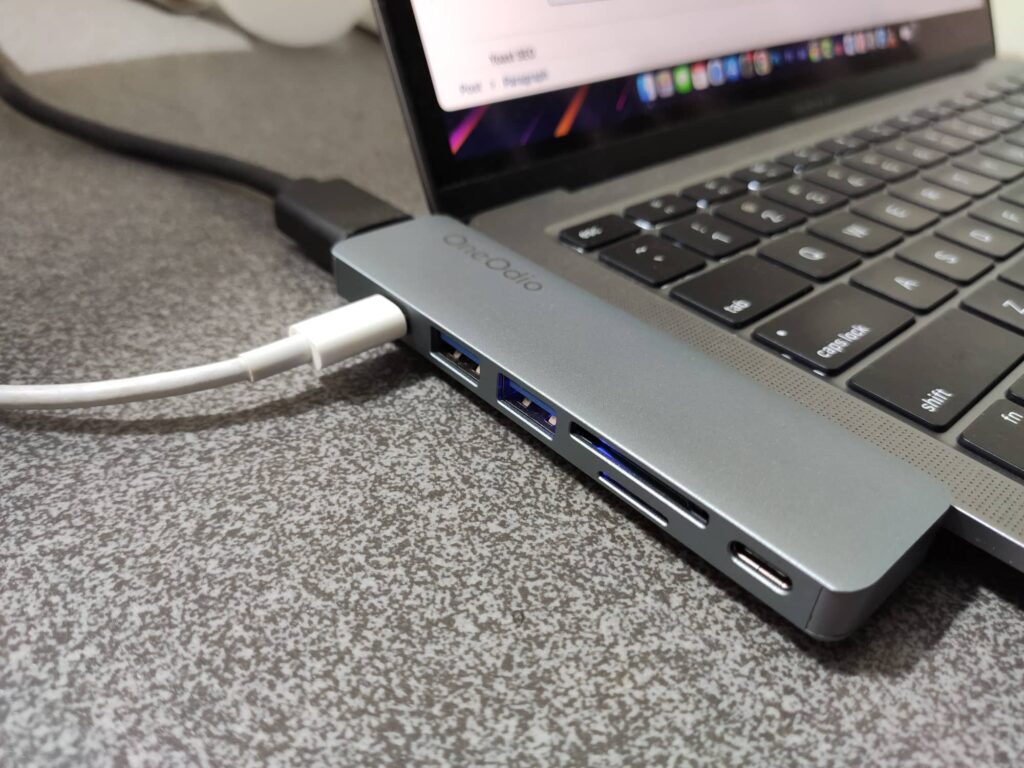 The read and write speeds of the USB 3.0 ports are also great. Although I don't use it much often, it works as promised.
The compact and rigid design makes the hub well suited for my MacBook Air. Design-wise, I like it.
Availability
You can purchase the USB hub from Amazon, which costs around $29.
You can check the current price using the link given below.
Conclusion
The 7-in-2 OneOdio Hub is a fantastic USB hub for your MacBook in terms of looks and functionalities. I mainly use it to connect my monitor to my MacBook Air, which works without hiccups.
Go check out the OneOdio USB hub now.