If you are looking for one of the best online PDF toolkits with all the essential PDF tools you'll ever need, look no further than PDFLiner.
PDFLiner is an all-in-one PDF toolkit with some handy tools to make our lives easier.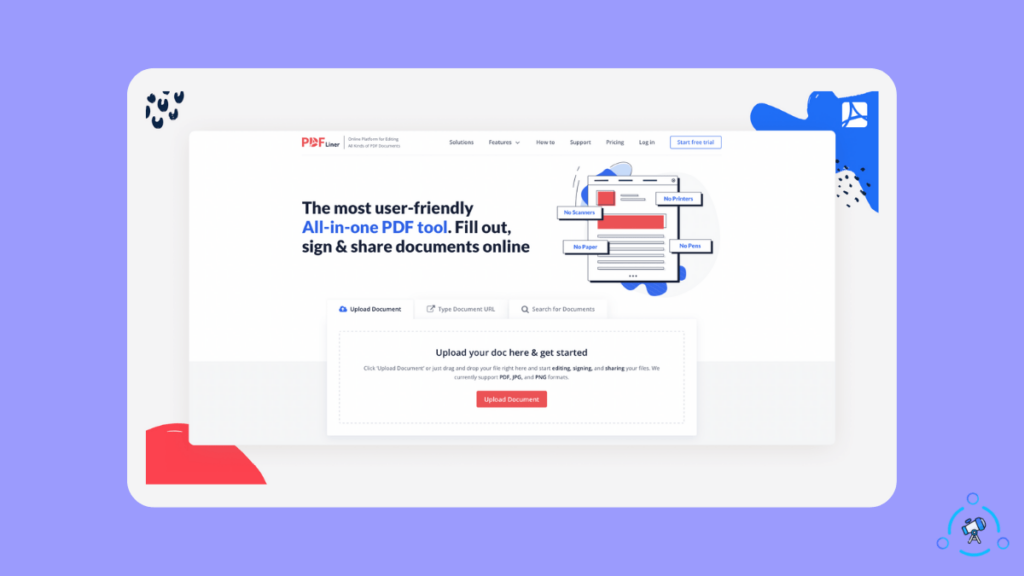 Gone are the days when we used to download software to our computer to create and edit PDF files. With the help of online web tools like PDFLiner, editing, signing, and filling a PDF file has become easier than ever.
What is PDFLiner?
PDFLiner is a simple-to-use online PDF tool with several features like the ability to sign PDF forms online, edit PDF files and even fill PDF documents.
And best of all, you don't need to download any software or app to your computer. PDFLiner is a web-based tool meaning that you don't need to download anything to get started.
Now that you know the basics of PDFLiner let's look at some highlighted features.
Highlighted Features of PDFLiner
Below are some of the features of PDFLiner that you can use immediately.
Create PDF Files
The good news is that you no longer need to download any software to create PDF files on your device. PDFLiner will help you to make PDF files right from your web browser.
You can copy-paste texts, upload images, add annotations, and more.
Edit PDF
Have you ever been in a situation where you need to edit a PDF file to make some minor changes? PDFLiner got you covered. With the editing option built into PDFLiner, it is now easier to edit a PDF file. All you have to do is upload the PDF file, use the web interface to make necessary changes, and download it back to your device.
Fill PDF Forms
The PDF form filling option lets you fill any fields in a PDF file. You might use it more often when filling in tax documents such as W9. You can use your web browser to fill out PDF forms using PDFLiner.
Convert PDF Files
The convert option in PDF liner helps you to convert your PDF document into a GPG image file.
Other notable features include:
Lock PDF – lets you password protect a PDF document. Whenever someone tries to read the content in a PDF document, they will be asked to enter the password, only after which they can open it.
Draw on PDF – want to do some important markings or free drawing on a PDF file? PDFLiner got you covered.
How To Use PDFLiner?
Now let's see how to use PDFliner to fill a form quickly.
Step 1: Open PDFLiner, and you'll find a section where it asks you to upload your PDF file.
You have a couple of options to add PDF files to PDFLiner.
Upload the document directly from your computer
Enter the PDF document URL to import it directly to PDFLiner
Search for documents on PDFLiner's database. (Use this option to find the most commonly used forms such as W-9, Ucla W9, etc.)
Step 2: Click on the upload button and add the file. You can also drag and drop the PDF file as well.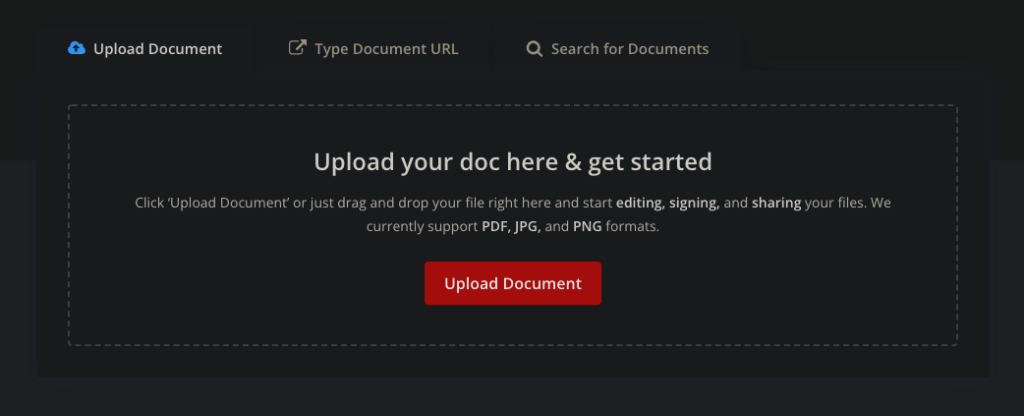 Wait for a couple of seconds to upload the file to PDFLiner.
Step 3: Once the online PDF editor is loaded, you may use any tools and make necessary changes to your document.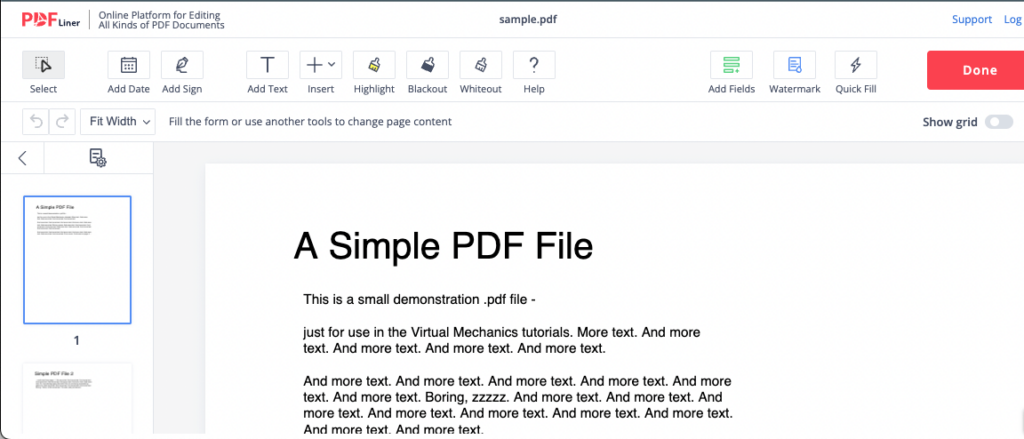 Below are some of the tools that are available in PDFLiner
Text
Highlight
Blackout
Whiteout
Add sign
Add date
Add watermark
Add field
Play with the tools and edit the PDF document in the required way. If you select the text option, you can further customize the text's various aspects, including font, size, color, attributes, and more.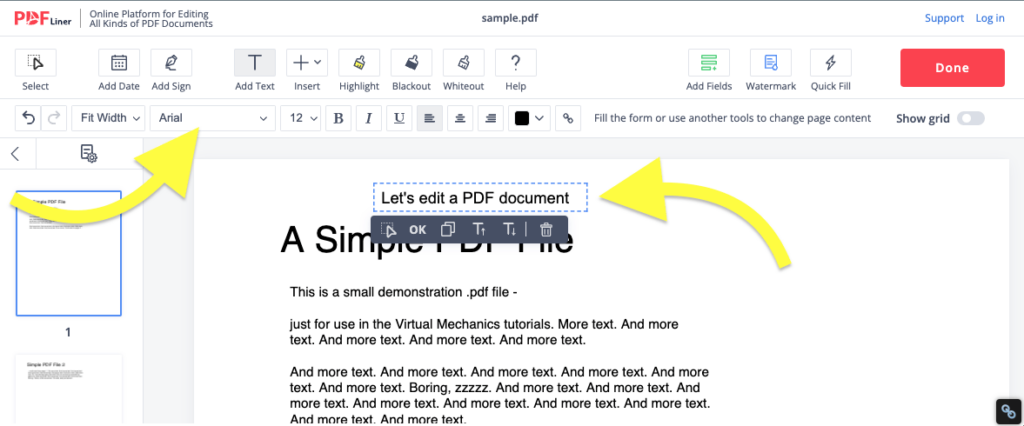 Step 4: Click the Done button from the top right corner.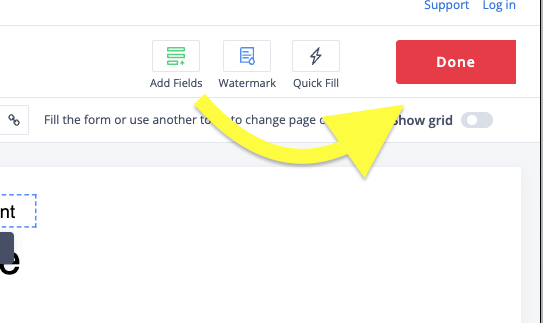 Now a popup will appear asking you to save the document.
Share the document, send it as an email, save PDF or JPG, print file, etc., are a few options to save the PDF file.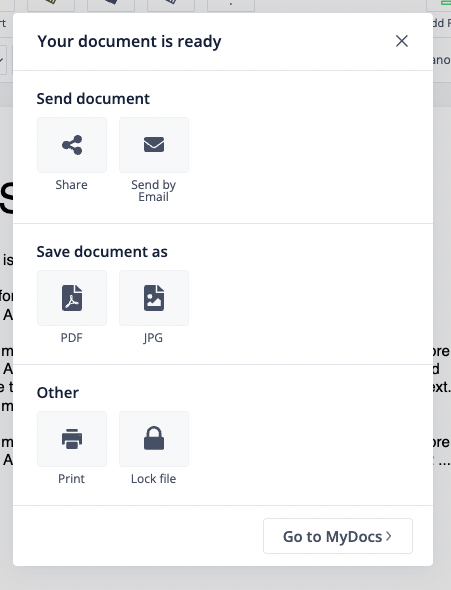 That's it. We have successfully edited and downloaded a PDF file using PDFLiner online tool.
You can even download webpages as PDF files and then import them to PDFLiner to make further edits.
PDFLiner Pricing
Although PDFLiner allows you to do basic stuff like editing PDFs for free, to unlock the app's true potential, consider subscribing to one of their premium plans.
Basic – $9/month
Pro – $19/month
Premium – $29/month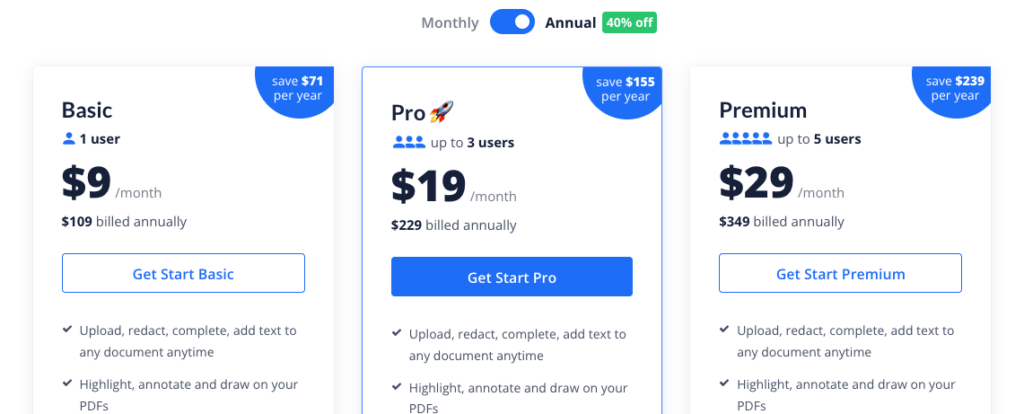 Both monthly and annual plans are available. If you plan to use PDFLiner for a more extended period, consider subscribing to the yearly plan, as it will help you save about 40%.
Wrap Up
PDFLiner is undoubtedly an excellent PDF toolkit that will help you with your day-to-day PDF handling activities. I will suggest you use PDFLiner if you are someone who plays with a lot of PDF files regularly.