In terms of features, Internet Download Manager (IDM) can be considered one of the industry's best download managers. IDM is undoubtedly the most used and popular download manager out there. But often, a lot of people face issues relating to broken download links.
Think about it, you might be downloading a huge file of around 25GB. When it is almost about to complete, let's say 95%, all of a sudden, the download fails. It can be so frustrating, and you might think you need to start the download all over again. Well, in this article, you will find a nifty trick to resume broken or expired downloads in IDM in less than 10 seconds.
I was downloading the Windows 11 ISO last day, and the download failed in 72%. The download link expired, and for the same reason, I could not resume the download. After doing some research, I learned about a cool trick that will help us resume expired downloads in Internet Download Manager or IDM. It might work with other IDM alternatives as well.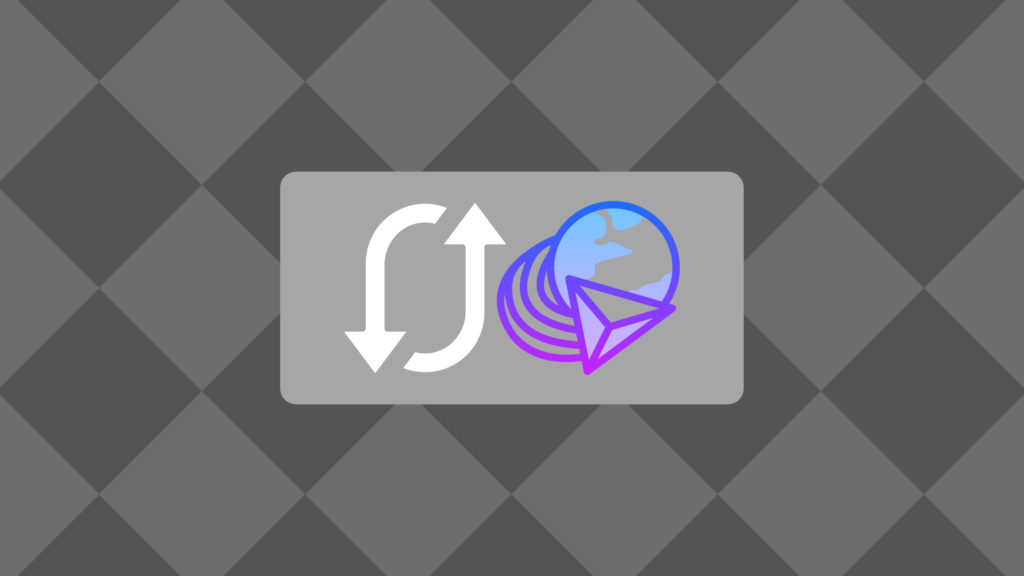 Why Download Link Expires?
Before going in, you need to understand something. It's not IDM's fault when you face issues with downloading files, like the download link getting expired. It happens because the link from the host from where you are downloading the file got expired.
As mentioned earlier, while downloading the ISO file of Windows from Microsoft's website, the download link will be only active for 24 hours. This means, once you generate a download link, it will expire within the next 24 hours. So, you have to make sure that you download the file before 24 hours to complete it successfully. Depending on the website, the time limit might change. Some websites might have 4 hours time limit to download the file, while others will have 8 hours or even a couple of days.
Now that you know why the download link expires and how it is not the fault of IDM let's see how to fix the issue.
Download Failed in IDM
This is how the error might appear in Interent Download Manager or IDM when you try to resume a broken/expired or corrupted download.
The error message says – Error connecting. No such host is known. The name is not an official hostname or aliad, or it cannot be found on the database(s) being queried.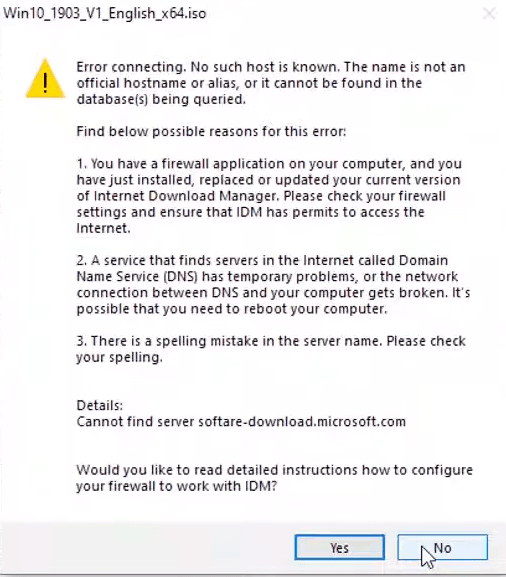 How to Resume Broken/Expired Downloads in Internet Download Manager
Follow the step-by-step guide mentioned below to resume any corrupted downloads in IDM instantly.
Step 1: First of all, open IDM and select the download that is corrupted.
Step 2: Open a web browser and go to the page from where you downloaded the file. You need to generate a new download link for the same file to resume it.
For example, I revisited Microsoft's website and generated the download link again in my case. After that, I right-click on the generated download link and copy the link address.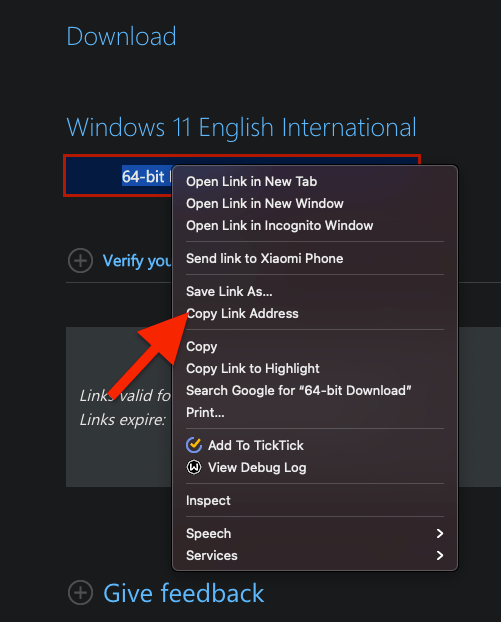 Step 3: Once copied, head back to IDM and double-click on the file from the list of downloads.
Step 4: Now, a File Properties popup box will appear. Here, you will find a field called Address.
All you have to do is just select the URL inside the Address field and delete it. Once deleted, paste the download link we copied earlier.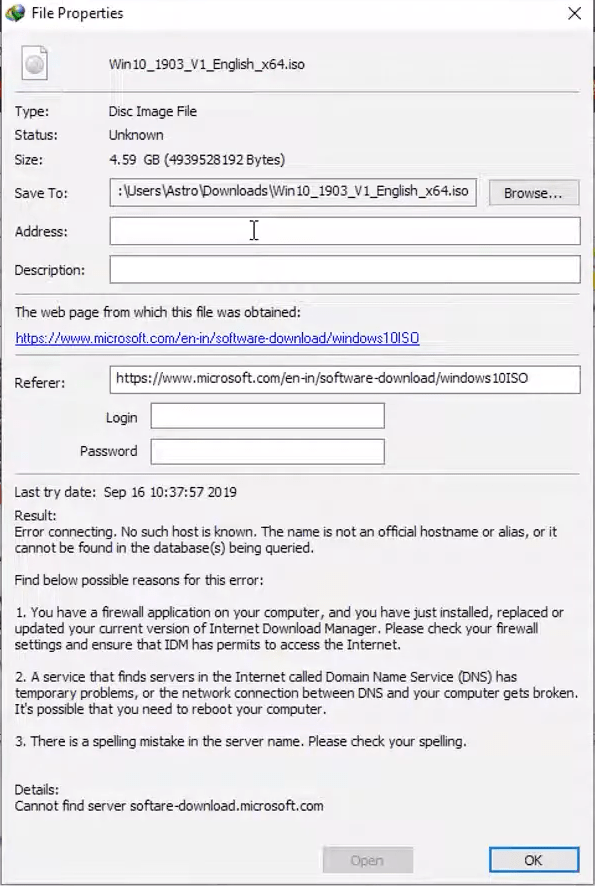 Step 5: Now click on the OK button
Try to resume the download now, and it should work without any issue.
After resuming the download, if you are facing issues with download speeds, here are some methods to increase IDM download speed.
Frequently Asked Questions
Here are some frequently asked questions about resuming a failed download in IDM.
Is it possible to resume the download if we can't generate the link again?
No. You will need to replace the expired link with new link in order to resume the download.
After updating the link, the download started from the beginning?
At times, even after replacing the download link, the download might start from the very beginning. In this case, there is nothing much we can do about it. The issue exists in certain websites.
Resume Corrupted Downloads in IDM
It is easy to resume any broken or corrupted downloads in Internet Download Manager or IDM. It is very frustrating to see this happen when we are downloading huge files. So, next time onwards, if a download fails in IDM or Internet Download Manager, follow the steps given above, and you are all good to go.
If you are someone who uses IDM extensively then here are some guides that might of use to you:
How To Download Torrent File With IDM