If you want to take your Discord server to the next level, you can use Soundboard Apps for Discord. Soundboards let you add custom sounds, special effects, etc to your voice or video call and make it better and engaging.
Discord is way too popular among gamers and they use the same for text-based communication as well as voice/video calls as well. It will be boring to hear the same narrative over and over again. If you were giving a commentary, how about adding some special sound effects to make it fun or serious according to the mood.
Well, that's exactly where Soundboards for Discord comes into play. Finding a good Soundboard app might take a lot of time that's why I have compiled the list of top Soundboard Apps for Discord to use right now. You will also find how to use a soundboard on discord in this article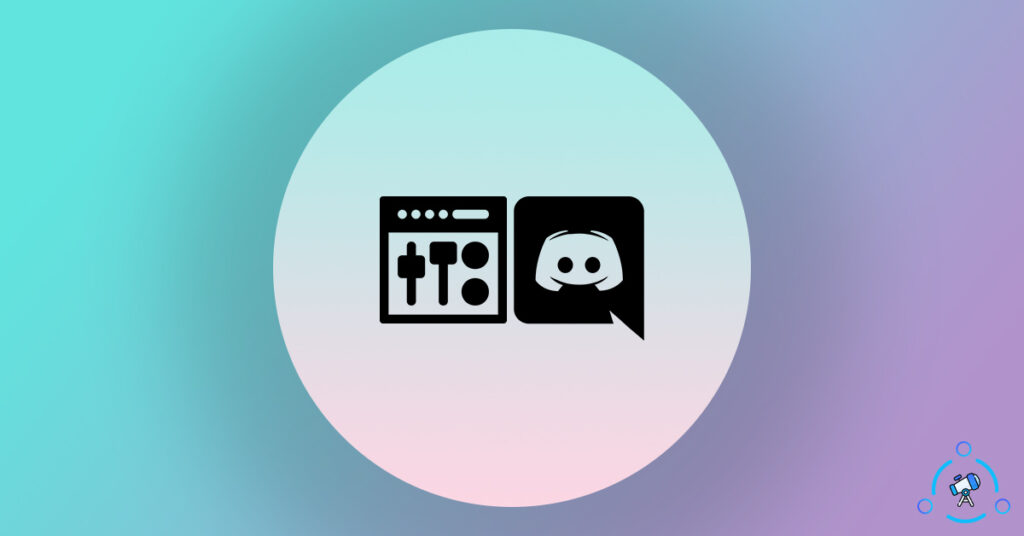 Before going in before you are not already aware of Soundboards and it's uses, let's go through it first.
What is Soundbaord for Discord?
Let's suppose that you are speaking something on a voice channel. How about adding some laughing sound effect when you tell something funny? Or perhaps you and your friends are playing some game and are connected via Discord. During an intense match, you and your team failed, this time, you can add a crying/sad sound effect to spice up things or introduce a sense of humor.
For this, we can use software called Soundboard. Basically, this software lets you pick some sounds and assign a hotkey for the same. Every time you press the hotkey, that particular sound effect will play. You can mix and match and create some combinations or create a sequence for the sound to play.
This is where Soundboard apps for Discord come into play and help you in adding some special sound effects easily using some hotkeys. If you want to modify your sound in real-time, you may try some voice changers for Discord as well.
Best Soundboard for Discord to use
As mentioned earlier, there are tons of software out there. If you do a simple Google search for the same then you will find a lot of paid, free as well as Discord Bots solutions for the purpose. So, let's take a look at the list.
Update: I have added Discord Soundboards for Android as well. Refer to the bottom section of the article.
1. Resanance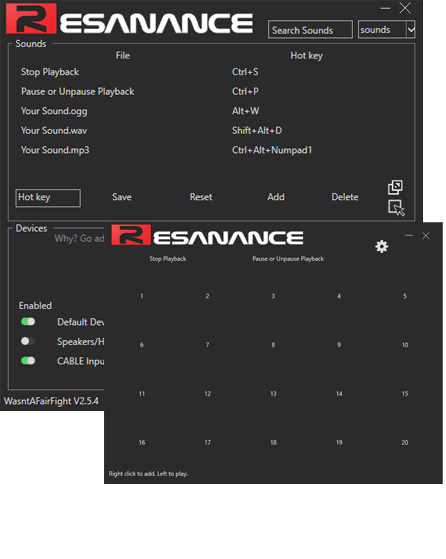 Resanance is the most popular soundboard for Discord. It is one of the oldest software for adding special sound effects and assigning hotkeys to access them real quick. Resanance is free software that you can download on your computer and use along with Discord. This software is originally developed for Discord but does support other programs as well.
There are tons of features and other options that make Resanance go-to choice for many DIscord users and people looking for soundboard software in general.
Once installed, you can add your sound effects or songs to the software and assign a hotkey to instantly play them as well. Once added, clicking on the hotkey will instantly play the sound. You have the option to select the audio input device as well. This comes in handy if you have multiple input devices connected to the computer.
Highlighted Features:
Support a wide-variety of audio formats
Set output to multiple audio output devices at a time
Add sound and assign hotkeys easily
Option to create a button deck
2. Soundpad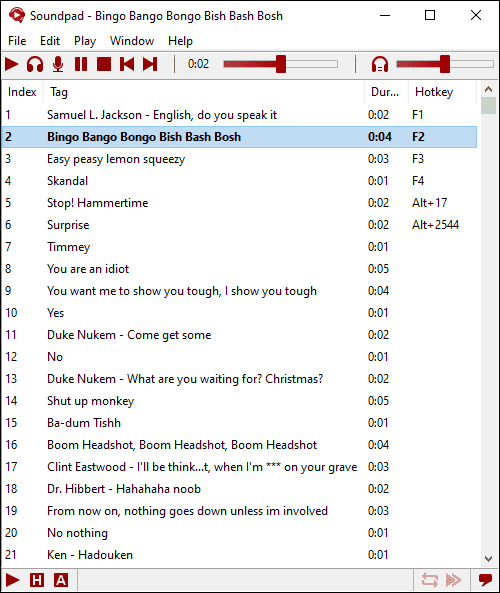 Soundpad is not just limited to Discord. Soundpad is a great soundboard for many other software and programs including Discord, Skype, Games, etc. You have the option to select multiple audio outputs as well. Soundpad is a lightweight and fast software that you can use to add sound effects to pretty much anything.
After the installation is done, you can add any number of sounds to Soundpad. For quick access, you can also assign some hotkeys as well. Clicking the hotkey will instantly play the sound and sent the output through the desires output medium as well. You can download songs in MP3 or other formats and then assign that folder to the software.
The built-in volume normalization option will make sure that all the sound being played through the software is equalized properly with the same volume level. The built-in sound recorder will help you to record audio in real-time and edit them using the editor, too.
Highlighted Features:
Volume Normalization feature
Come with a built-in recorder and editor
Light weight software
Assign hotkeys for quick access
Works with multiple voice-related applications like PUBG, Teamspeak, Skype, DOTA 2, and more
3. Voicemod
Whether you are a serious gamer, streamer, or a regular user, Voicemod Soundboard got you covered. Voicemods is one such feature-rich soundboard that you can use to add custom sound effects to spice up the gameplay or conversation itself.
One thing I liked a lot about the Voicemod soundboard is the built-in sound effects library. It already contains tons of sound effects that you can use straight away. Furthermore, new sound effects are being added every single month as well.
You can add and customize your own custom sound effects, too. Voicemod soundboard works perfectly with a lot of games like PUBG, Fortnite, CS GO, etc, and software and web applications like Discord, Steam, OBS, Streamlabs, etc as well.
You can download the free version of Voicemod soundboard and try it on your computer.
Highlighted Features:
Built-in sound effects library
New sound effects added every month
Works well with both games as well as applications
Use custom sound effects
4. EXP Soundboard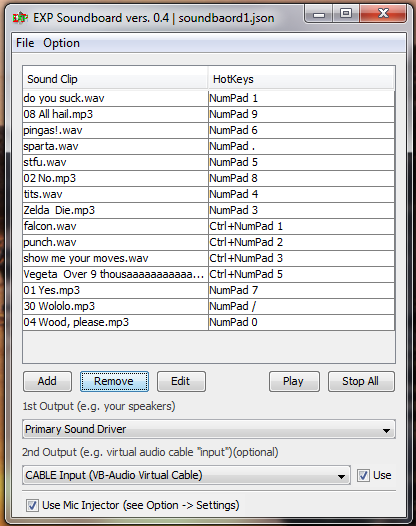 If you are looking for a simple soundboard for Discord that gets the job done and no other special features then this is probably what you are looking it. When compared with others like Voicemod Soundboard, the features are basic but get the job done.
The UI of the software is very simple and you wouldn't struggle to find an option. You can directly add all the sound effects and then assign a hotkey as well. To edit or change the hotkey, you can click on the existing hotkey and set another one.
The built-in converter will help you to convert any audio in an unsupported format to a supported one easily. It also includes Mic Injector to route sound effects from the mic to the virtual audio cable as well.
Highlighted Features:
Built-in converter to convert audio into compatible format
Built-in Mic Injector
Simple and easy interface
The most basic Soundboard app
5. Mixere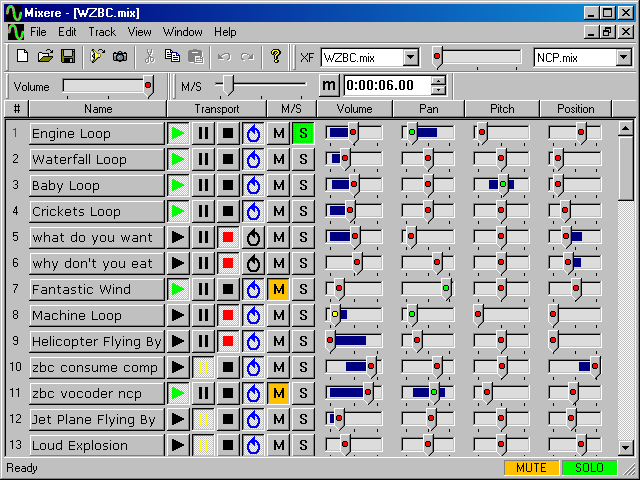 Mixere is software that can be considered as a Soundboard too. The original purpose of the software is for real-time audio playback and a little bit of mixing, as the name already suggests. The interface of Mixere looks too old and can be tricky for some users out there. The biggest problem is the fact it does not have a hotkeys option.
If you are looking for a Soundboard for Discord with hotkeys support then you might want to look elsewhere. You can add any number of soundtracks and get started with it. One feature that I like is that you can adjust various controls of individual tracks like Volume level, Pan, Pitch, and Position.
Dynamic looping and auto-triggering are yet another two useful features on the soundboard app for Discord. Also do keep in mind that you need a virtual audio device to sent the output to Discord as there is no option to do it directly.
Highlighted Features:
More controls over Individual tracks
Dynamic looping
Basic equalizer controls
6. JN Soundboard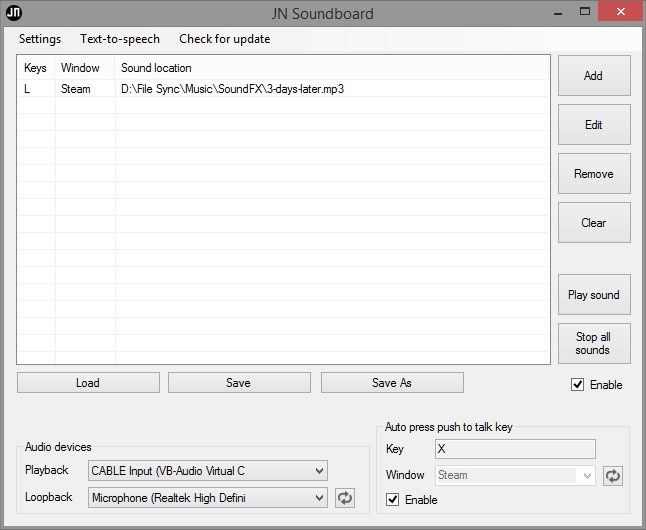 If you are looking for open-source soundboard software then JN Soundboard is what you are looking for. JN Soundboard is a simple software made using C# language. The only problem is that it is not cross-platform supported. But when compared with soundboards like EXP Soundboard, it comes with more features.
JN Soundboard app supports MP3, WMA, WAV, M4A, and AC3 audio files. The built-in text to speech option will let you read out specified text through the output channel. Auto press push-to-talk key when playing sound is also available.
All settings including hotkeys can be exported as an XML file for later use. JN Soundboard is a simple, lightweight, and open-source soundboard if you are looking for one.
Highlighted Feautres:
Support MP3, WAV, WMA, M4A, and AC3 audio files directly
Text to speech option available
Export hotkeys and settings as an XML file
Open-source and FREE
7. Jingle Palette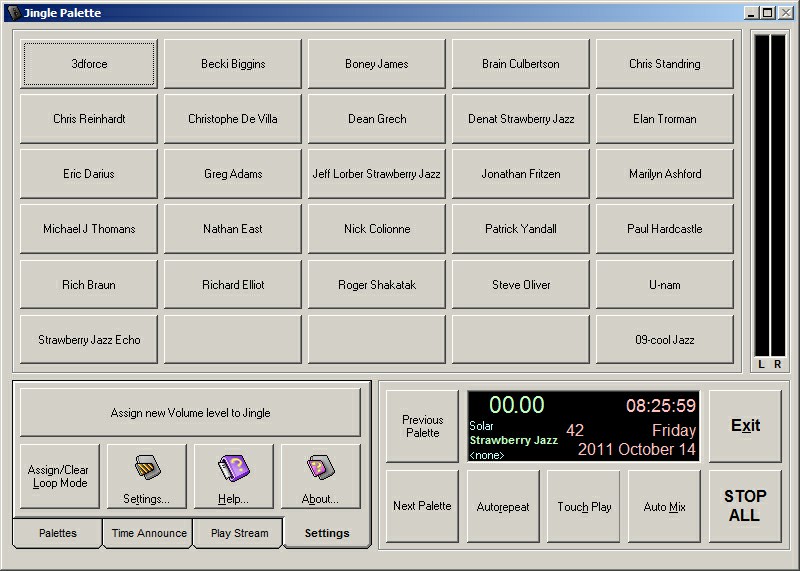 Originally designed for broadcast studios, Jingle Palette works with other software like Discord, too. You can easily play audio files of different formats including MP3, MP2, MP1, MPA, OGG, and WAV audio files or streams easily.
Each item on the software is called Jingle. You can customize and set various things for each individual jingle. It includes some features like Manual and Automixing, Autorepeating, Touch Play functions. Furthermore, Individual Volume and Loop settings for each jingle are also available.
It also shows you a warning when the playback is nearing the end so that you can add another track or loop it once again. It also works well with touch screen devices as well.
Highlighted Features:
Supports MP3, MP2, MP1, MPA, OGG, and WAV audio files and streams
Touch screen compatible graphical interface
Manual and Automixing
Looping function
8. Podcast Soundboard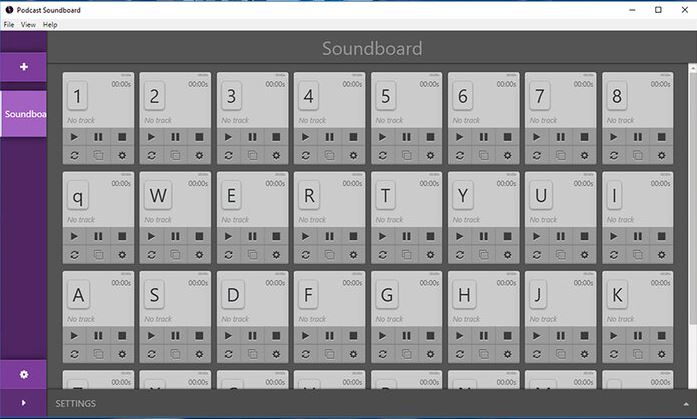 Podcast Soundboard is a multiplatform soundboard app available for Windows, macOS, and iOS. As the name itself indicated, it is originally made for adding and mixing sound effects for podcasts. But it does work well with Discord and for the very own reason, it can be considered as a Soundboard for Discord.
Do note that this multi-platform soundboard is a paid software and comes at around $12.99. Majority of soundboard apps are only available for Windows, but it is available for macOS and iOS as well.
The user interface of the soundboard is nice as well. Using it is easy and straightforward as well. MIDI support, Duck button, Responsive UI, Loop, and Multi-shot, etc are some highlighted features of the software
Highlighted Features:
Supports MP3, WAV, M4A, WEBM, OGG, FLAC
Available for Windows, macOS, and iOS
MIDI Support
Duck Button
Loop and Multi-shot
Basic editing controls
9. Clownfish Voice Changer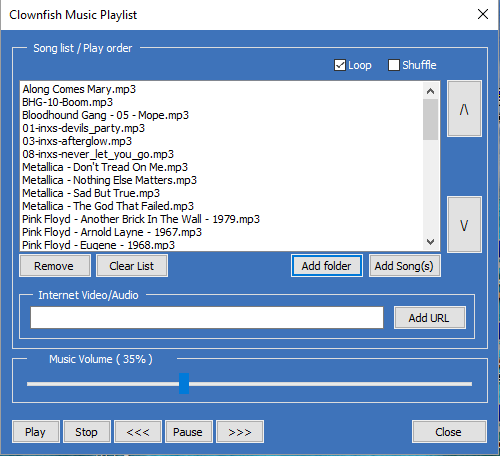 We had already covered Clownfish on our Voice changer for discord article. If you are looking for a soundboard that can change your voice in real-time then Clownfish is something you should check out. After installing Clownfish on your computer, select the preferred output device and you are done.
Whatever modifications are done in the Clownfish will be sent through the output. The TTS feature on the software lets you easily convert text into speech and use it as well.
In the song list section, you can arrange all your custom sound effects and play them. There are commands to play, stop, pause, next track, etc.
Highlighted Features:
Change your voice in realtime
Works well with software including Discord
Text to Speech feature
10. The Discord Soundboard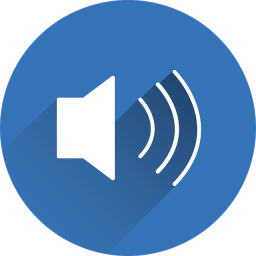 TDS or The Discord Soundboard is a super simple soundboard app for Discord. Basically, this application adds a bot to your Discord channel with all the sounds and music assigned to it. First of all, you need to install The Discord Soundboard on your computer. After that do the initial setup and specify music to play.
When it comes to music or sound effects, you can either play some songs from YouTube on Discord or use songs locally available on your computer. Not just YouTube, it lets you play songs through various online streaming services.
Highlighted Features:
Supports YouTube
Reliable soundboard for Discord
Add a bit to your channel
11. Discord Soundboard Memes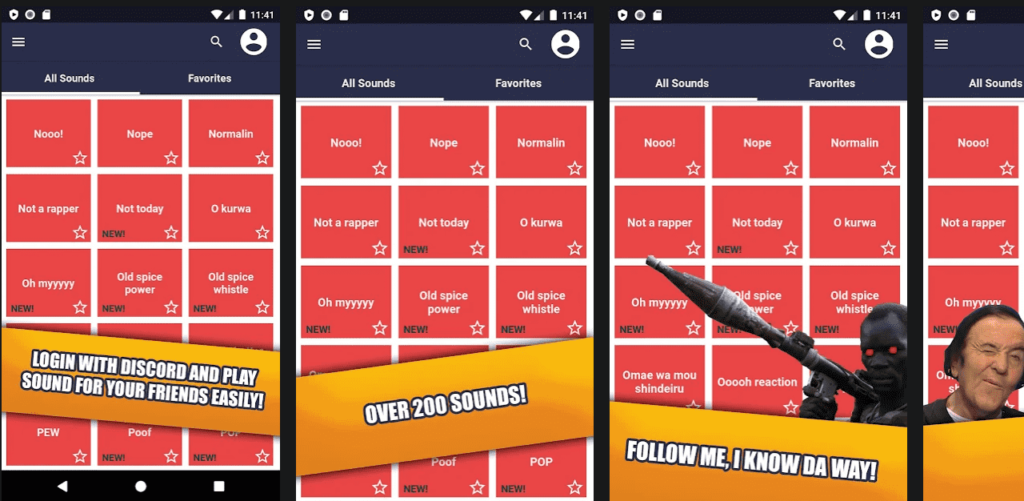 This one is a Discord Soundboard app for Android. If you use Discord on your Android smartphone then make sure to try Discord Soundboard Memes. As the name itself suggests, this app lets you play various meme audios directly to Discord.
The app is completely free and comes with over 200 plus sounds and sound effects. To use it right away, all you have to do is, just download the app and connect it with Discord. Once connected, you can start playing any audio of your choice. The search option makes it easy for you to search for any specific sounds as well.
Highlighted Features:
Discord Soundboard for Android
Free
200+ sound effects
Easy integration
12. Soundboard Studio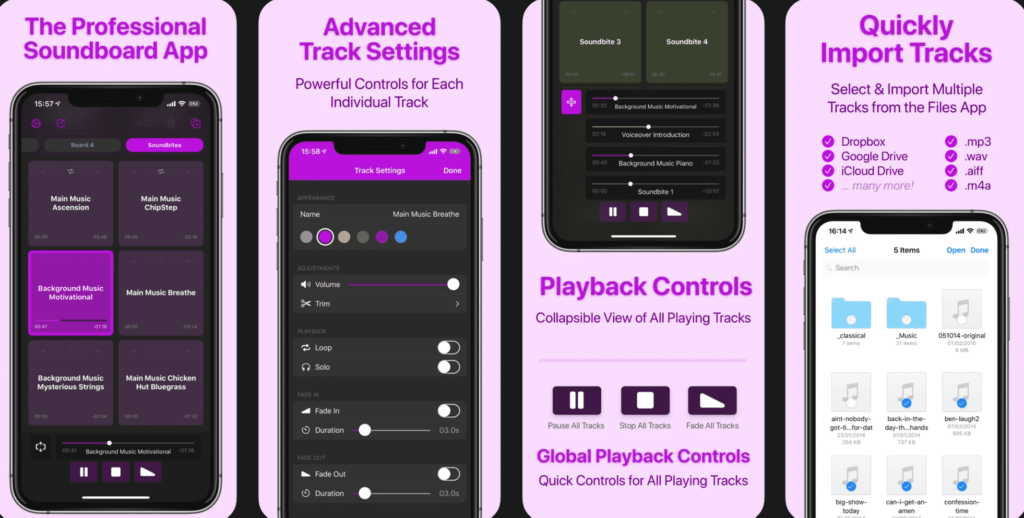 Soundboard Studio is an exclusive app for iOS that will help you to play various sound or music inside any Discord server. It comes with options such as the ability to play multiple tracks of music at the same time, mix tracks together, set individual volume levels for each track, trim the start and end of individual tracks etc. while Soundboard Studio is a really great app for iOS, the only downside is that some of its features are paid.
The app also offers seven days free upgrade to pro features for free. If you're satisfied with it then you may easily purchase the pro subscription for unlocking all features and options. Soundboard Studio works well with discord and can be used to play music inside of any channel on any Discord Server.
Highlighted Features:
Soundboard app for iOS
Comes with a lot of features
Optional paid plan
Free to download
13. Soundboard Creator Soundpad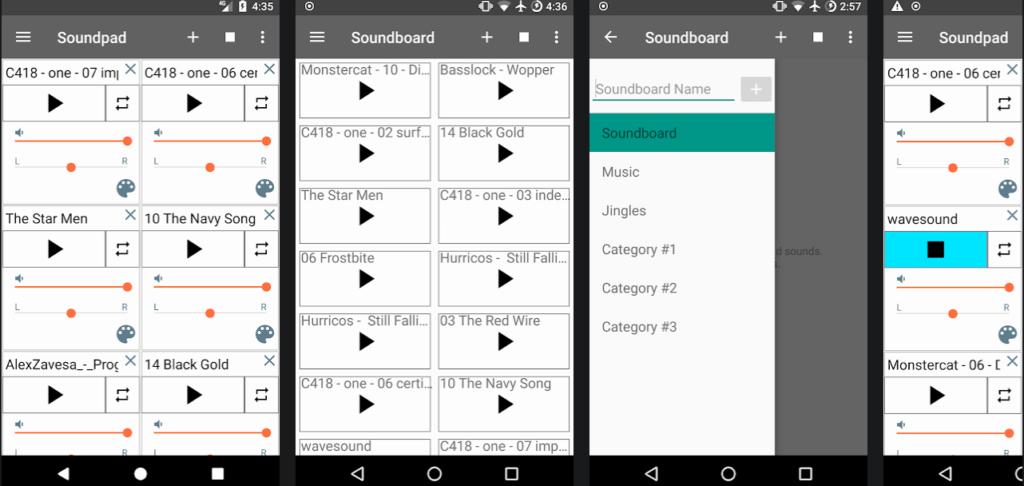 Soundboard Creator Soundpad it is yet another Soundboard app for Android. The coolest thing about this app is that, it lets you create your own custom mix of music by using all the individual soundtracks available on your device. This means, you can mix-and-match sounds to get the desired one.
Soundboard Creator Soundpad is an ad-supported free app for Android. In order to get rid of ads, you are required to do an in app-purchase, which is completely optional. Do check out Soundboard Creator Soundpad if you want to create your own custom mix of music for Discord.
Highlighted Features:
Free soundboard app for Android
Mix and match your own musics
Supports Discord
How to Setup a Soundboard for Discord
Now that you have downloaded the soundboard of choice, next is integrating or using it with Discord. Using a Soundboard is fairly simple. According to the software you use, all you have to do is just select the proper output/input source for audio output/input and you are all good to go. Whatever you mix or edit in the soundboard app will reach Discord and this way you can play any music .
Select Best Discord Soundboard
These are some free soundboards for Discord that you can use to take your server to next level. Using soundboards, you can play custom sound effects, etc, and control them using hotkeys. It is super simple to use. Once configured, all you want to do is press the hotkey to access it and play the sound. You may also use some Discord bots to take your server to next level as well.