Chances are you might have heard about Discord Top Secret Control Panel from your friend or found it randomly while exploring Discord software. Well, what exactly is Discord Top Control Panel? Let's check it out in this article.
Discord is a VoIP-based communication medium primarily intended for gamers around the world. At the time of writing this article, there are more than a hundred million active users every month on the platform. Such a big number it is! It is available for Web, Windows, macOS, iOS, and Android as well.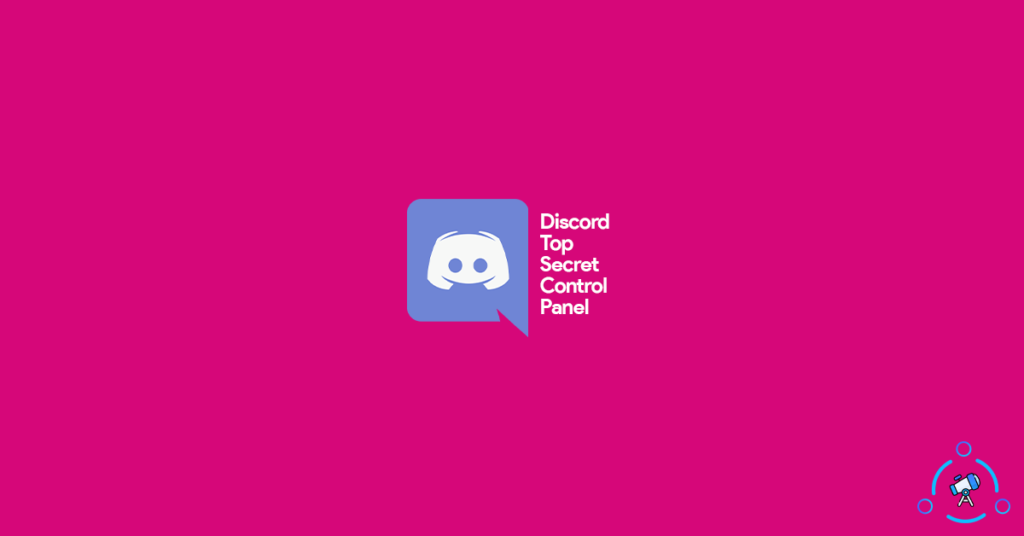 There are certain features that make Discord a favorite to almost all gamers. This feature set includes the ability to automate tasks, introduce special features to the server with bots, install themes on BetterDiscord, use voice bots to play music in the background, and support soundboards to play custom sound effects. The list goes on and on and on.
What is Discord Top Secret Control Panel?
This is one of the most asked unanswered questions about Discord. In fact, no one is still sure what the option is about or how to access it. Below you can see how to see the top-secret control panel of Discord. Well, if you are here for that then scroll down a bit to find it.
It is a small option that is greyed out in the Discord settings. If you try to access the quick shortcuts of Discord via the notification bar, you will find an option called Discord top secret control panel. But if you try to click on it, it simply won't work. The option is greyed out and no one could click.
People have different assumptions regarding the same. If you go through some gaming subreddits or other forums, many users have different thoughts on the top secret control panel for Discord.
How to Access Top Secret Control Panel
Well, if you haven't seen the option yet, here's how to do it.
Step 1: Download and install Discord on your computer. You could only find this option in the Windows version of Discord. No such option is present in other versions including Android and iOS.
Step 2: Once installed, open it up.
Step 3: Now go to the notifications bar on the taskbar and find Discord's icon.
Step 4: Now, right click on Discord's icon and up top, you will find an option called 'Discord Top Sceret Control Panel'. But, if you try to click on the option, you couldn't.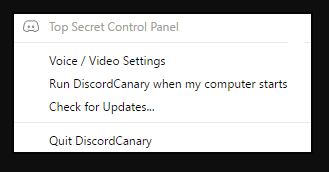 The top-secret control panel option in Discord is greyed out. Meaning you can not click on the option. In fact, it is not clickable for any users out there. If you go through various forums online, you will find the same thing.
No one is sure about this mysterious option in Discord and why they have greyed out the option. Different people have different thoughts and assumptions regarding the option, well, let's go through some of them.
Assumptions on Discord's Top Secret Control Panel
All the points given below are found from different forums on the Internet. No concrete answer for the question is known yet. If you are interested, go read and find some info regarding the Discord control panel.
This option is exclusively for Discord developers only. People on many forums suggest that it might be a developer-oriented feature that is of no use for regular users like you and me. But I don't fully think it is true. Why anyone would add an option like this for developers in a stable version for users.
The second one, which seems a little more convincing for me is – It might be a feature still in beta. And the company might be planning to push it to the stable version in the future. But another thought arising here is the fact that why would Discord add experimental features on stable version when Discord Canary and PTB builds are already there.
It might be some sort of easter egg hidden in Discord.
And the final one is that it is nothing. Maybe the Discord team added it to make people like you and me curious about the same.
Has anyone accessed Top Secret Control Panel yet?
No, to the date, no one has accessed the secret control panel. Even if you search online for the same, you won't even find a screenshot regarding the same.
Is Top Secret Control Panel available on Discord Nitro?
Nope, it is not a premium only feature and the option is not available on Discord Nitro either.
Conclusion
These are some thoughts that I was able to collect from the Internet regarding Discord's mysterious Top Secret Control Panel option. Even if you go through Discord's website and all documentation, you will find nothing regarding the option – Top secret control panel.
Other than the reasons mentioned above, there might be some other reason as well. But, we are not aware of it yet. And no Discord officials have confirmed officially either.
If you know something regarding this option on Discord then make sure to comment down the same in the comment box below.