Cryptocurrencies such as Bitcoin, Ethereum, TRON, Ripple, DOGE, etc have attained a huge momentum in the recent past. Well, if you are planning to invest or trade on any of these crypto coins then you need access to Crypto exchanges or cryptocurrency wallets.
In this article, you will find the best crypto exchanges in India that you can use to trade or invest in various ALT coins and Bitcoins easily. The same exchanges can be used as Cryptocurrency wallets as well. You can store your coins in the wallet. You will need cryptocurrency wallets to send and receive any tokens.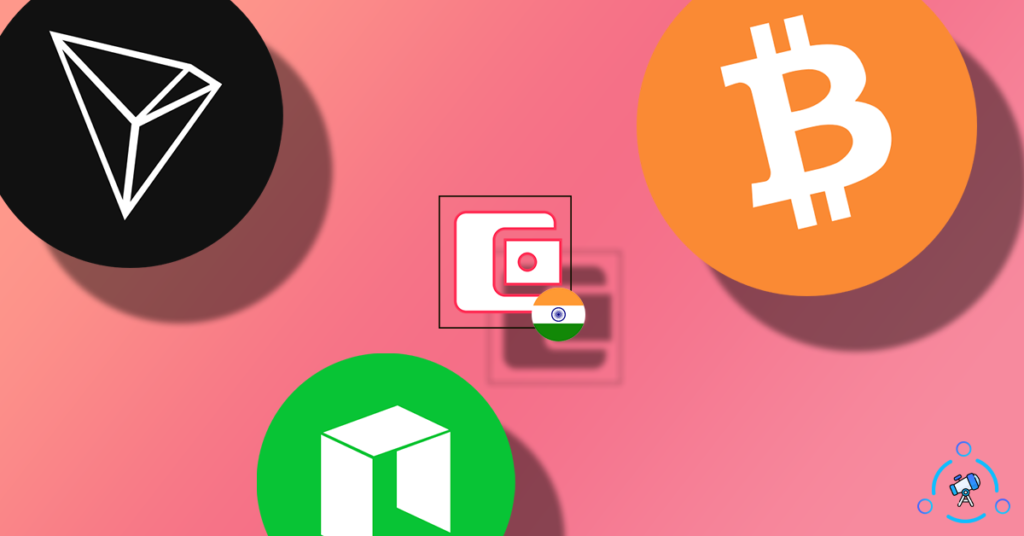 There are tons of Crypto Exchanges here in India, but selecting one can be pain There are certain things like transaction fees, liquidity of coins, number of coins available, to keep in mind while selecting an exchange. So let's take a look at the list of the best cryptocurrency exchanges in India.
Tips on Selecting a Crypto Exchange
Don't go and blindly select any Crypto exchange or crypto wallet. Here are certain points to keep in mind while selecting one.
Minimal transaction fee – Look for exchanges that offer the lowest fee for trading or investing in cryptocurrencies in India.
High Liquidity – If there is no high liquidity then you won't be able to instantly sell or buy coins. Therefore, make sure the exchange you go with has high liquidity.
Availability of coins – It is always better to opt for exchanges that offer the maximum number of coins. This way, you have the choice to invest in a plethora of different coins.
Deposit and Withdrawal charges – Always look to make sure to select the one with minimal and lowest deposit and withdrawal charges.
Customer Support – If you ever run into any issues, you are going to contact the official customer support. So make sure the exchange is really good when it comes to customer support.
The sole intention of this article is to list out the best crypto wallets in India. Investing in cryptocurrencies comes with its own risks as well. We do not take any responsibility for losses that you might incur. Furthermore, we do not suggest any specific exchanges – the choice is solely yours.
Best Cryptocurrency Exchanges and Wallets in India to Invest in Cryptocurrency
The list is arranged in no particular order. Go through every single one of them, compare the features and fees, and then finally come to final conclusion.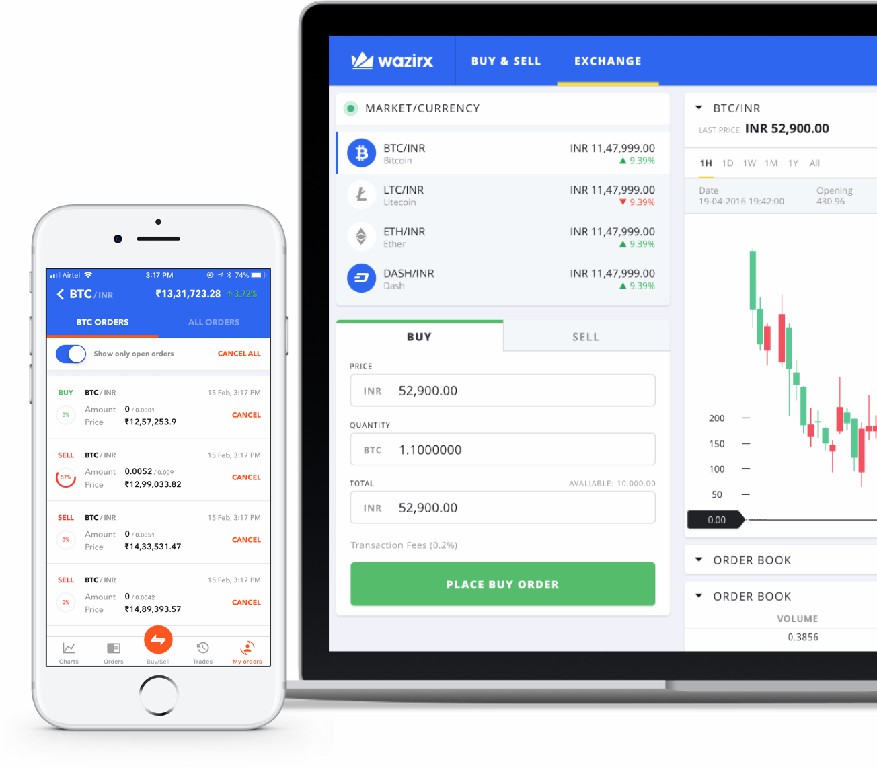 Wazirx is one of the best bitcoin and cryptocurrency exchanges and wallets in India. WazirX was launched back in 2017 as an exchange to invest in various coins like BTC, ETH, LTC, TRX, etc. Soon after a couple of years, WazirX was acquired by Binance, a global cryptocurrency exchange. Later after that, Wazirx was closely integrated with Binance and let you add cash to Binance via Wazirx and do crypto-trading easily.
The account creation process is pretty simple and straightforward. Once the account is created, you will need to verify your KYC. In my case, it took about 2 days for them to verify it. Once done, you can add funds to your account and start trading or investing.
As per them, WazirX has the highest liquidity in the INR market in India. WazirX also comes with an advanced auto-matching P2P engine with high liquidity. WazirX also lets you set stop-loss orders on crypto coins, too.
As for deposits, you can use both IMPS bank transfers or UPI. Finally, you can move your funds between Binance and Wazirx for free without any transaction free. You can also refer your friends to use WazirX and earn about 50 percent of their transaction fee as commission.
Highlighted Features:
Wazirx has the highest liquidity in the INR market in India
Auto-matching P2P engine
100+ coins to select from
Transfer funds from Binance to WazirX at zero fees.
Available for: Web, Windows, Android, iOS and macOS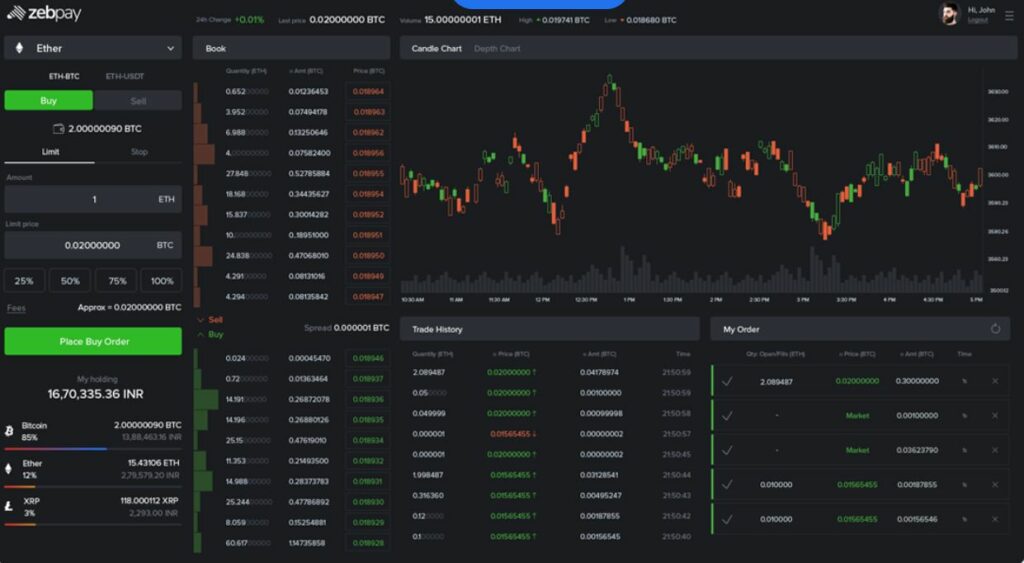 Launched back in 2015, Zebpay is yet another Cryptocurrency Exchange in India with decent features. With Zebpay you can trade on 5 crypto-crypto pairs including Bitcoin, Ether, Ripple, Tether, and TrueUSD. When compared with WazirX, the collection of coins to choose from is a little low on Zebpay.
Zebpay is available on the web, Android, and iOS. This means you can access your account on any of your devices and trade or invest in cryptocurrencies in India. One thing to note about Zebpay is that there is something called a Membership fee of Rs. 275 or 0.0001BTC that you need to pay every month if you do not take any trade.
As per them, if you take at least one trade in a month, then you are not required to pay the monthly membership fee.
As for trading fees, the taker fee is 0.25%, the maker fee is 0.15% and the intraday fee comes at around 0.10%. Looks quite reasonable. To deposit the amount into your Zebpay account, you will be charged Rs. 7 for an instant deposit, Rs.10 for UPI, 1.77% for Internet Banking, and Free for direct bank transfer. To withdraw money from Zebpay and a flat fee of Rs. 10 is in place.
Highlighted Features:
Simple and Minimal UI
Desktop and mobile versions available
Let's trade on 5 crypto-crypto pairs.
Zero fees on bank transfer deposit
Available for: Web, Android and iOS
3. CoinDCX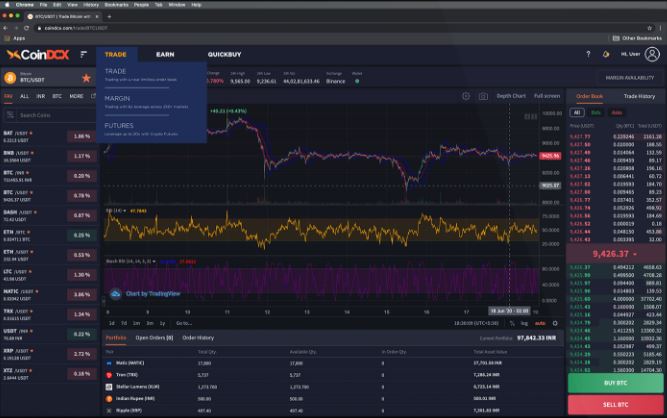 With over 250 plus cryptocurrency pairs, CoinDCX is a popular crypto exchange in India. What makes CoinDCX different from others is the fact that you can short sell cryptocurrency in CoinDCX. And furthermore, you can do instant deposits and withdrawals with zero fees as well.
CoinDCX comes with multiple products like Spot, Margin, Futures, and Lend. With Spot, you can trade on 250+ cryptocurrencies with high liquidity, use Margin to get up to 6x margin on almost all coins, use Futures to get 15x trading leverage, and finally Lend is a decentralized lending service.
There are not a lot of services in India that provide leverage, margins, and opportunity to short sell cryptocurrency. But, you can do all that via CoinDCX.
Highlighted Features:
Get up to 6x margin
Get up to 15x leverage
Zero withdrawal and deposit fee
More than 250 plus crypto coins
Available for: Web, Android and iOS
4. BuyUCoin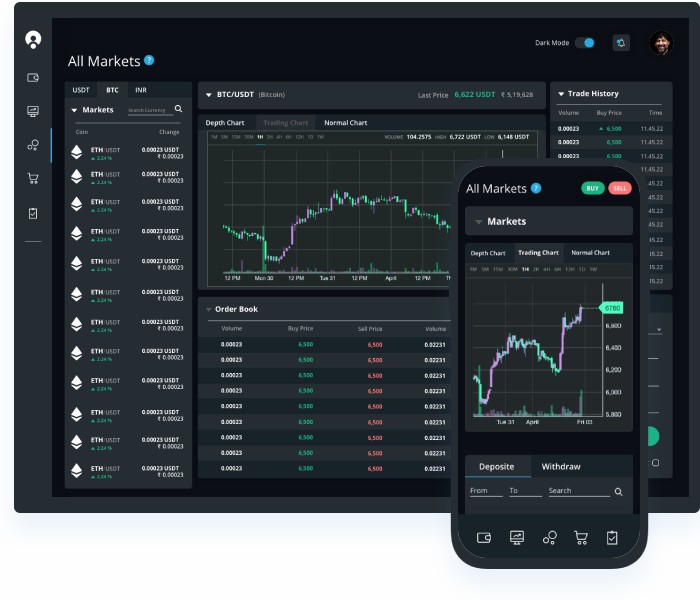 BuyUCoin is a global cryptocurrency exchange and wallet in India. If you are looking for an exchange to buy various currencies like Bitcoin, Litecoin, Ethereum, etc BuyUCoin could be used. BuyUCoin is available for both Android, iOS, and the web as well.
One highlighted feature of BuyUCoin is that you can your credit card in exchange to buy cryptocurrencies. I haven't seen any other exhcnage in India oferring this option. So if you are short on cash when an opportunity kicks in, you can use your credit card to buy Bitcoin or any other ALT coins.
At the time of writing this article, BuyUCoin already has more than 100+ crypto trading pairs. BuyUCoin also comes with a good customer as well. You can also earn cryptocurrencies with Crypto Scratch Cards in BuyUCoin as well.
Highlighted Features:
Buy Bitcoin with a credit card
Crypto scratch cards
100+ cryptocurrencies
Avaialable for: Web, Android and iOS
5. Unocoin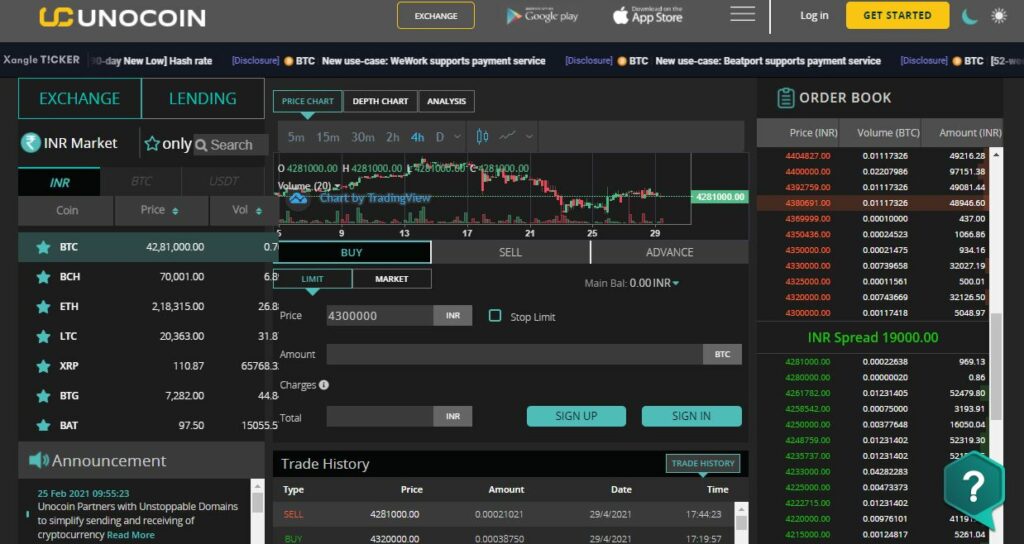 UnoCoin is one of the oldest cryptocurrency exchanges in India. It was first launched back in 2013 when cryptocurrency was not a thing at all. With over a million customers already, UnoCoin is available for web, Android, and iOS.
There are certain things that make UnCoin different. To start with, there is Crypto Basket to place weighted basket orders, SBP orders to automate the buying process for a fixed amount every month, something very similar to that of SIP. The lending option is also available on UnoCoin as well.
With UnoCoin, you can also opt for a fixed deposit of USDT and receive monthly payments as interest until the amount matures, too.
Highlighted Features:
SBP Orders to automate buying
Lending option available
Receive interest with a fixed deposit of USDT
Crypto Basket for weighted basket orders
Available for: Web, Android and iOS
6. Bitbns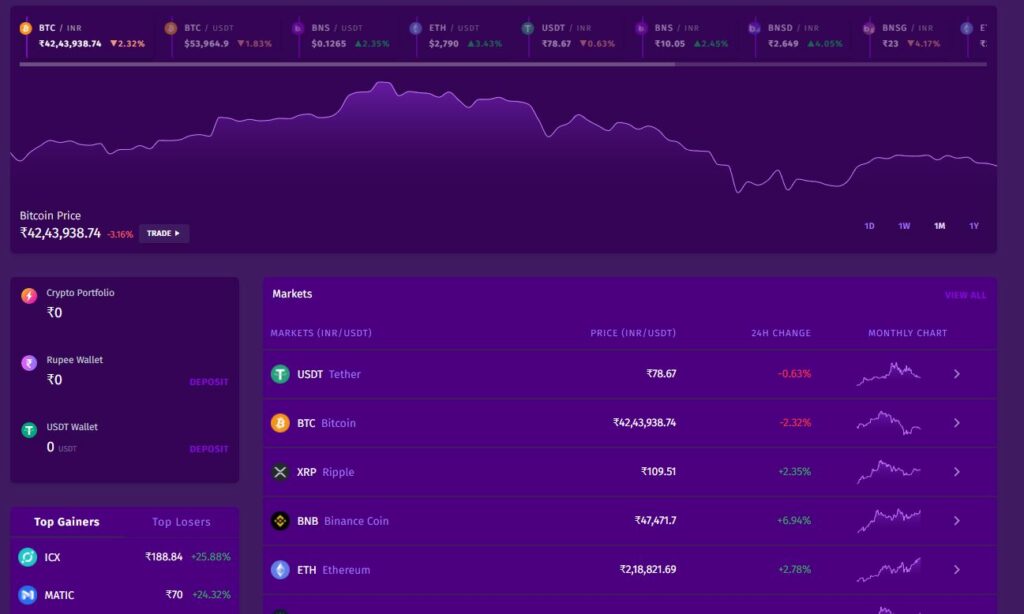 Bitbns is a cryptocurrency exchange wallet to trade various cryptocurrencies. Bitbns was launched back in 2017. With a minimalistic and feature-rich interface, Bitbns is one of the best exchanges available in India. The lowest fee on the platform comes at around 0.03%.
The Fixed Income Plan or FIP can be used to get a calculated amount of returns based on the plan you select. Bitbns is available for Web, Android, and iOS
Highlighted Features:
Dynamic Fee Slabs
Fixed Income Plan
Easily buy and sell bitcoin in India
Available for: Web, Android and iOS
7. Coinswitch Kuber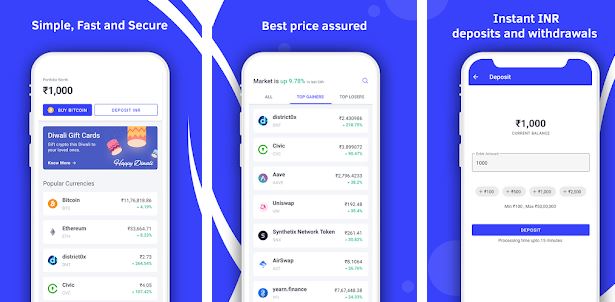 Coinswitch Kuber is yet another Crypto Trading platform in India. The clean and minimalistic UI is very intuitive. And the best part is that it comes with zero brokerage. Yes, you heard it right. With Coinswitch, you can buy and sell cryptocurrencies at market price for zero brokerage fee.
One thing to note is that a web version of Coinswitch is not available. Only mobile app for Android and iOS is available at the moment. The UI of Coinswitch is something I like a lot. It is very minimal with only essential options. You wouldn't find it hard to use Coinswitch.
Highlighted Features:
Minimal and good looking UI
Zero brokerage fee
Available for: Android and iOS
Choose the Best Crypto Exchange and Wallet in India
These are some best cryptocurrency exchanges and crypto wallets in India. If you are planning to start Crypto investing or trading, then these services will help you get started. I am not suggesting going with any specific exchange or wallets. You can go through the list of features it has to offer and choose one yourself.