Windows 10 is undoubtedly the most used and most popular operating system when it comes to computers and laptops. It gives you the flexibility to do a lot of things and customization abilities as well. Winodws 10 Skin Packs are something that you can install on your Windows 10 based machine and change the entire look and feel of the OS. If you have been using Windows 10 for a very long time, then you might already know that things look more or less the same from day 1. Nothing has really changed much. But we are about to give our Windows computer a fresh look by making use of Themes Packs for Windows 10.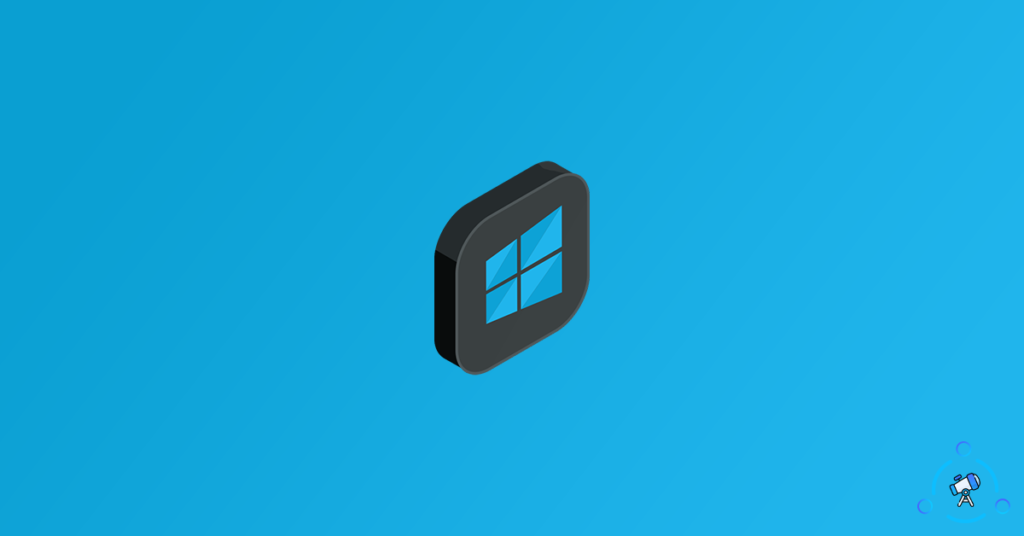 Ranging from different categories and options, there are tons of Windows 10 Skins that one can download for free. In this article, you will find some amazing skin pack for Windows 10, and that too for free. Just go through the list below and find the one that you liked the most. Let's suppose you want to give your Windows 10 computer a macOS look, Skin Packs got you covered.
Best Windows 10 Skin Theme Packs in 29th September 2023
There are skin packs from different categories like macOS, Alienware skin packs for Windows 10, Android Skinpack, and more. Just scroll down to find your favorite skin pack. You can also Rainmeter skins to further customize Windows 10 OS.
1. Windows 11 Modern Dark SkinPack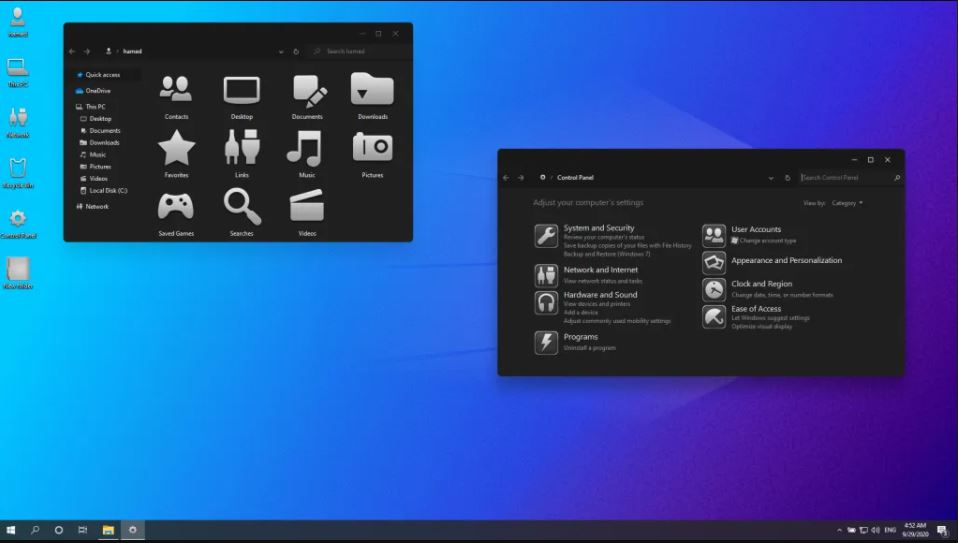 This is Windows 11 Skin Pack for Windows 10. In terms of looks and design, it is an upgraded version of Windows 10 skin with some eye-catchy icons and UI styles. To be more specific, this is the dark edition of the earlier launched Windows 11 Skin Pack. If you are someone who likes dark mode, then this is the perfect option to go with. Or if you prefer using the light version then make sure to download the installer file of the lighter version.
Installing this skin pack on your computer won't take more than 10 minutes. Furthermore, in the newer update, you are not required to restart your computer after the installation is done.
What's Special:
Futuristic Windows 11 look
Dark mode enabled
No restart required after installation
Windows 11 Modern Skin Pack – Dark Skin Pack || Light Skin Pack
2. macOS Big Sur Dynamic Dark Skin Pack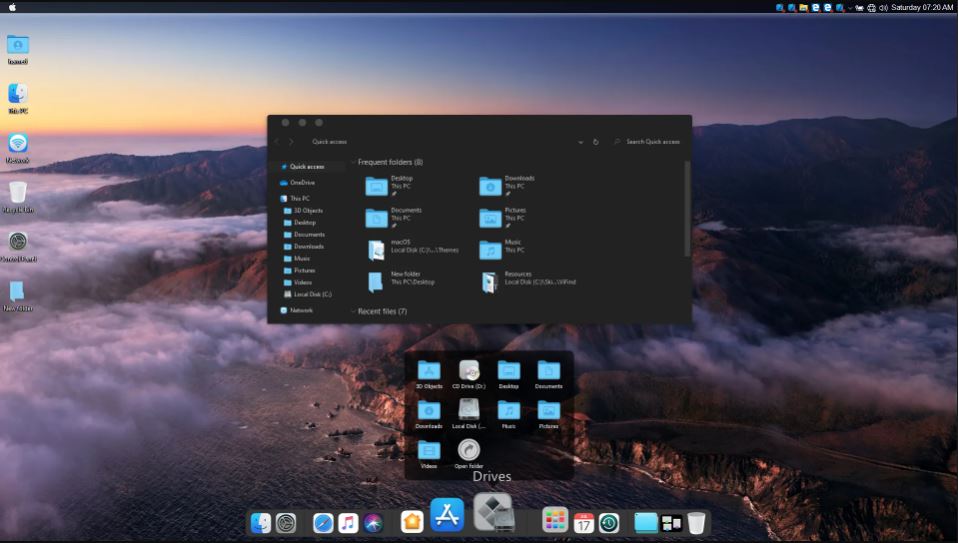 If you like the looks of the latest macOS Big Sur then you are definitely going to like the macOS Big Sur Skin Pack for Windows 10. This skin pack changes a lot of elements in the Windows UI to match the look of macOS Big Sur. First up, we have the dock to the bottom section housing all the frequently accessed shortcuts. Then comes the navigation bar to the top of the screen.
All the icons, Windows File Explorer, etc changes after the installation of Skin Pack is done. Even when you visit the Control Panel, updated macOS icons can be seen there as well.
What's Special:
Based on the latest macOS Big Sur
Icon Dock to the bottom of the screen
MacOS icon packs included
MacOS Big Sur Dynamic Skin Pack – Dark
3. Ubuntu SkinPack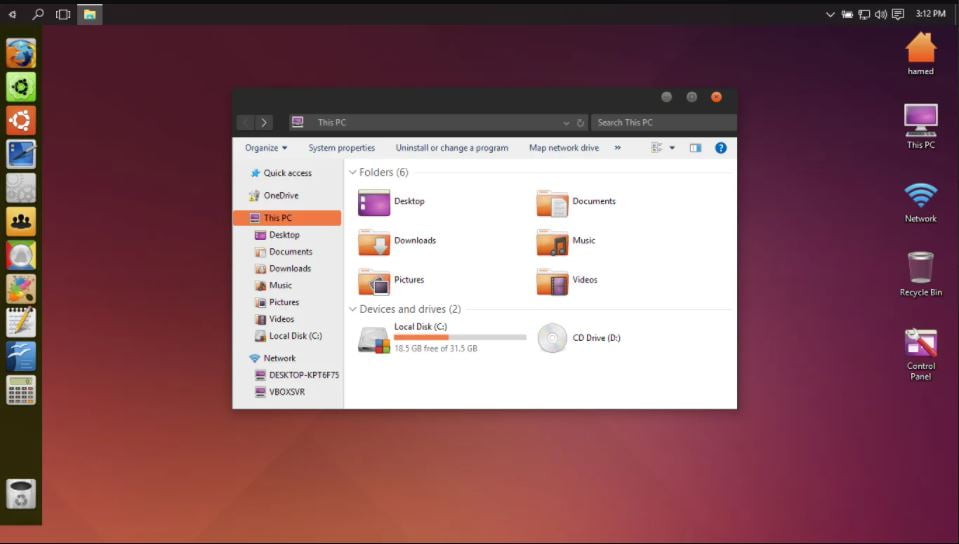 A majority of you might have already used Ubuntu at some point in your life. Ubuntu is one of the best Linux Distro with tons of features onboard. If you want the exact same UI of Ubuntu on your Windows computer then Ubuntu SkinPack is what you will need. Installing it on your Windows computer will change the entire look and feel of Windows and converts it into Ubuntu style.
Dock, Icons, File Explorer, Start, Settings, etc will change with the installation of this skin pack. Not just Windows 10, you can use this theme pack with Windows 7, Windows 8, and Windows 8.1 as well.
What's Special:
Ubuntu-based skin pack for Windows 10
Comes with an icon dock and Ubuntu icons
Supports Windows 10, 8.1, 8, 7
4. AlienXred SkinPack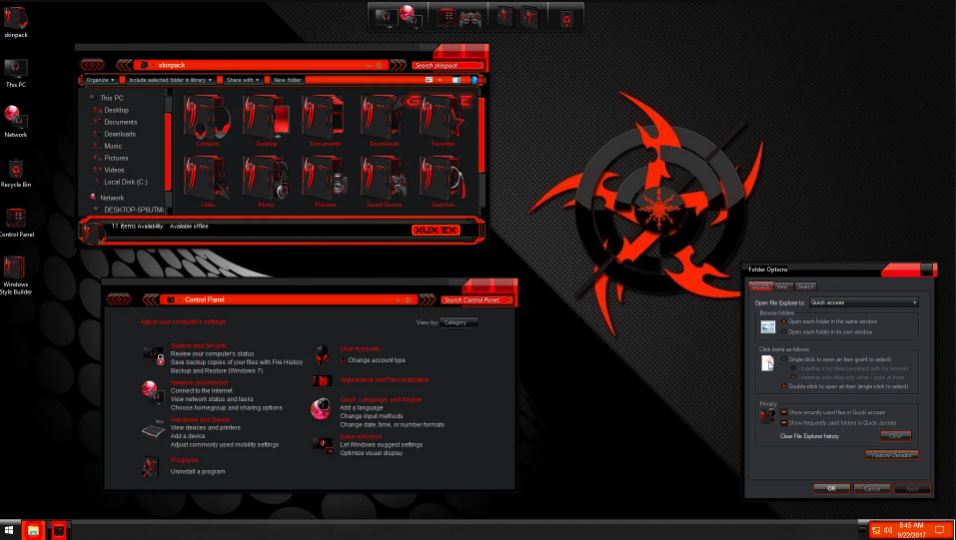 This is an Alienware based custom Skinpack for Windows 10. This theme pack will completely transform your Windows machine into an Alienware PC. Be it the UI design, icons – every single element are tweaked to give it gaming and Alienware kind of a look. The main theme color of this skin pack is Red. Apart from Red, there are a couple of other color options as well.
Alienware Theme Packs are also available in Blue, Green, Orange, etc color options as well. You can follow the link given below to download the latest version of this skin pack from their official website.
What's Special:
Based on Alienware theme
Red Color themed
Multicolor option available
Dark mode enabled
5. iOS Skin Pack for Windows 10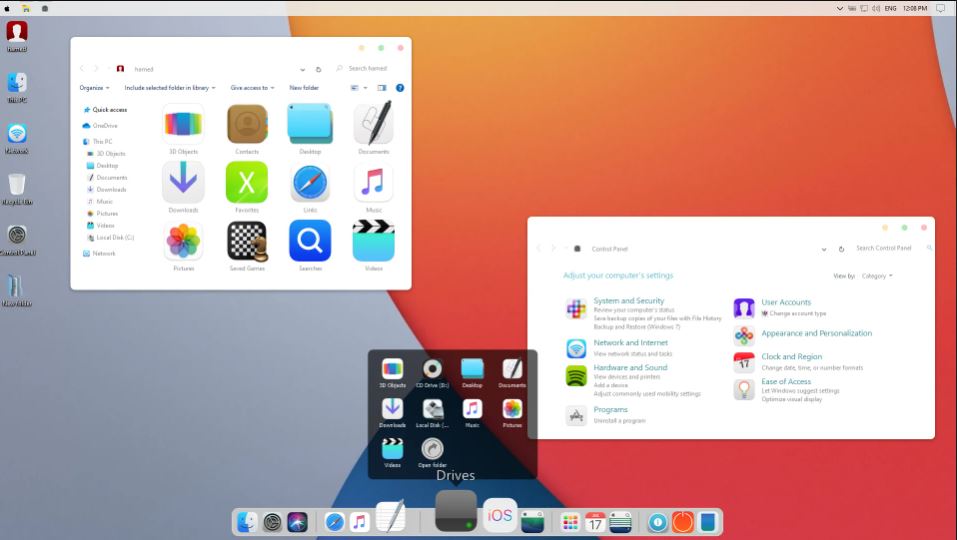 How about having iOS styled icons and user interface on your Windows computer? iOS 14 skin pack for Windows 10 is just for that. If you like the way in which everything is done in iOS for iPhones then this skin pack is for you. You can install it on your computer to get an iOS or iPhone look and feel on your Windows machine.
It comes with the usual dock that you will find on macOS, icon packs similar to iOS 14, and even the settings page and other important sections have this theme applied.
What's Special:
iOS 14 based skin pack
Dock for frequently accessed shortcuts
iOS icon pack
6. watchOS Skin Pack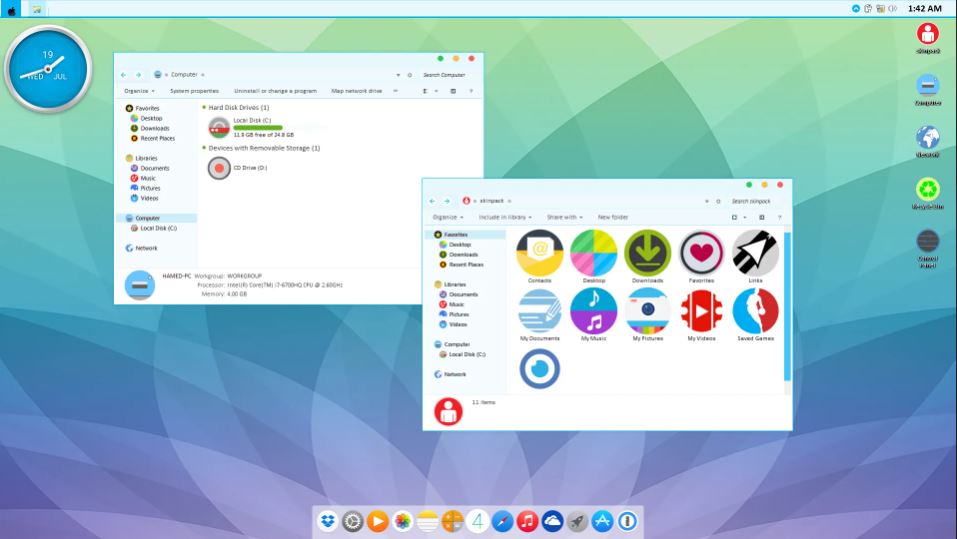 Similar to the iOS skin pack, watchOS Skin Pack for Windows 10 comes with a look and feel similar to that of an Apple Watch. If you have used an Apple Watch then you might know the way in which the icons are designed and aligned in the watchOS user interface. This theme tries to replicate the same. Everywhere, you will find round icons resembling watchOS UI.
The best thing is that it even comes with a customized login screen as well.
What's Special:
Icons similar to Apple Watch
macOS dock included
Light theme
7. Android 10 Skin Pack for Windows 10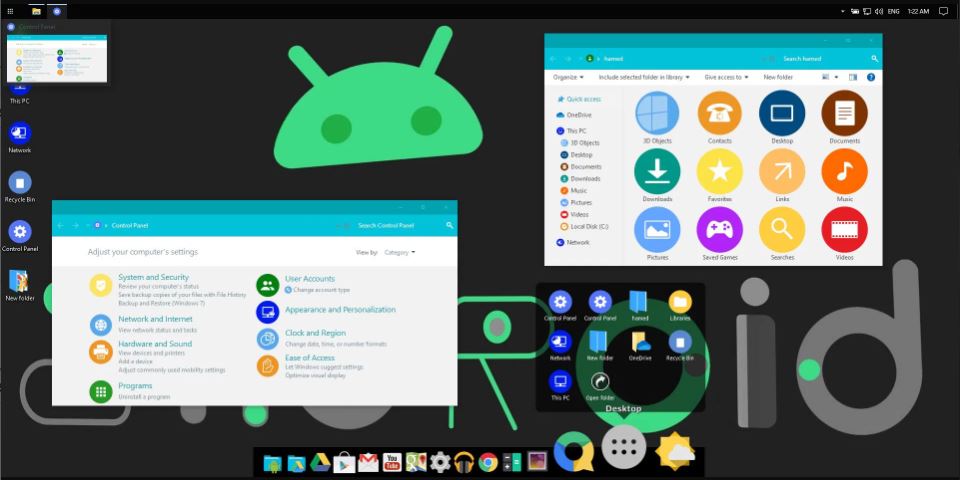 It's for sure that a lot of people like Android and it's material design principles. Well, if you want to get all those Android design elements on your Windows-based computer then take a look at the Android 10 theme pack for Windows.
This skin packs for Windows comes with android styled icons, Android-style inspired action bars, and also a dock to place quick access icons as well. You can try Launchers for Android to give your Android devices a different look as well.
What's Special:
Android 10 styled look
Android 10 based icon pack
Dock
Android 10 Theme Pack for Windows
8. Windows 20 Skin Pack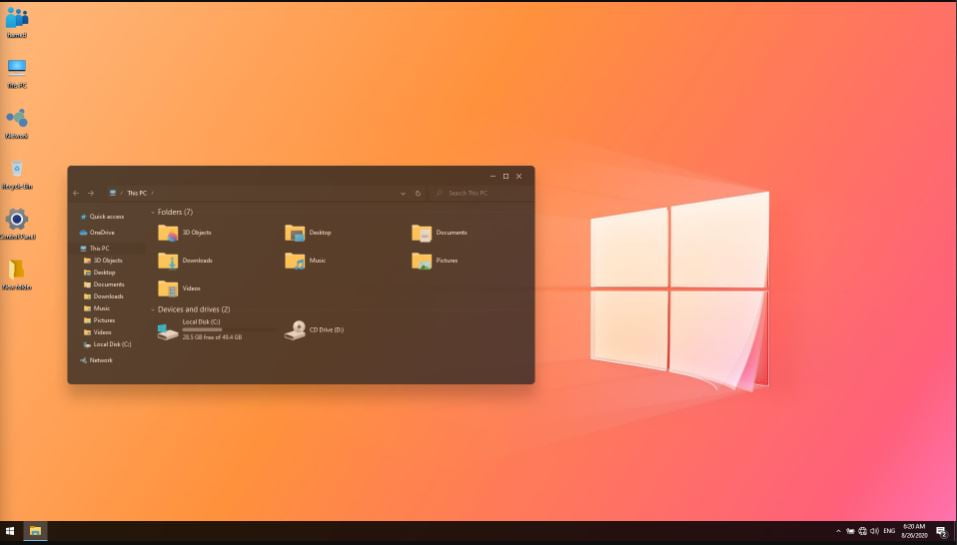 This is yet another futuristic Windows 20 skin pack with a modern design and looks. The file explorer windows, etc are given semi-translucent look to give it a modern-day vibe. The skin packs also feature an updated icon pack as well. Altogether, a clean and minimalistic plus futuristic Windows 20 theme pack.
What's Special:
Minimalistic
Futurstic Windows look
Minimal icons
9. HUD Blue Theme Pack for Windows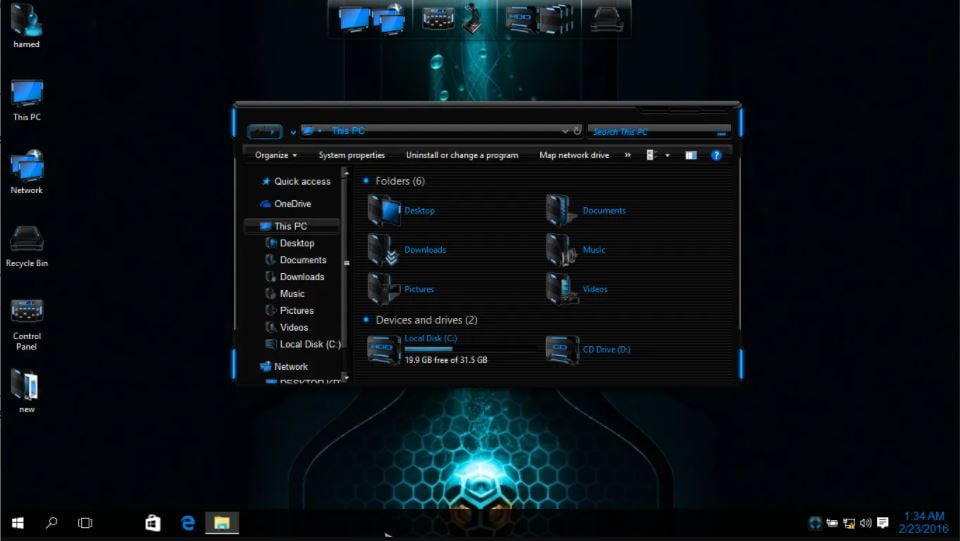 You might have already seen a lot of HUD type elements on sci-fi movies like Iron Man, etc. Well, if you want that kind of a Head-up Display look on your Windows computer then the HUD Blue theme is here for you. There are multiple color options to choose from. This is the Blue edition of HUD themes. You can go ahead and select a variety of colors including Red, Yellow, Green, etc.
What's Special:
Futuristic Style
HUD inspired design
Multiple color options
HUD Blue Skin Pack
10. StarTrek Theme Pack for Windows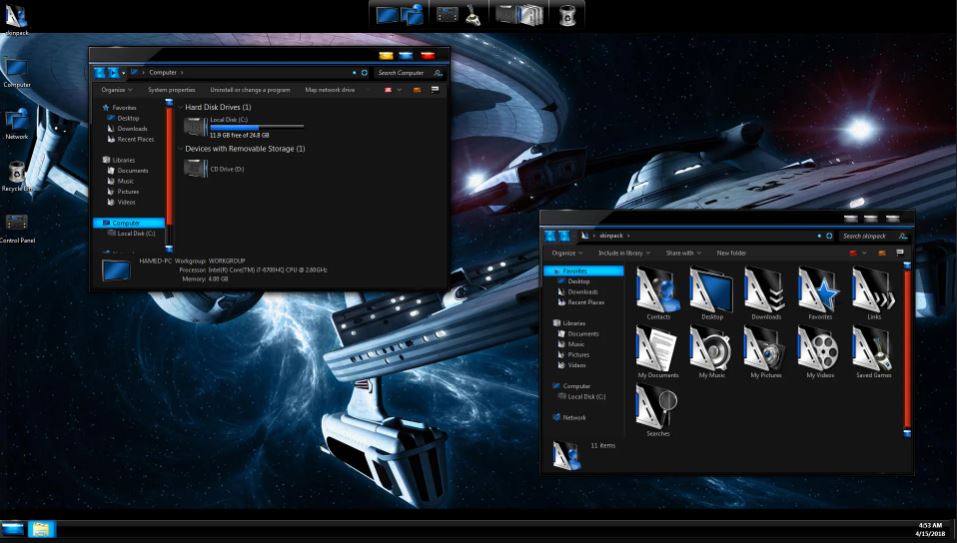 StrarTrek is yet another skin pack for Windows 10 to give it a futuristic and modern-day look. Similar to the HUD skin pack, a lot of design elements are the same. There are multiple color options here as well. The main theme of the skin is Space inspired.
What's Special:
Futuristic Design
Multiple Color options
Space theme inspired
StarTrek Theme Pack for Windows
These are some amazing skin packs or theme packs for Windows 10 to give your computer a fresh new look. If you are bored of using the same Windows 10 UI for years, then this is the time for a change. Just go ahead and download any skin pack and install it to give a fresh look. If you face any taskbar issue after installing the skin pack, follow the fix Windows Taskbar issue.