Rainmeter for Windows is the best desktop customization software that is available for Windows devices. When it comes to customizations, Windows is far way better than any other leading OS for Desktop. Apart from changing Wallpapers and setting Taskbar color combinations, you can do a whole host of other things with the help of Rainmeter Skins. Rainmeter Skins are pre-customized themes that can be used in the Rain meter software to make customizations to our PC.
If you remember, Windows 7 was the last operating system from Microsoft to have a widget system. By this, you were able to add some cool-looking Clock, Calendar, Currency, Climate, CPU Usage, Slideshow, etc widgets from the widgets customization panel. Windows 8 series and Windows lack the support for widgets and you can use Rainmeter in these versions of Windows to get a lot more than just widgets.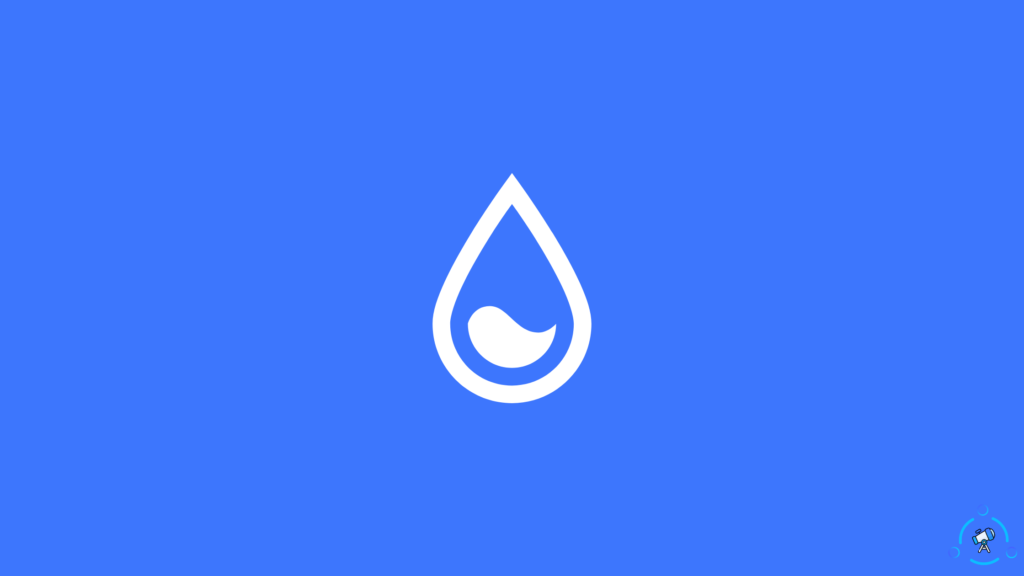 There are thousands of skins for Rainmeter, but finding one for your need is highly tough. Developers and designers from all around the world actively contribute to the Rainmeter community and today I am shortlisting some cool Rainmeter skins for Windows, that you can start using right away.
All the Rainmeter Skins given in the article will work with Windows 11 as well.
Best Rainmeter Skins for 2023
Now, I hope you guys got an idea on Rainmeter and it's skinned. Below, you will find the ultimate list of the best Rainmeter skins for Windows 10. The list is arranged in no particular order, so go ahead and find the best one for your needs.
1. Senja Suite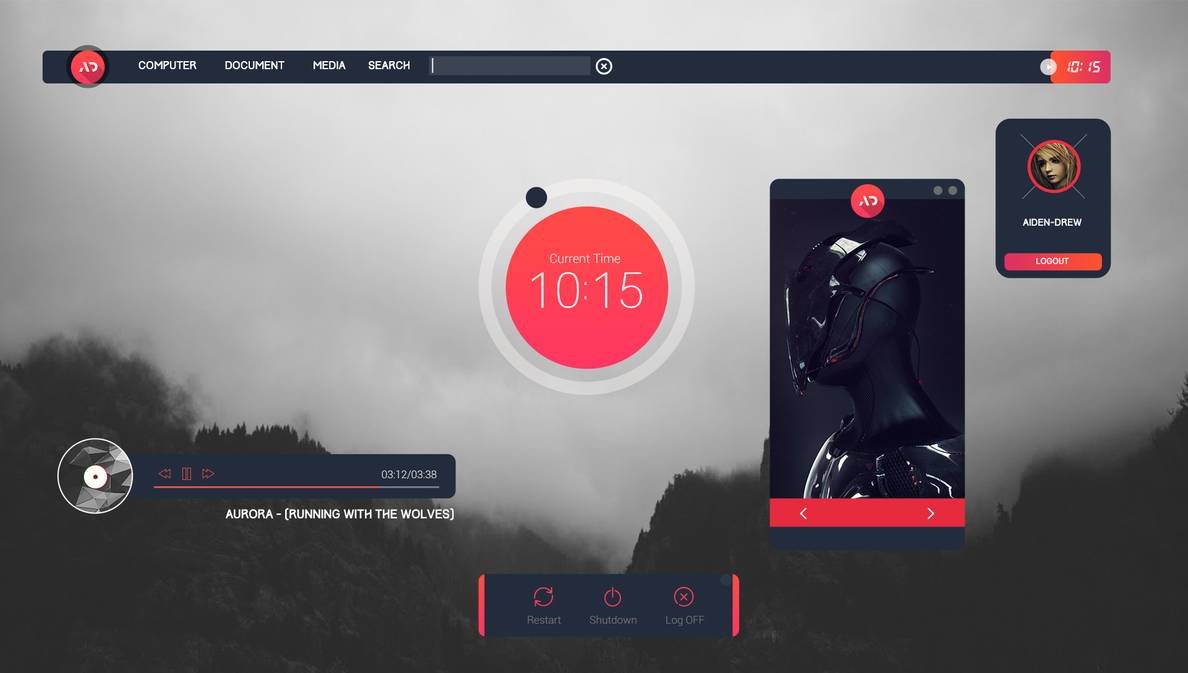 Senja Suite is a minimal-looking Rainmete skin with all necessary widgets and features. This particular skin will help you keep things organized, the color combo of this skin is also really good, the black and pink combination perfectly blends with your current theme. It has got a music player, system folder shortcuts, custom taskbar, and a lower bar with shut down, restart,s and sleeps buttons. This is a theme that loves minimalism and it is really good for pretty much every user.
2. 14-02-2016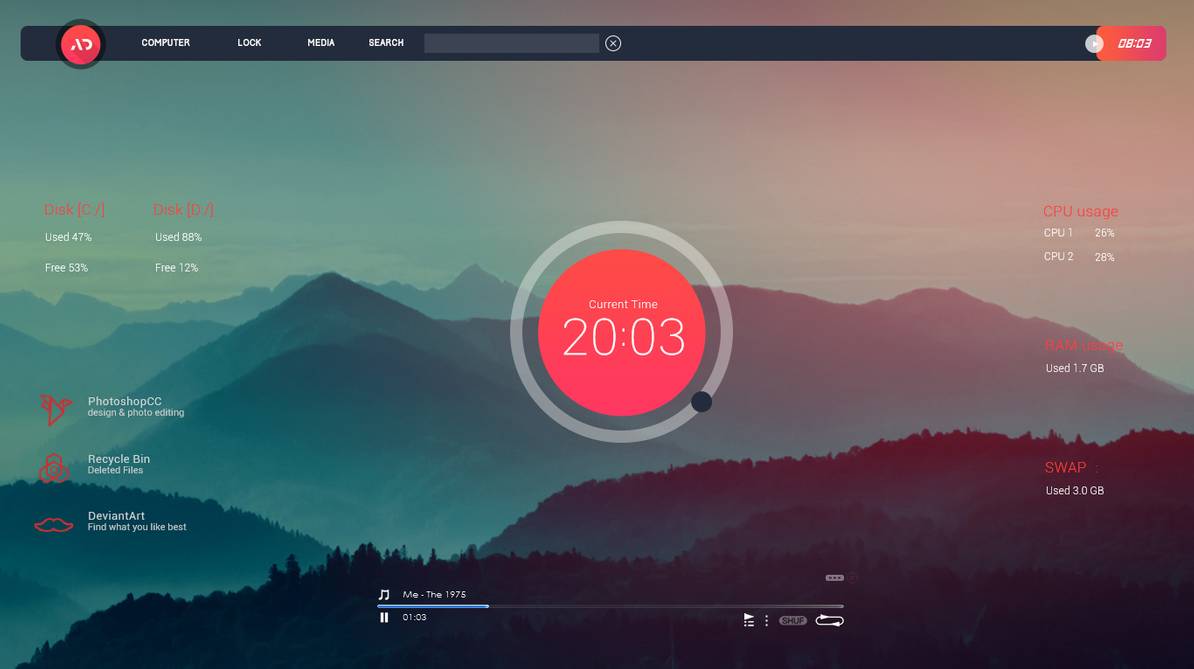 14-02-2016 is a Rainmeter skin that is quite similar to the above-mentioned Senja Suite theme. This Rainmeter skin is also designed by the same author as that of Senja Suite, that is AidenDrew. The key difference between both the Rainmete Skins is the widgets. The clock and the taskbar bar same in both but the music player, calendar and system power options are entirely different from each other. You can download this Rainmeter skin from the author's Deavintart profile.
3. TECH-A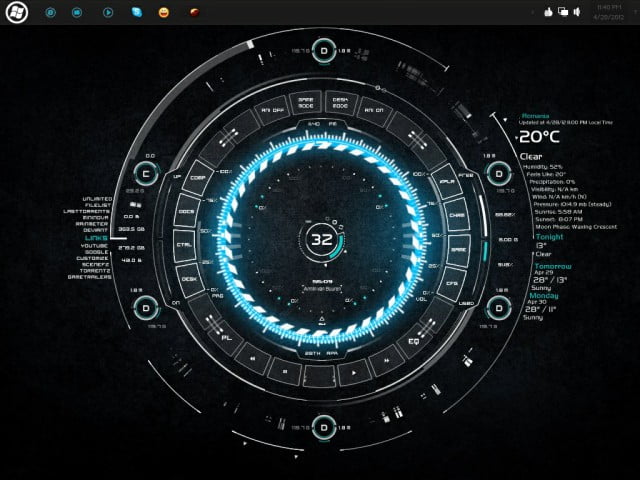 Remember those fancy HUD displays that you see in all the sci-fi movies? Well, TECH-A is a Rainmeter theme to set up a futuristic and modern desktop with widgets providing info on RAM and CPU Core usage, Date & Time, System Folders, shortcuts, etc. All these info and widgets are properly arranged in a circle manner, alongside the core that animates and rotates itself.
4. AIR Pollution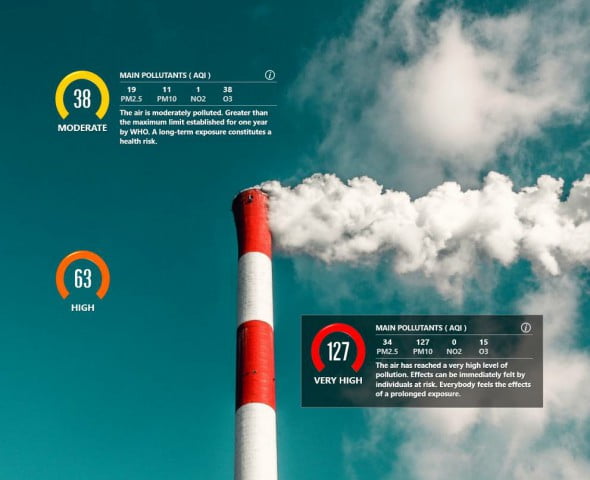 This is a Rainmeter skin a social message. As the name itself suggests, this theme is all about Air Pollution that is happening nowadays. The beautifully arranged widgets will give you info on the current Air Pollution rate and ratio, along with the detailed stats of what is causing it. By default, it will have a Smoke Tube sending a high amount of toxic substance to the surrounding.
5. HOXY 2 Rainmeter Skins (System monitoring)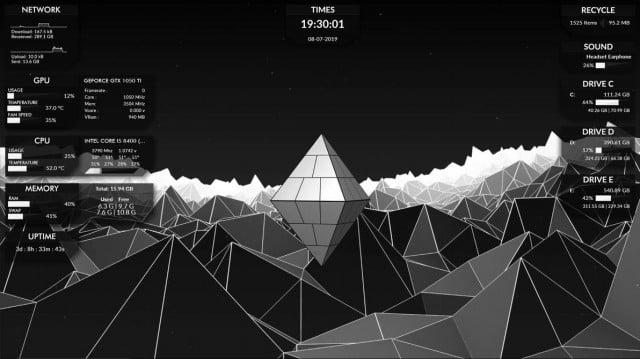 HOXY 2 is an amazing Rainmeter skin that displays almost all detailed stats from the Task Manager, you could literarily find how much data is being used, storage used by apps, storage left in individual local hard drives, temperature, network connectivity speed, and a whole host of information directly from the desktop. It comes with an elegant pyramidal structures wallpaper in a black and white tone.
6. Ageo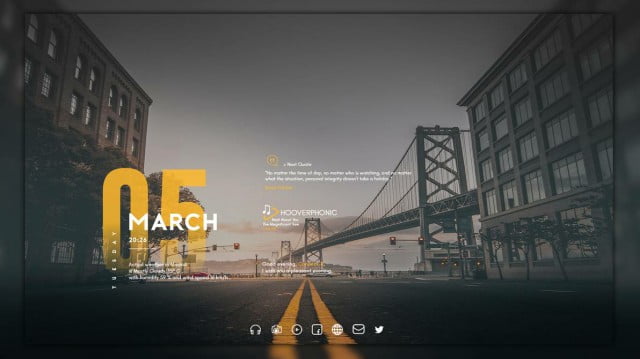 Ageo is a theme designed by keeping minimalism in mind. everything, right from the start to end is well organized and minimal in look. The desktop of Ageo shows you information like the latest notification, date and time, music player, and foobar & music bee integration. The small dock at the bottom of the screen comes with shortcuts to your important apps or files.
Read: How to create WiFi Hotspot in Windows
7. Android Pie Rainmeter Skin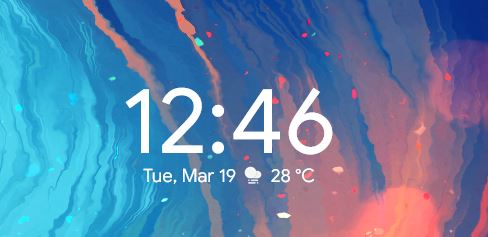 If you are an avid Android lover then you are definitely going to love this Rainmeter skin. This is based on the latest version of Android Pie. It's not a complete UI pack, but a clock + time element. It is highly inspired by Android and Product Sans font to give a fresh look to your clock and time widget. This will work simultaneously with other Rainmeter skins for themes without any conflict.
8. Avengers SHIELD OS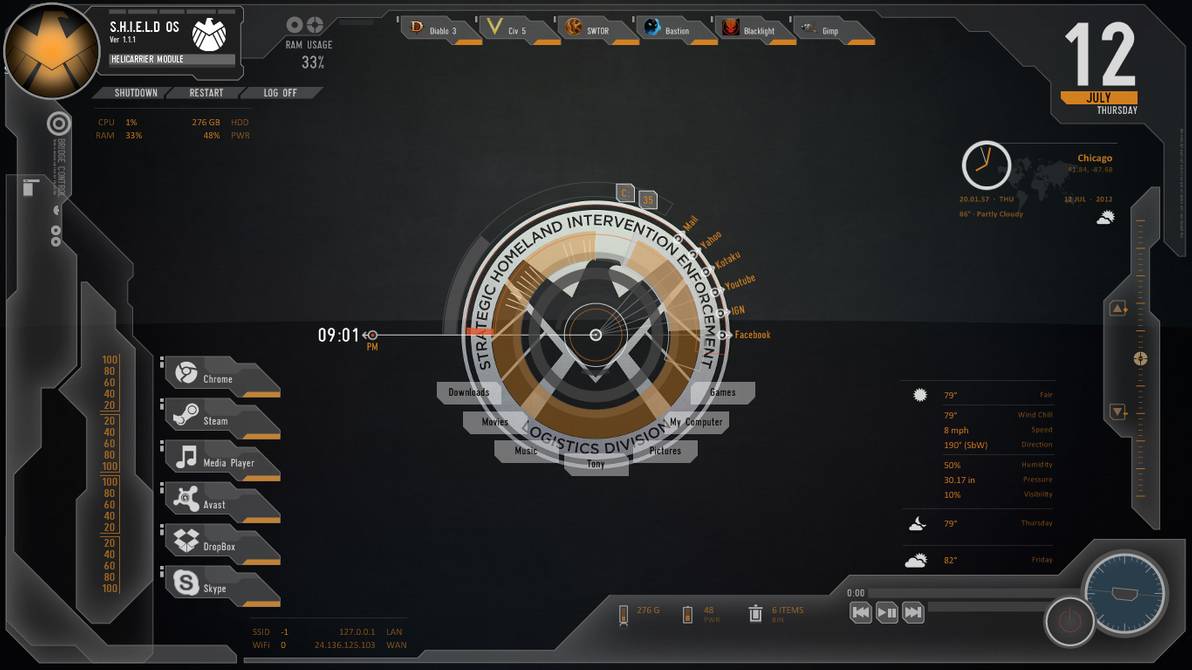 Are you an Avengers fan? If yes then this Rainmeter skin will make sense for you. All the computers, devices and gadgets shown in the Avengers movie comes with a special sort of OS. Basically, it's like showing Head-Up Display elements all over the OS. Avengers SHIELD OS replicates the look and feel of the OS used in the computers in the movie. Themes come with all basic music players, browser, date & time, and taskbar contents with widgets in the theme.
9. Moderate Rainmeter 1.1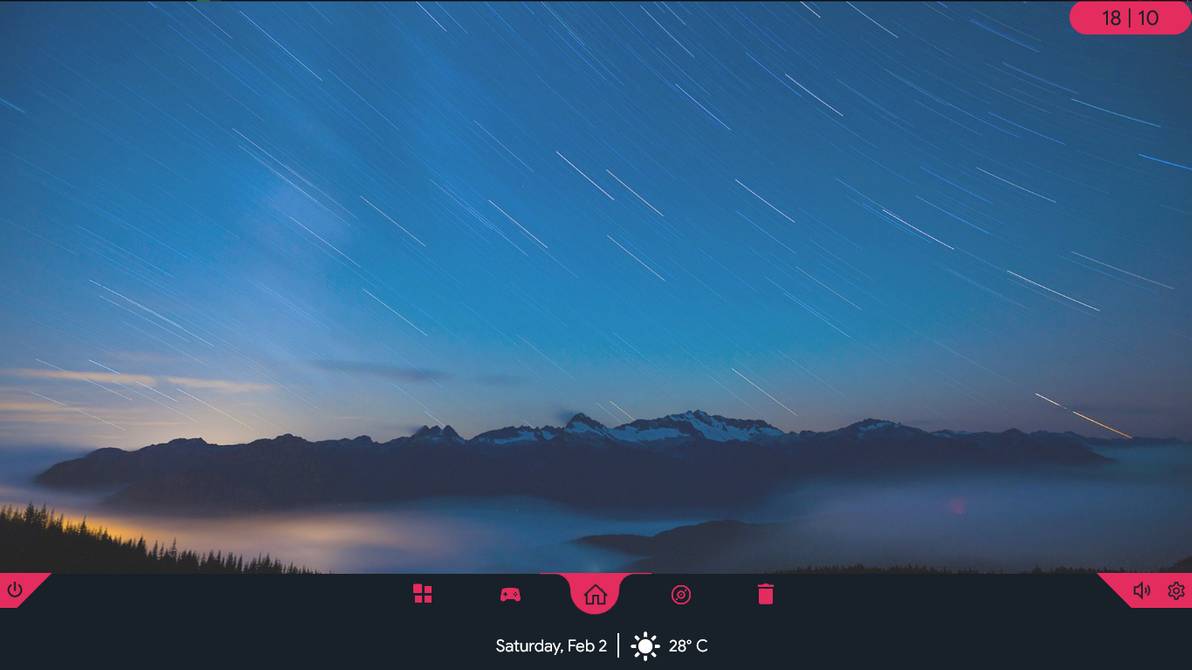 Moderate is another interesting Rainmeter skin developed with simplicity in mind. By looking at the theme screenshot below, you will get to know that the theme is minimal and cool looking with simple elements used in there. All the necessary options and buttons including Home Button Toggle to Open/Close App and Game Launcher, Open Explorer, App (24 shortcuts) and Game (24 shortcuts) Launcher, Music Player, RMB to open a music player, Recycle Bin, Date, Weather, Power Control, Volume Control, Settings Button are included in the theme
A lot of Linux Distro comes with various elements like widgets and docks similar to macOS. Go check them out as well.
10. Enmon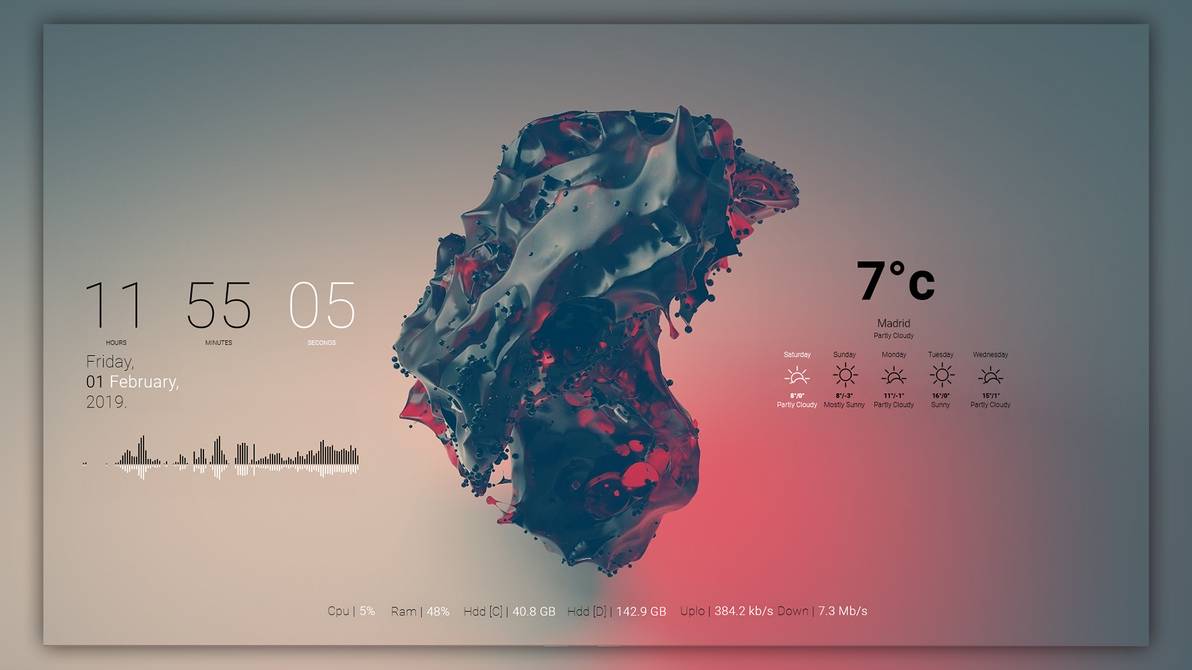 With a cool-looking abstract wallpaper and widgets, Enmon is a Rainmeter skin that is eye-catching and gorgeous. It is a custom scalable skin that you can resize using your mouse pointer. The visualizer and meter ring used in the theme can be used to indicate Cpu, Ram, Hdd [C], Hdd [D], Upload, Download, Visualizers. Along with that it also shows the current temperature, climate, and date, too.
Read: Best Discord bots to Enhance your Server
11. Aliens
As the name itself suggest, Alines is an Alienware-inspired Rainmter skin for Windows 10. If you take a closer look into the theme, you will get to see some cool info from different parts of your desktop. The UI and icons are all someway related to sci-fi stuff and Alines in together. The layout and arrangement is made so well that everything is well organized, too.
12. Circle Launcher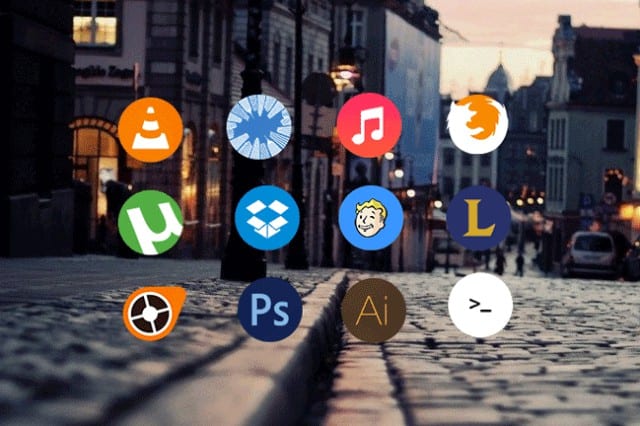 It is basically a floating dock that appears on top of the Taskbar in Windows. Windows let us an option to pin software and application to the taskbar that we use often. But, with the Circle Launcher theme for Rainmeter, you can easily add circle icons that float on top of Taskbar to create shortcuts to different applications and weblinks. As of now, the collection already has 150+ applications and website icons in it.
13. IronMan-Jarvis Theme Desktop V2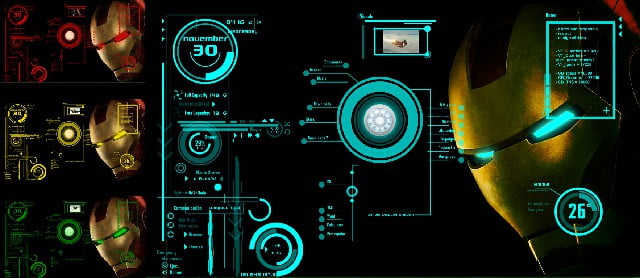 If you are a die-hard of Iron Man or any MCU Movie then you are definitely gonna love this Rainmeter skin for sure. It basically has the futuristic Computer Screen can Jarvis that you will find at Tony Stark's Office. If you want the same look and feel on your computer also then this is the right option for you. With the second update, ie version, you get additional options to change the overall color combination of the Jarvis.
14. Eker Lina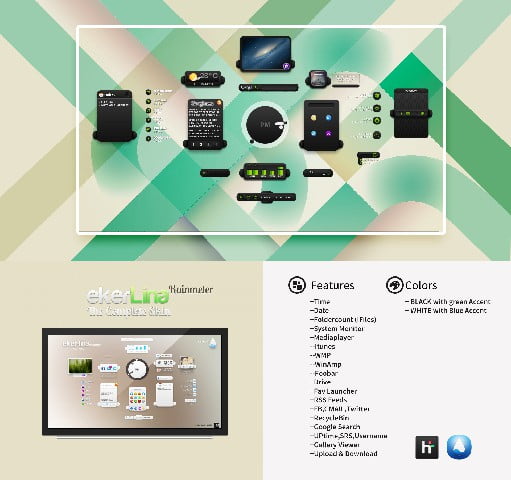 Eker Lina is another interesting Rainmter theme that comes with lots of Widgets. You can find lots of sub-modules that you can customize yourself. You can add modules to display different stats like Wheather, Disk info, RSS Feed, Temperature, Performance, and other third-party widgets are also supported. If you are someone who misses the widgets that were available in Windows 7 then check Eker Lina and get submodule like widgets support
15. Hi Tech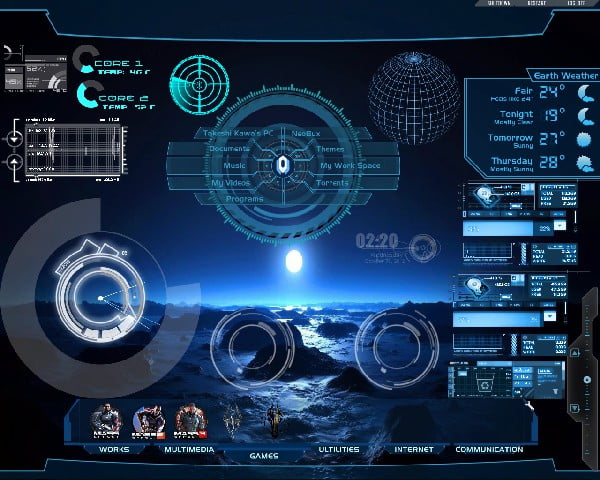 Hi Tech is pretty similar to the Iron Man Jarvis rainmeter theme. But the theme is not inspired by Iron Man anyway. But you will find the futuristic HUD display-like options, widgets, and wallpapers in this particular skin. It's not a minimalistic one, comes with lots and lots of options to make it cool and at the same time, you get more controls from your desktop itself. The color combo of this particular theme is Blue and like the Iron Man theme, you cannot change it.
16. Predator 1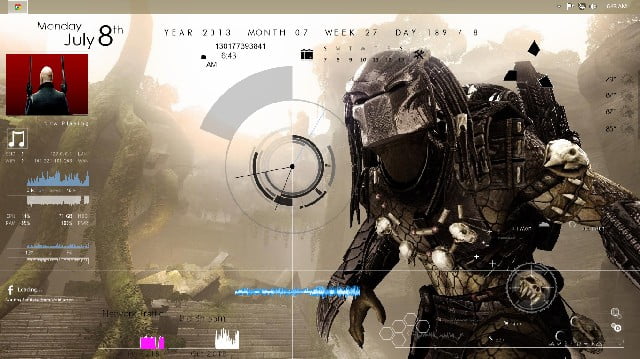 It is based on the theme Predator. The wallpaper is of a Predator with come weapons and comes with some widgets that match the overall combination. You get a number of different widgets like Audio Trance Wave, Calendar, Time, etc to fill in the empty spaces. It also looks a little like a HUD design but overall looks really good. The Music player waves will change according to the Bass and Treble of the music and that is something that I like the most in this theme.
17. Amatical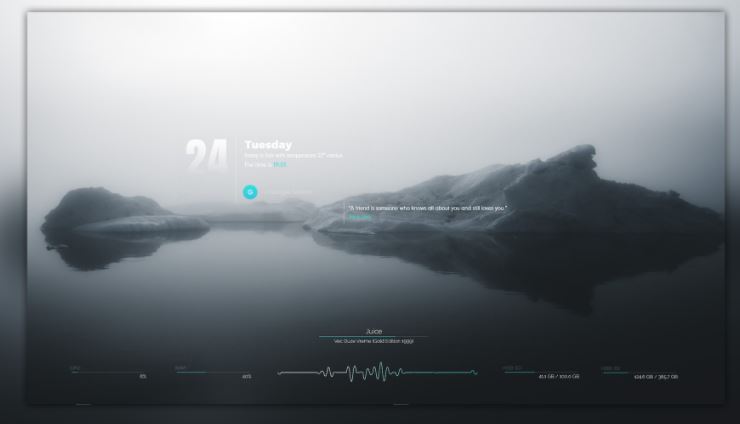 Amatical is a simple-looking cool rainmeter skin with a cold winter season wallpaper and some other elements as well. To the bottom section of the screen, you can find some waveform levels and other indicators showing the usage of HDD, RAM, etc. The rainmeter skins follow a simple and yet beautiful design to improve your desktop experience.
18. Mond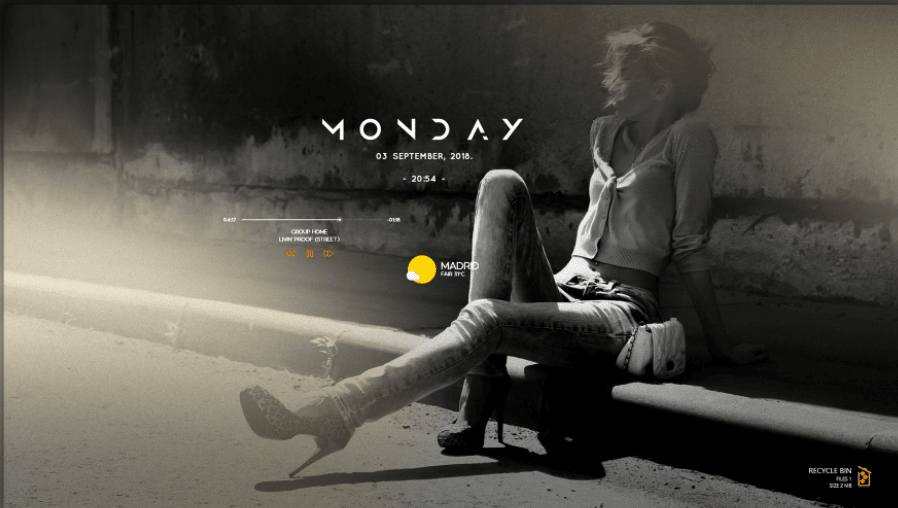 Mond is a rainmeter skin that you are definitely going to like. Mond comes with Spotify, foobar2000, and MusiBee integration. After installing the skin, you can head over to the settings and configure the same. Using neon wallpapers with this theme will make it look great. All in all, a minimalistic rainmeter theme for Windows 11.
19. FLHUD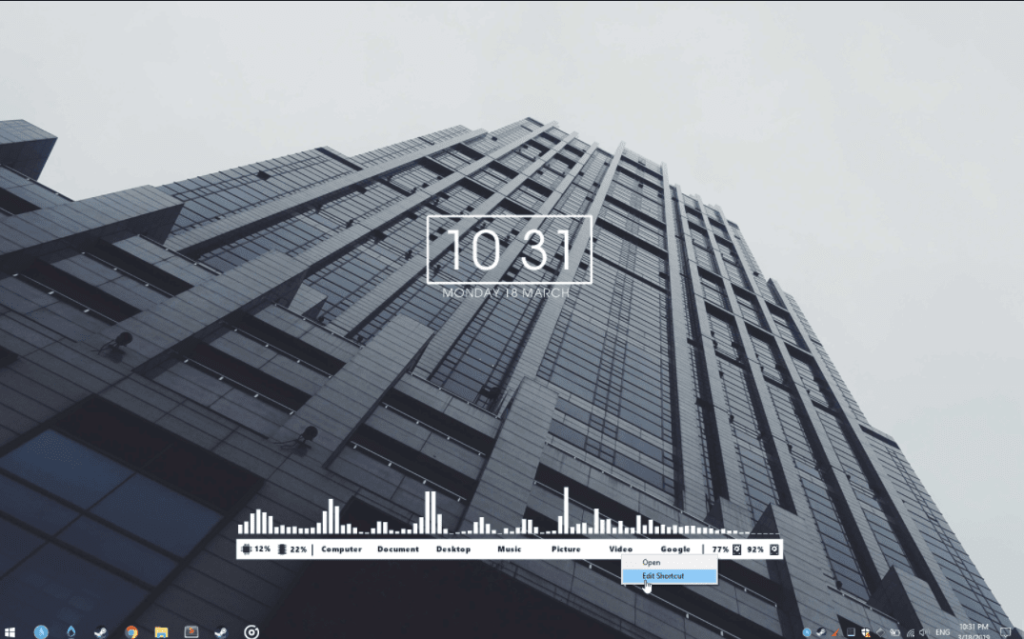 FLHUD rainmeter skin is yet another minimalistic theme that you can use to change the look and feel of Windows. One thing I liked a lot is the menu bar where you can add shortcuts. Apart from that, the skin comes with audio visualizer, CPU and RAM info and finally a big and catchy time and date module as well. The default wallpaper does not look that good, you may find a good one and couple the same with this Rainmeter skin.
20. The Gemini Suite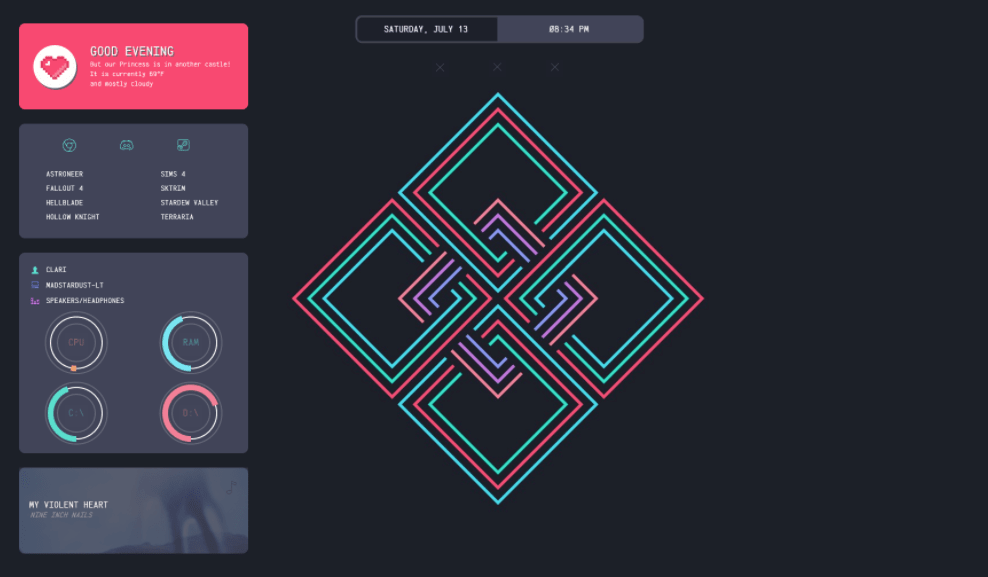 The Gemini Suite Rainmete skin comes with various widgets which might make this skin appealing to a lot of people. In the skin, an option is available where you can integrate Steam to add shortcuts to instantly open up any games. CPU, RAM, and storage info are some other widgets that you can easily add to customize the theme.
21. Super Blood Moon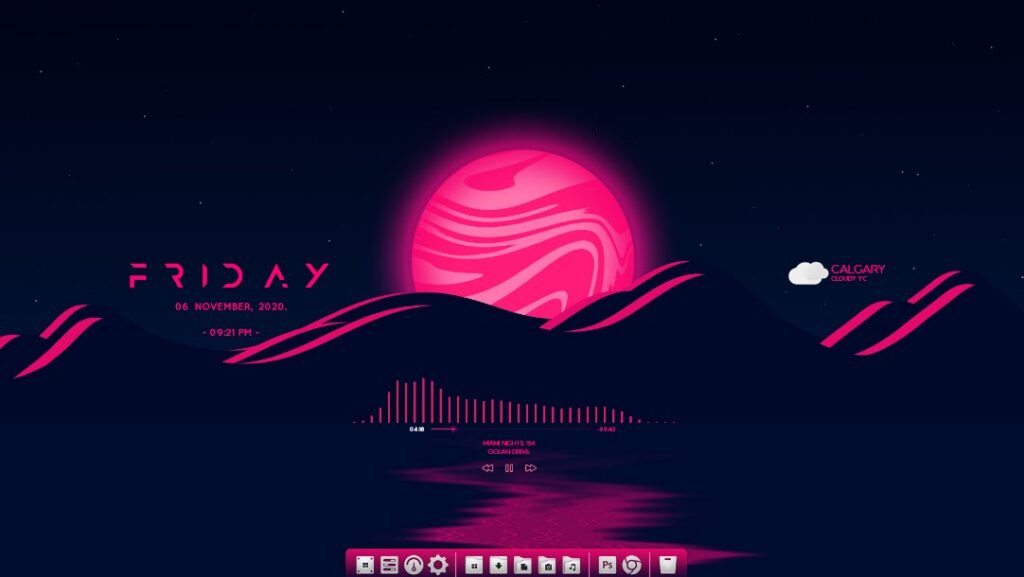 With stunning widgets and pink accent colors, it is a cool Rainmeter widget to use in 2023. To the left side, it displays the date and to the bottom, you will find a dock similar to macOS.
22. Howling AT-AT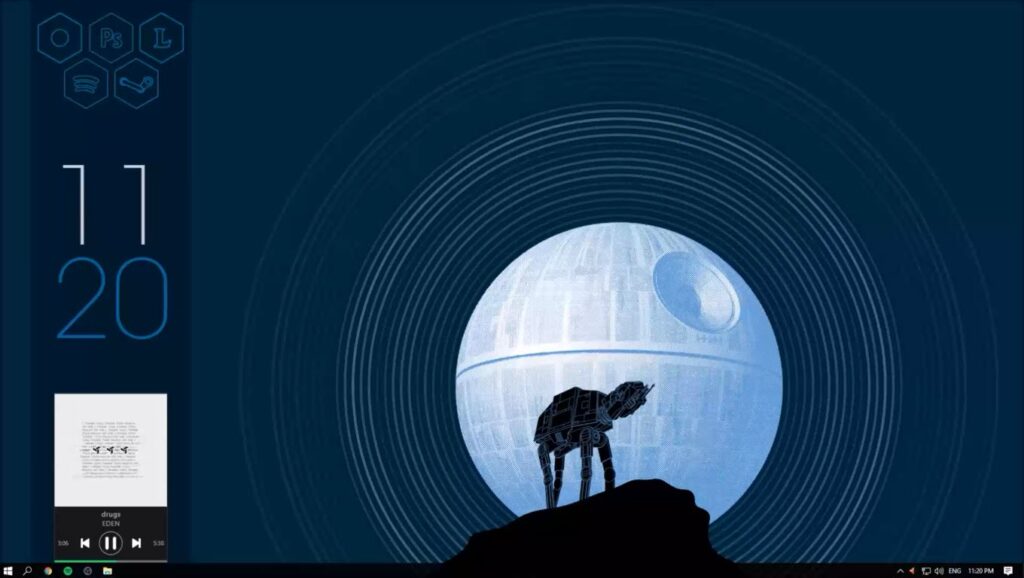 Howling AT-AT skin's main theme color is dark blue. To the left comes the widget panel with widgets like the music player and time. Coupled with stunning wallpaper, the skin looks nice.
23. Jarvis + Shield Interface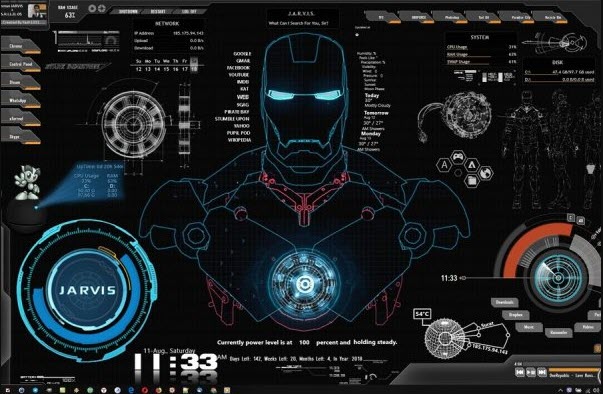 This one is yet another HUD-type Jarvis rainmeter skin for Windows. If you are an ironman fan then you will definitely love this skin. It contains a lot of HUD elements to make this look futuristic.
24. Cozy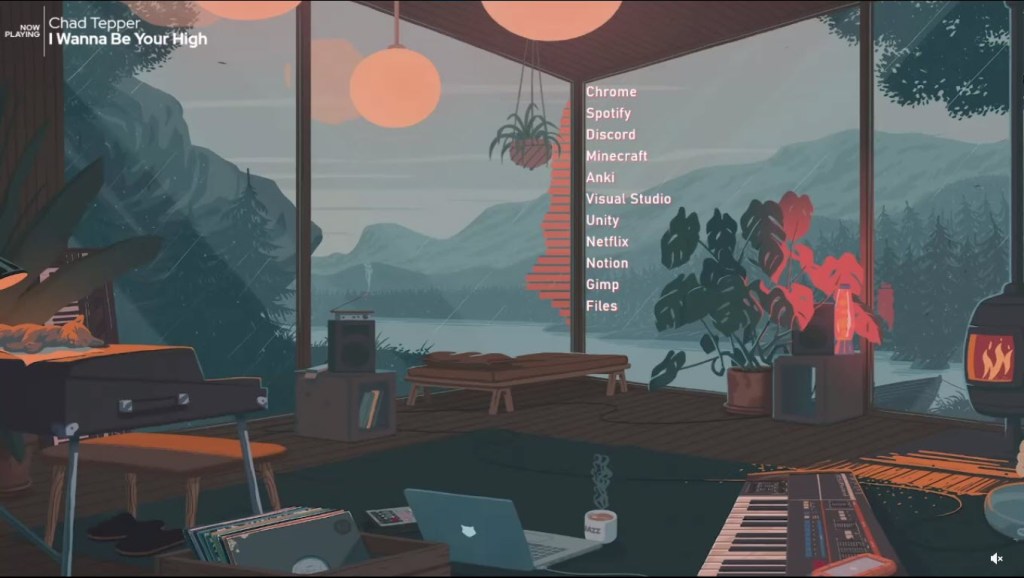 This skin has a cool-looking illustration with minimal widgets and options. An audio visualizer is also coupled with this Rainmeter skin.
25. Desktop Newspaper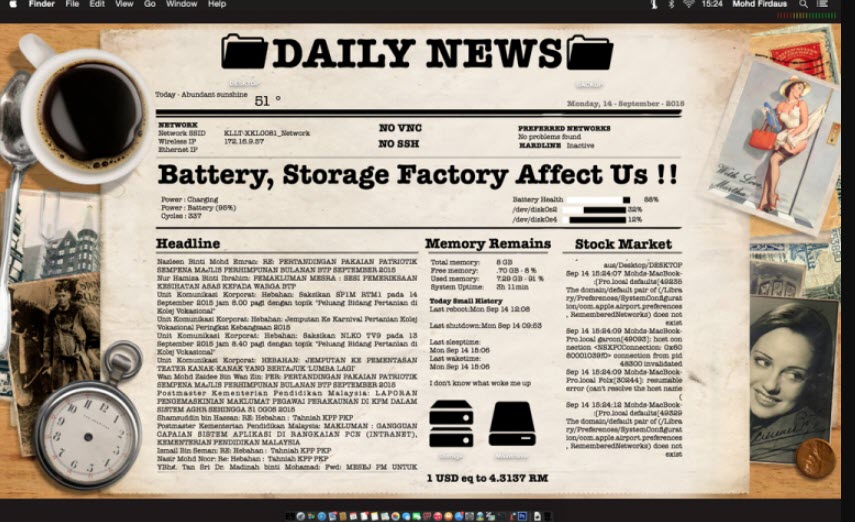 With a cool vintage-styled newspaper wallpaper, Desktop Newspaper skin transforms your desktop and makes it feel like the good olden days.
26. Cosmetic

With a pop band themes wallpaper and CPU, RAM visualizer, light elements, etc. Cosmetic is a really nice-looking Rainmeter skin to use right now.
27. Geometry Rainmeter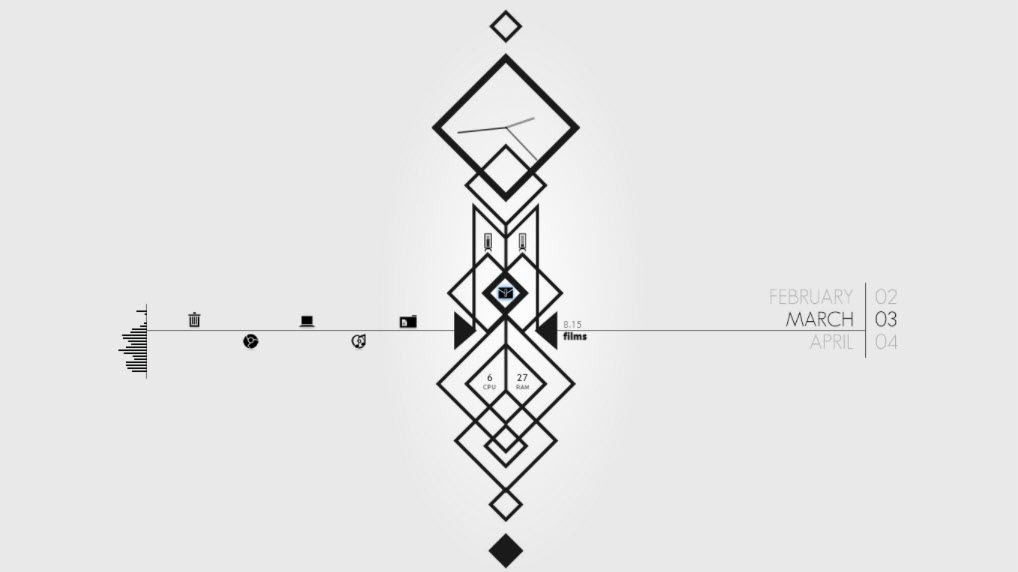 With some geometerical shapes displayed on a white background, Geometry Rainmeter is a cool skin to use. To the left side, you can find a date and time unit as well.
28. All Aboard The Purple Train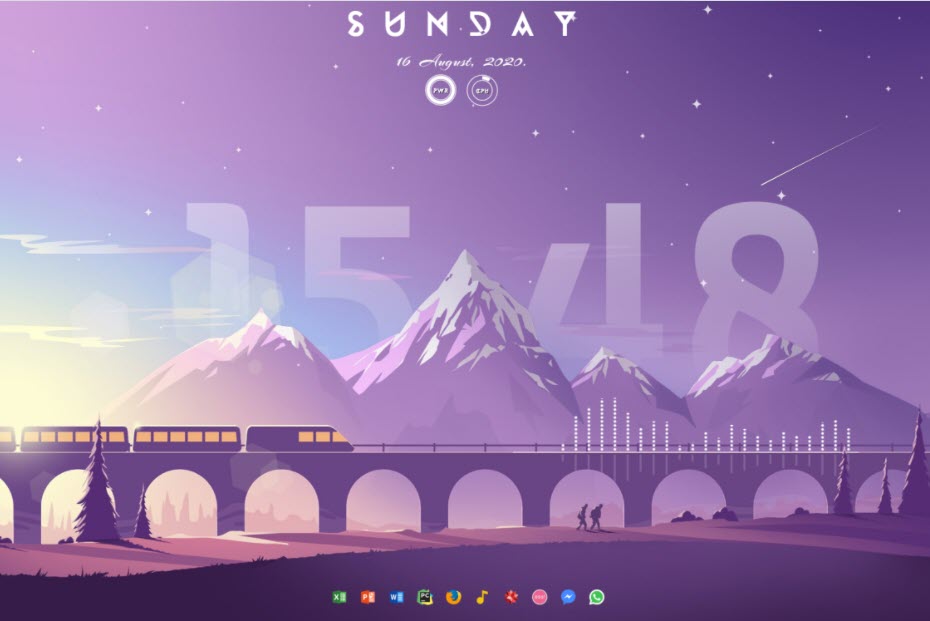 This is one of my personal favorite Rainmeter skin because of the cool illustration wallpaper. I have personally used this on one of my computers, and it looked great.
29. UI White Rainmeter Theme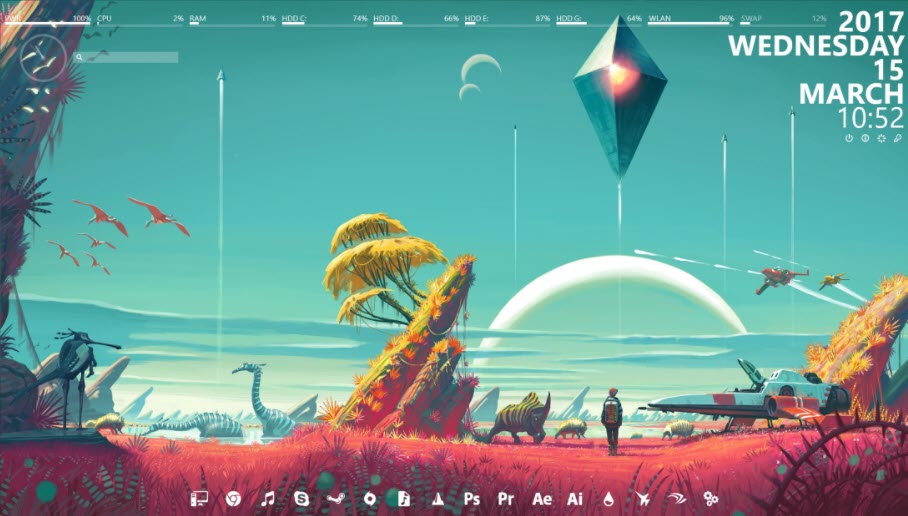 Another interesting Rainmeter theme that I liked a lot. UI White Rainmeter Theme is a simple skin with cool graphical wallpaper and a date and time widget unit to the top right corner of the screen.
UI White Rainmeter Theme
30. Pog Pack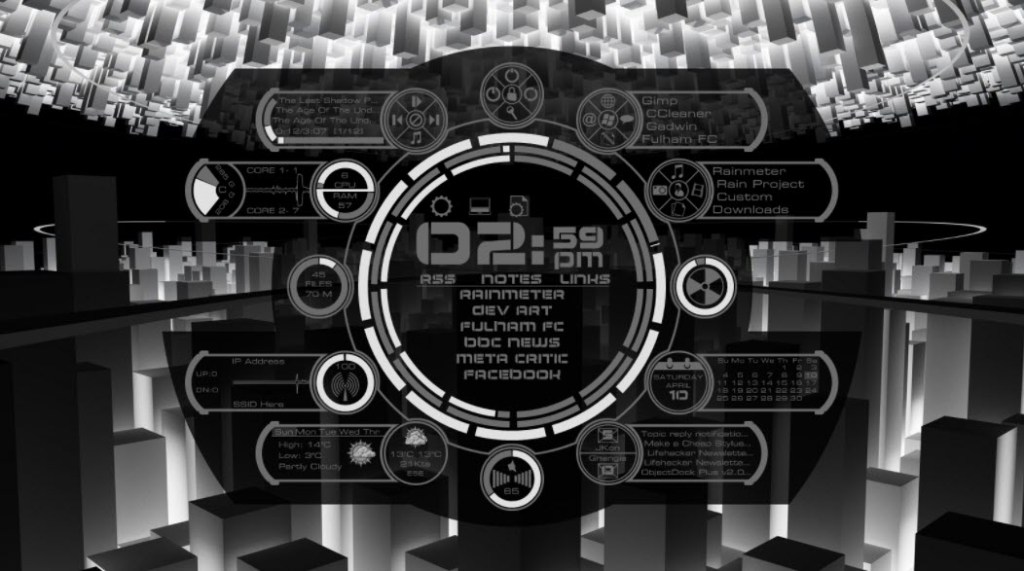 Pog Pack is a monochromatic Rainmketer skin with only black and white colors in it. Be it the elements or the wallpaper itself, everything only contains black and white colors.
Final Words
So, this concludes the ultimate list of BestRainmeter Skins for Windows 10 and other versions of windows. Now, go ahead and find the best skin of your choice and then install the same to Rainmeter to change the look and feel of your current desktop setup. Almost all the Top Rainmeter Skins in the article are highly customizable and scalable, so you can easily customize them according to your needs.