Since GeoGuessr made its platform paid, if you are looking for a GeoGuessr alternative then you are in the right place. In this article, you will find good games similar to GeoGuessr to play right now.
It was back in 2013 that GeoGuessr was initially launched. At the time of the launch, the game was completely free to play and you were not required to pay anything in order to play. But fast forward a few years, GeoGuessr has made it mostly paid.
Even after making the game paid, a free version of GeoGuessr is available. But the free version is not at all good and everything is lock or restricted. So people started looking for GeoGuessr alternatives that come with similar if not better features.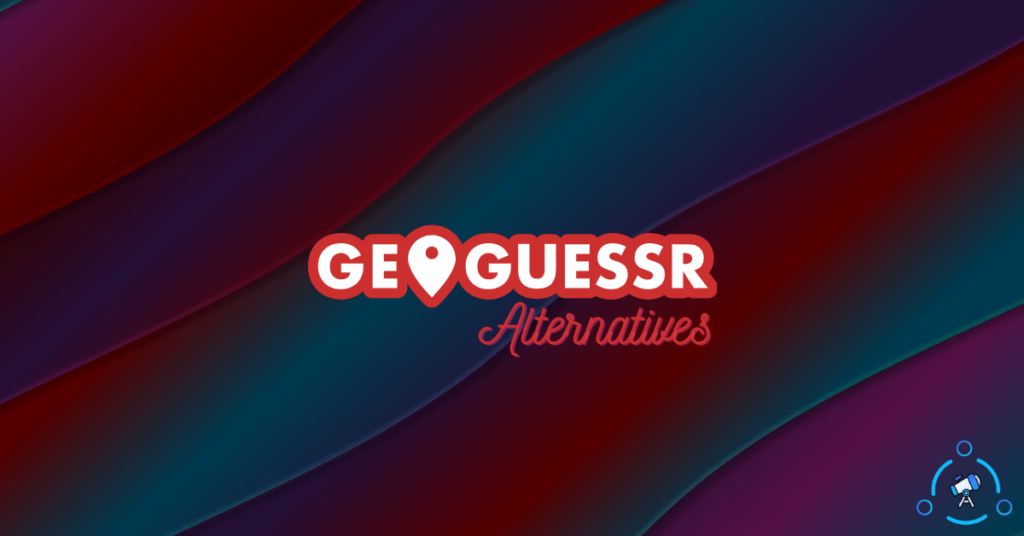 GeoGuessr was forced to make its platform paid as Google hiked the price of Google Map API. So, GeoGuessr was left with no option other than making it paid.
Best Engaging GeoGuessr Alternative Games
Similar to GeoGuessr there are tons of Google Maps games that you can play. Below given are some geography-based trivia games that are free to play and you are not required to pay anything.
1. PlayGeography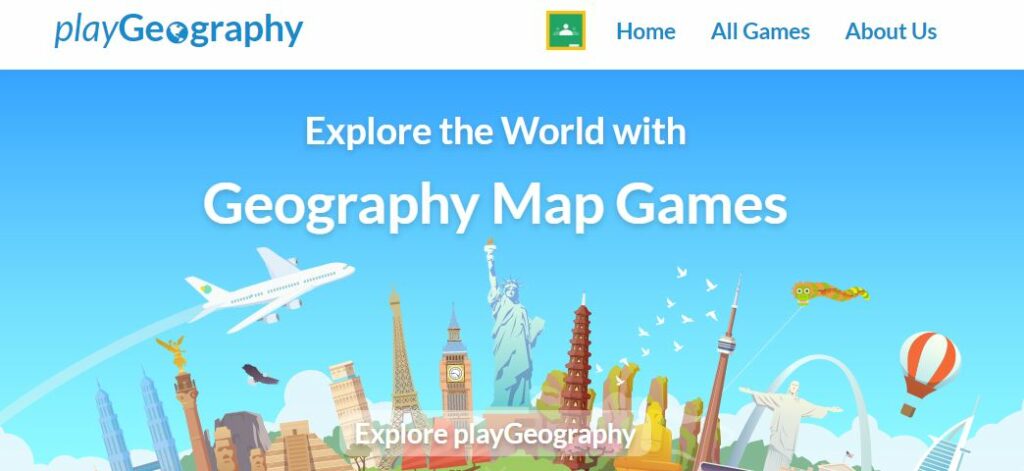 First up on our list is PlayGeography. As the name itself suggests, PlayGeography is a fun geography game that you can play to learn more about the world in a fun way. When compared with GeoGuessr, PlayGeography can be considered as a good alternative with similar set of features and similar game mode.
In GeoGuesser, we get a 3D-based interactive game experience but when it comes to PlayGeography we only get a 2D-based game mode. One more thing to note is that PlayGeography is an online game that you can play by visiting the website.
When it comes to GeoGuessr, it comes with a dedicated mobile application, but that's not the case with PlayGeography. The website is super smooth and you wouldn't really face any problem using the website on your smartphone or tablet since it is a highly responsive site for that matter.
PlayGeography comes with over 12,000 questions based on up to 90+ different geographical location maps.
TeachMe is the company behind PlayGeography. We do have more Edu games from the same company. TypeRacer, MathGames, etc are some other games from TeachMe that help you learn things in a more fun and interactive way.
PlayGeography is completely free to play and can be accessed by visiting their website. And one more interesting thing that you are not required to register on the site to play the edu game.
As soon as you visit the site, you can select any map of your choice. By default, maps will be arranged in terms of popularity. Just below every map, you can find the number of questions it has as well.
Fruthermore, the game is also integrated with Google Classroom as well.
Highlighted Features:
Free to use Edu game based website
Comes with over 12,000 plus questions based on 90+ maps
Playable on any device including smartphone, PC, or tablet
Available for: Web
2. City Guesser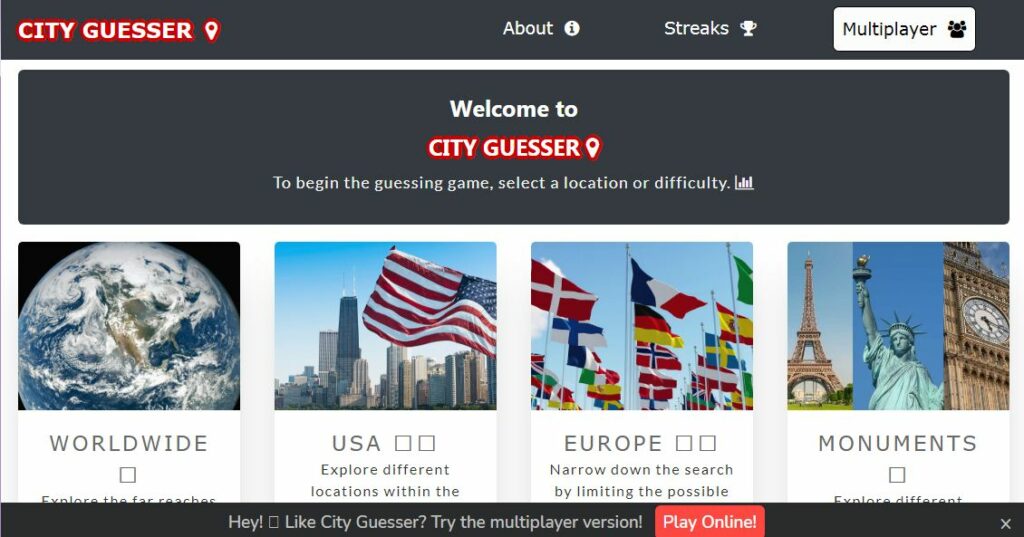 City Guesser was introduced right after GeoGuessr made its service paid. City Guesser is a very similar game to GeoGuessr. One big difference that makes City Guesser different from GeoGuessr is that it uses videos instead of Google Map API.
So the game works like this – After you visit the website, you will be asked to select a country, continent, or region of your choice. Once selected, the site will play a random video regarding the location you selected. Just beneath the video, you will also find a Guess button as well. Once you have the answer, you have to click the button and then mention your guess.
One more thing that makes City Guesser more interactive is the multi-player mode that you can try to compete with your friends. The player who manages to select a more accurate answer faster gets more points.
City Guesser is a really nice geography-based browser game to play in [year]. The games come with a good collection of maps and countries including the USA, UK, Africa, India, and a lot more.
Highlighted Features:
Video-based geography browser game
Game rooms to compete with your friends
Good collection of maps and places
Available for: Web
3. GetLost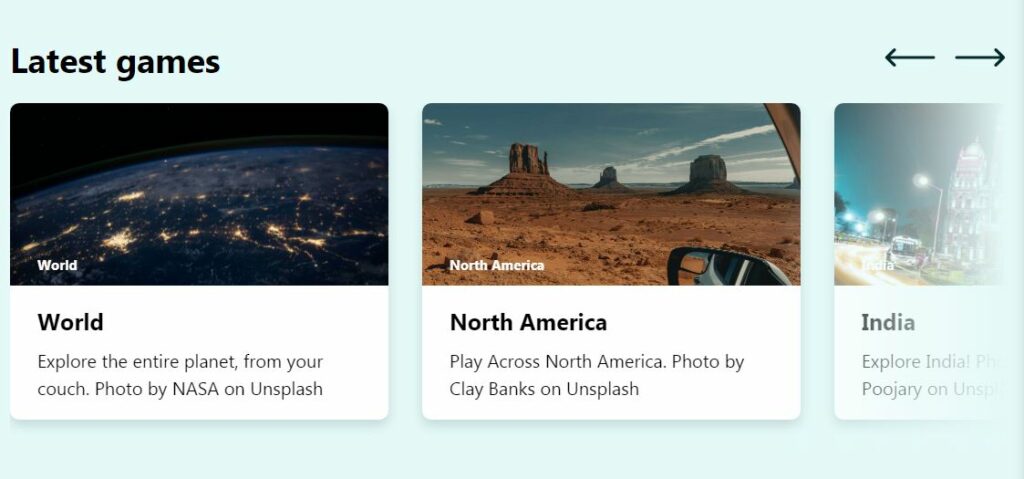 GetLost is yet another GeoGuessr alternative. Similar to GeoGuessr, GetLost is both a free as well as a paid game. But when compared with the free version of GeoGuessr, one can say GetLost is far way better.
First up, the free version of GetLost is fully free and you can play one session per day without any restrictions. If you want to play multiple sessions of the game on the same day, then you might want to opt for the paid version of the game.
A session consists of 5 round and the score is calculated from all the five rounds.
Creating an account and accessing the game takes less than a minute. Once set up, you can instantly start playing the game. GetLost uses street view maps to show different places from different parts of the globe. One needs to guess the place as close as possible.
The player earns points based on the closeness of the answer. For example, if you manage to answer a question and the distance is less than 5 miles, then you will be awarded as high as 20,000 point points, on the flip side, if your guess is within about 500 miles, you only get 50 points. And yes, the difference is real.
As mentioned earlier, a session consists of 5 rounds, and on the free account, you are limited to only one session a day. The pro plan of GetLost costs about $3/month or $24/year.
You can use any web browser like Google Chrome to play the game on your computer.
Highlighted Features:
Uses street view maps to play the game
Create an account and start playing the game instantly
No verification required
Available for: Web
4. Hide & Seek World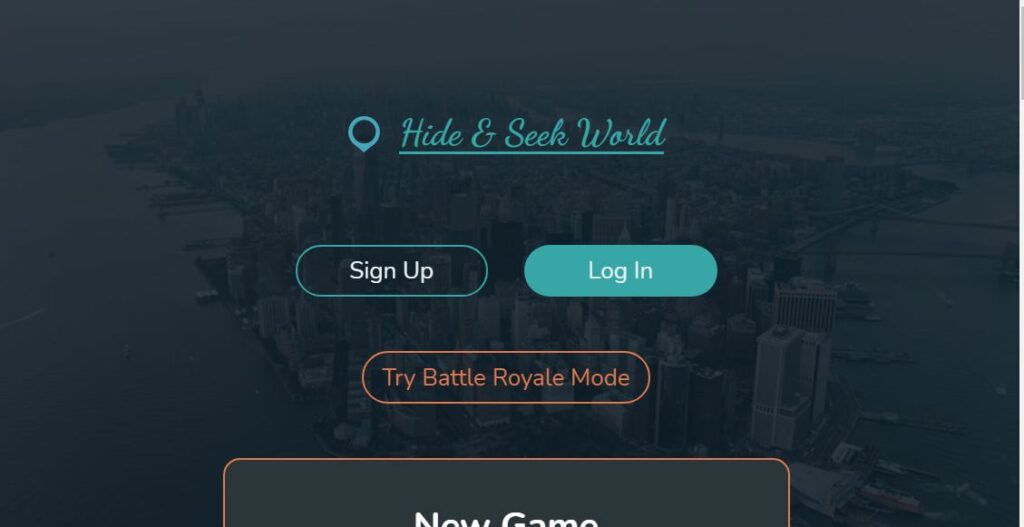 Hide & Seek World is yet another geography-based game to increase your knowledge of Geography. The concept of this game makes it different from others in this list.
So, the gameplay goes like this – First of all, as the name itself suggests, it is a hide and seek game. This means, there will be a hider as well as multiple seekers. And as a seeker, the player's role is to guess the hider's location as close as possible. The player that managed to guess the exact location or closest location gains more points than others.
There will be multiple rounds in a session. The total score is calculated at the end and the winner is decided.
To play the game, visit the website, enter your name and select a color of your choice and then play the game. It's that simple as it is. You are not required to sign up to play the game.
One thing to keep in mind is the fact that it is clearly a multiplayer game and you can't play it alone. You can play it with your friends only. Similar to GeoGuessr, Hide and Seek World also features a Battle Royale gaming mode, too.
Highlighted Features:
Geography based multiplayer game
Battle royale mode included
Fun and interactive
Available for: Web
5. Geotastic
Geotastic is both a single-player and multiplayer geography game similar to GeoGuessr where you need to guess the place right.
Once started, you are free to move around the places, and using the hints available, you need to guess the right answer. Things are as simple as it is. If you intend to play the game all alone then you can create a local game and start playing or if you plan to play with your friends then you need to enter the lobby and invite your friends.
The best part about the multi-player version of the game is that only the creator needs to have an account on the website. Other players you invite to the game can straightaway join without having the need to register on the site which is actually nice.
Geotastic is a crowdfunded game supported by donations that they receive from its players and other users around the globe. If you enjoy playing the game, then you can too contribute any amount of money to support the development of the geo-game.
Highlighted Features:
Includes both single-player as well as multi-player gaming mode
Not all players need to register on the site
Free to play
Available for: Web
6. World Geography Games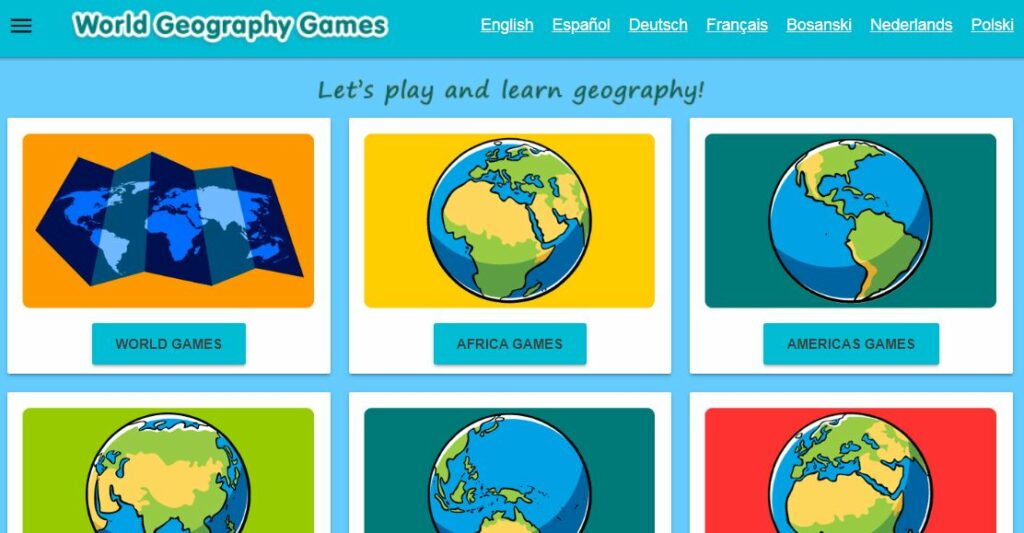 The name itself tells everything. It is a World Geography Game to make you more educated on geography. The cartoon-ish user interface of the website will appeal to young children and makes them want to play the game. By visiting the website, one can tell that the game was designed for kids especially.
World Geography Games is a multilingual game with support for a variety of languages including English, French, Spanish, Dutch, Turkish, Polish, and German. You are not required to create an account on the site to play the game. It's just like visit the website and instantly start playing the game.
The website comes with different game modes based on different things. There is a quiz mode where you have to answer the quiz based on some places, regions, or countries, Quizzes based on flags, etc are also available on the platform.
It includes a total of 193 countries and the game revolves around the same. Point is calculated on the basis of time taken to complete the game. The faster you complete it, the more points you gain. The ceiling value of the score is 25.
One more interesting thing about the game is that it offers an unlimited round of attempts.
Highlighted Features:
Features 193 countries
Includes Quiz based on flags, capitals, places, mountains, regions, etc
Take unlimited round
Free to play GeoGuessr alternative
Available for: Web
7. Seterra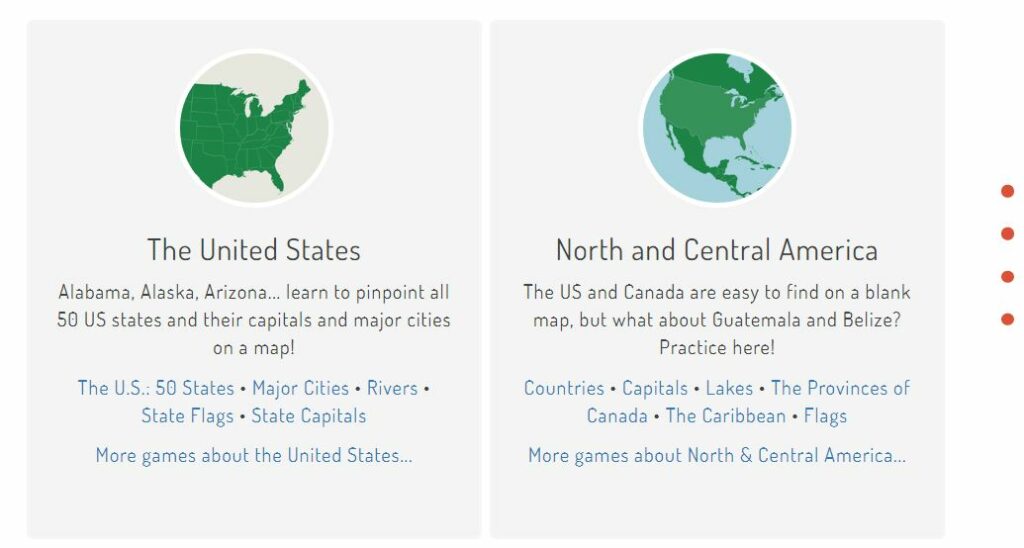 Seterra is a geographical mode game available for smartphones and the web. The game comes with support for up to 40 languages based on 400 plus maps in different parts of the world. When compared with GeoGuessr. Seterra comes with game options. The nine different gaming modes include show all, learn, multiple, choice, pin, pin hard, type, type easy, and type with auto-complete.
If you are on the computer, you can access the web version of the game and start playing it. The web version is limited in terms of features and options. To access the full-fledged game you will have to download the mobile application for Android as well as iOS.
If you only have access to a computer and not a smartphone then don't worry as you can use Android Emulator software to run Seterra on Windows or macOS.
The mapmaker option on the game will let you customize maps on the game and make quizzes based on that. The game focuses on various geographical parts like country, continents, regions, rivers, lakes, ocean, mountains, etc, and other geographical elements.
The online version of the game can be accessed for free but to access the gameplay you need to pay a small one-time fee of $0.99 for iOS and $1.99 for Android.
Furthermore, monthly memberships based on different membership plans are also available as well. Seterra is definitely a free GeoGuessr alternative that you can try right now.
Highlighted Features:
Available for both Web as well as smartphones platforms including Android and iOS
Access to the web version is free
Printables and PDF documents
Available for: Web, Android and iOS
8. Ducksters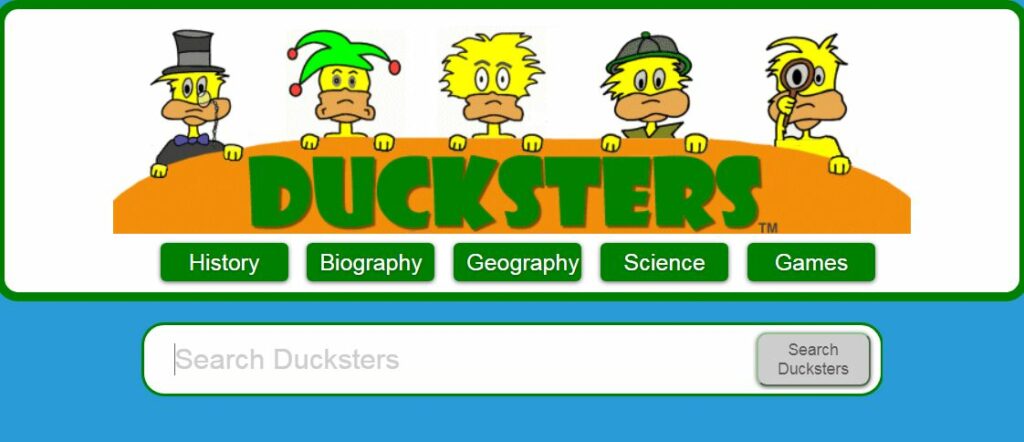 Ducksters is a good GeoGuessr alternative for people interested in the geography side of things or who want to learn more about the Geographical aspect of our planet earth.
The main gameplay includes various quizzes based on different geographical topics like countries, states, regions, rivers, lakes, oceans, mountains, islands, etc. The game covers a good number of geographical aspects of the United States of America. Similarly, it also covers a lot of others parts of the world as well.
The main gameplay of both Ducksters and GeoGuessr is different. Ducksters includes gaming modes like crossword puzzles, geography word searches, guess the country, geography hangman, etc.
Ducksters comes with both free as well as premium options. The free version of Ducksters is really basic in terms of features and games. You might want to subscribe to the premium version for more content on the game. Duckster is a definteily a good geoguessr alternative.
It is a web based game and can be accessed by visiting the website.
Highlighted Features:
Comes with free as well as paid options
Different game modes
Crossword puzzles included
Available for: Web
9. Zoomtastic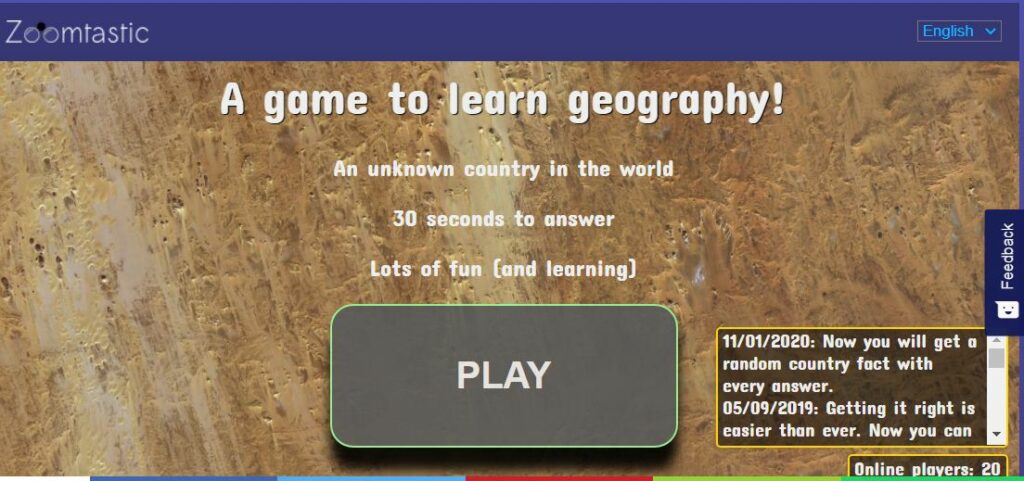 Zoomtastic is a fun GeoGuessr alternative game to play in [year]. The real gameplay of this web-based game has something in the name itself. The gameplay goes like this – You will be presented with a map with some detail in it. The map will slowly start to zoom out revealing more information about the place. You need to guess the right answer in the first 30 seconds. And your score will be based on the time taken to register the correct answer.
The did you know section in the game will give more information about the particular place as well. This can be considered as a knowledge card that gives a bit more details about the place, specialties, or other geographical aspects.
The game is only available via the web. No smartphone application is available for the same. The website works great on computers and tablets. but when it comes to a mobile screen, things might not look that organized as others in this list of best GeoGuessr alternatives.
For every correct answer you select, you get about 100 points in the game.
Highlighted Features:
Fun browser game for geogprahy lovers
Did you know section to see more details about the place
Available for: Web
10. GuessWhere Challenge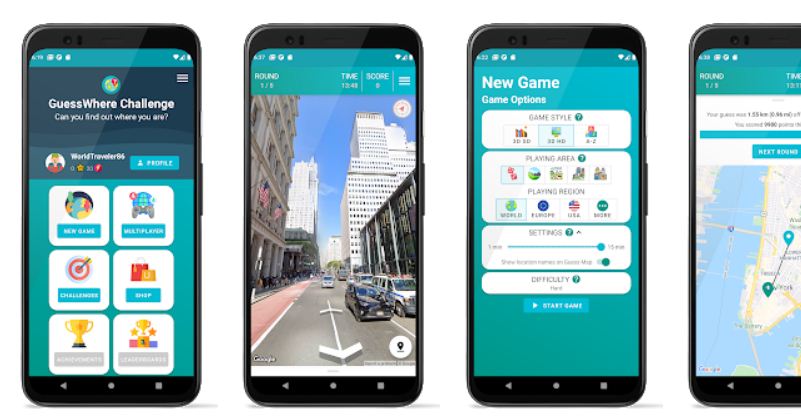 This one is an Android GeoGuessr alternative. Yes, this geography game is exclusively available for Android users only. You can also play the same on your computer with the help of some Android Emulators if you are into it.
Once installed and opened up, you will be virtually taken to a place which you need to guess correctly using the hints available. You can swipe and see different parts of the place to come to a better conclusion. A single session in the game consists of 5 rounds and the final score will be based on the scores you gained on all 5 rounds in the same session.
The games include different places from different nooks and corners of the planet. If you are after a GeoGuessr alternative for smartphones then definitely give GuessWhere Challenge a try.
Highlighted Features:
Specifically for Android
Panorama images based questions
Available for: Android
Which is the Best GeoGuessr Alternative?
So, these are some games similar to GeoGuessr to boost your knowledge in Geography. Alternatives are available for multiple platforms including the web, and smartphone devices as well. You can give a try to different games and see which one works best for you. Features and options available for different games are unique. Certain features available on one game might not be available in the other. You can also definitely try multiple GeoGuessr alternatives as they all will have different questions. If any games are blocked for you then you might want to try some methods to unblock the game.