Typing test websites or typing speed testing websites comes helpful when you want to test your typing speed or help you improve your typing speed as well. There are hundreds of websites on the Internet that will help you check your typing speed based on various criteria.
If you are someone who uses a computer a lot or if you are a person involved in typing large documents, etc, attaining higher words per minute typing speed will increase your productivity and at the same time help you save some time as well.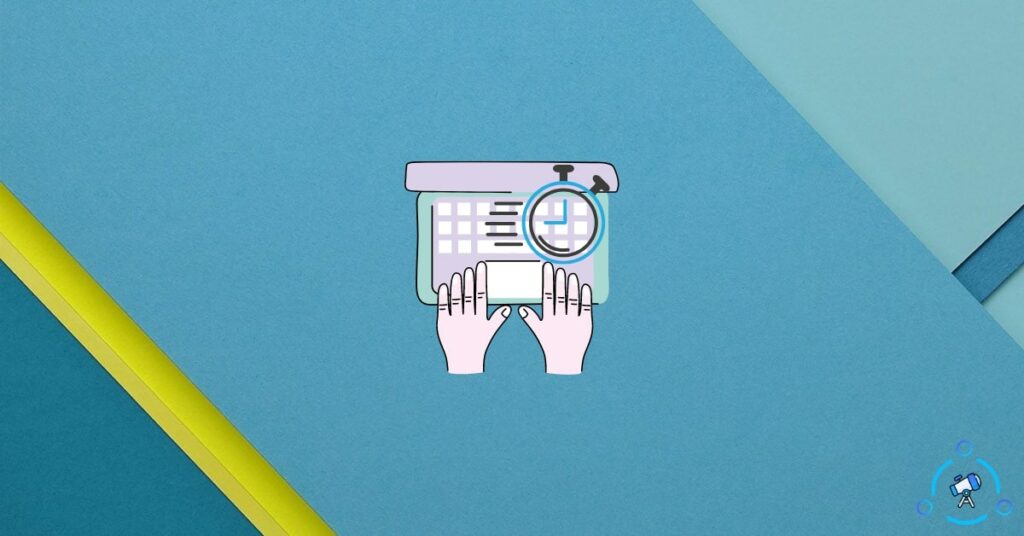 In this article, you will find the list of best typing speed test websites that will help you check your typing speed. Different websites employ different techniques and methods for calculating the speed. Furthermore, there will be multiple levels of tests as well. All the websites mentioned below will have a variety of typing tests. So, let's take a look at it.
Best Typing Speed Test Websites to Check Typing Speed
The list is arranged in no particular order. The UI of the website greatly differs a lot. So, you can go through all of them and find one that you find is convenient for you. Depending on the way in which the text is displayed, some might find it easy to use some particular website, so it's better that you try multiple websites before sticking to one.
1. Keybr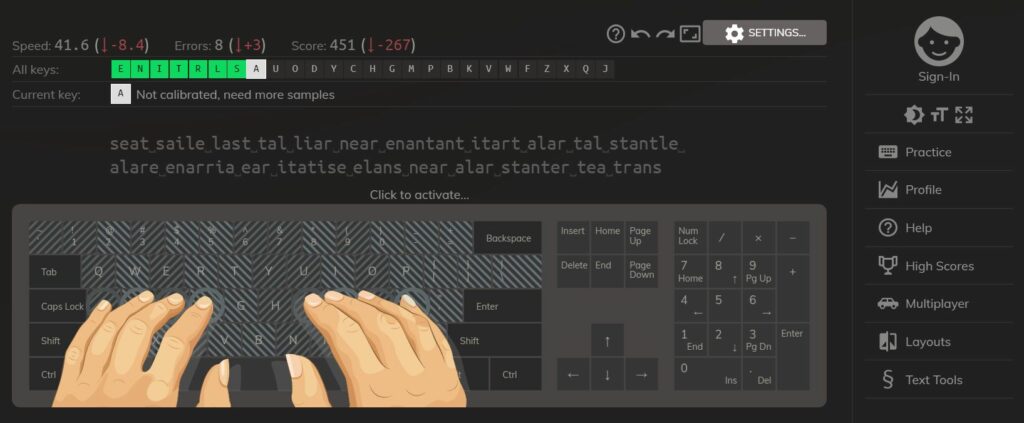 My personal favorite and the one that I use is Keybr.com. The reason why it is best is the algorithm the website use to assess the typing speed. Using the website continuously for a longer period of time will help you increase your typing speed as well. The website encourages people to type without looking at the keyboard.
The website basically tries to train you to use your muscles effectively so that you can type faster without having the need to look into the keyboard. If you are not that good at typing and want to learn touch typing then this is the website that I will recommend to you.
The UI of the website is really nice too. Everything is neatly arranged and the website does not come with intrusive ads (Only a few of them, not distracting). From the options on the right-hand side of the screen, you can select the practise option to instantly start typing. Furthermore, you can also switch between dark mode and light mode, take a look at the leader board, adjust the font size and help as well.
As soon as you start typing, keys on the keyboard displayed just beneath the block of text will be highlighted as well. Overall, my personal favorite typing test website is Keybr.com
2. Typings.gg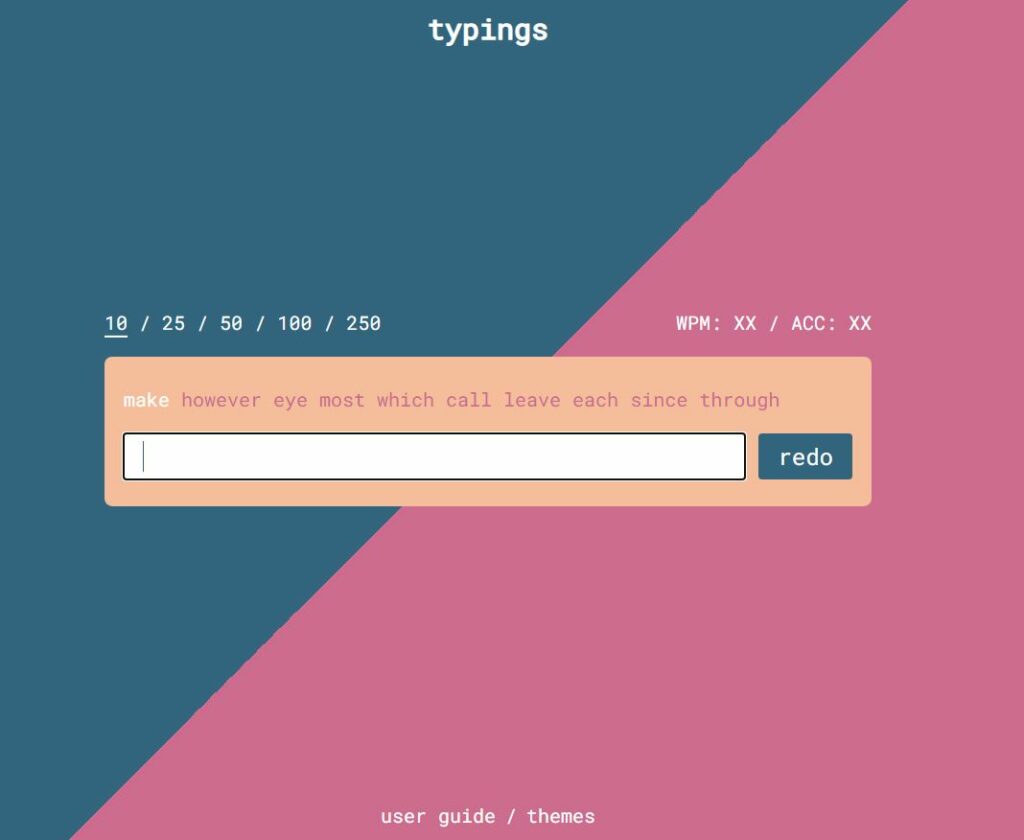 The second typing speed test site on our list is Typings.gg. If you are looking for a simple straightforward site to assess your typing speed test then this is the website that you are looking for. This would be ideally good for people who know the basics but just needs to test the speed only.
The user interface of the website is very minimal and that is what I like the most about this website. To the top section, you will be asked to select the number of words. You can select from 10 to all the way up to 250 words for the test.
The test result including your WPM (Words Per Minute) and ACC(Accuracy) will be displayed in the top right section as well. From the bottom section of the website, you can change the theme of the website, too. As for themes, there are multiple themes to choose from. If you use this website for a longer period of time then I would suggest you set a dark theme to make your eye comfortable.
3. MonkeyType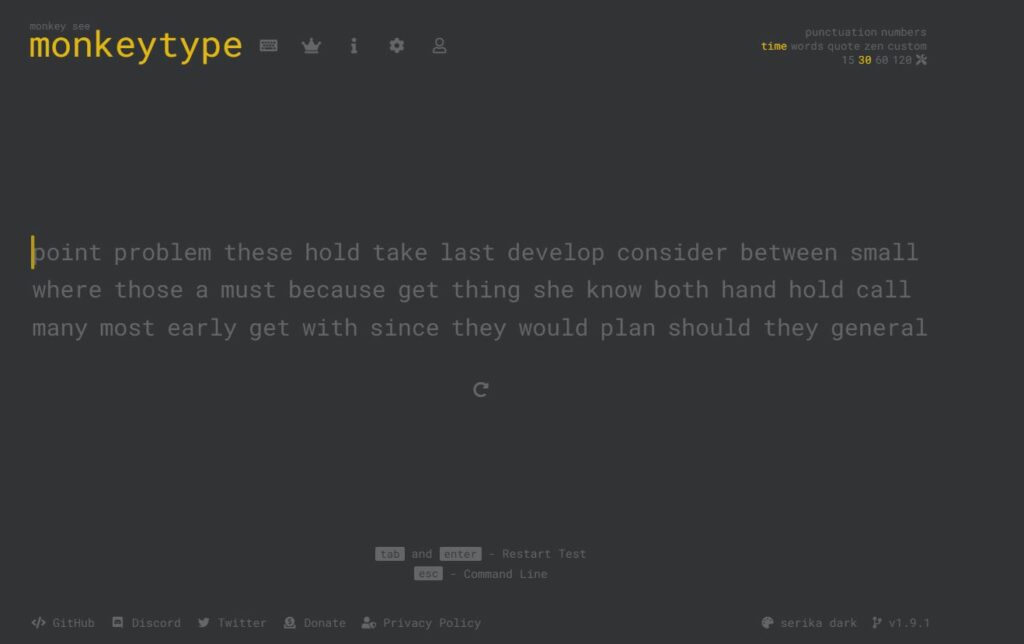 Yet another interesting and one of my favorite typing test websites is monkeytype.com. With support for over 40 languages, MokeyType is an open-source typing speed test website to check your WPM and accuracy. The best part is that every aspect of your typing test can be configured according to your preference.
For example, if you want to fail the test if your accuracy drops a certain number, you can do that, set test difficulty, enable or disable blind mode, and more. The gliding effect when you type the words is something I like a lot.
Talking about the user experience, so far, I am pretty impressed. To the top, you will find important options like start the test, info, settings button, and leader board as well. Clicking on the cog icon will help you set different parameters to better assess your typing speed.
From the top left corner, you can enable zen mode or custom mode if you want, including punctuations and numbers, adjust the duration, etc as well.
4. Typetest.io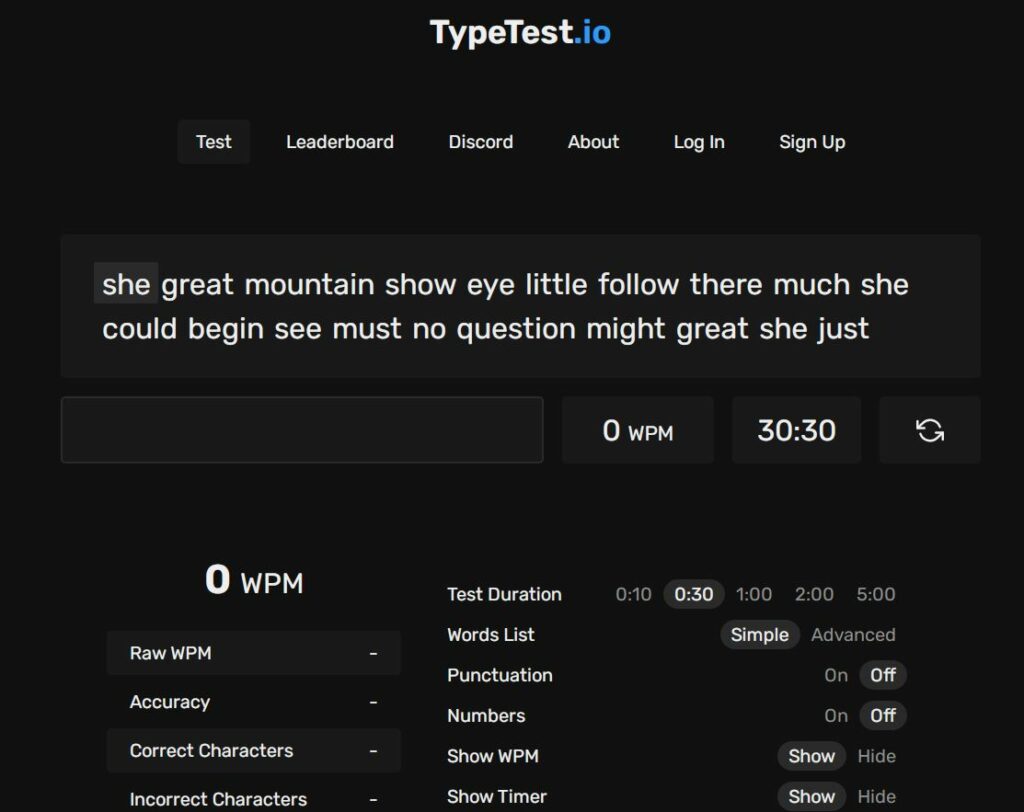 Typetest.io is a simple website that you can use to check your typing speed. Similar to the three other websites mentioned earlier, the UI of the website is simple and I liked it a lot. Things are pretty straightforward here, from the options on the bottom side, you can enable or disable things like advanced mode, simple mode, include punctuations or numbers, show timer, show WPM, etc.
Scrolling down to the bottom of the page you will find the leaderboard where you can find people with top typing speed their, WPM, and accuracy as well. The UI of the website is simple and comes with no ads. As soon as you start typing the timer will start and the current WPM will be displayed.
The simple interface of the website makes it appealing to a lot of people. Definitely a good website to check your typing speed.
5. Typing Academy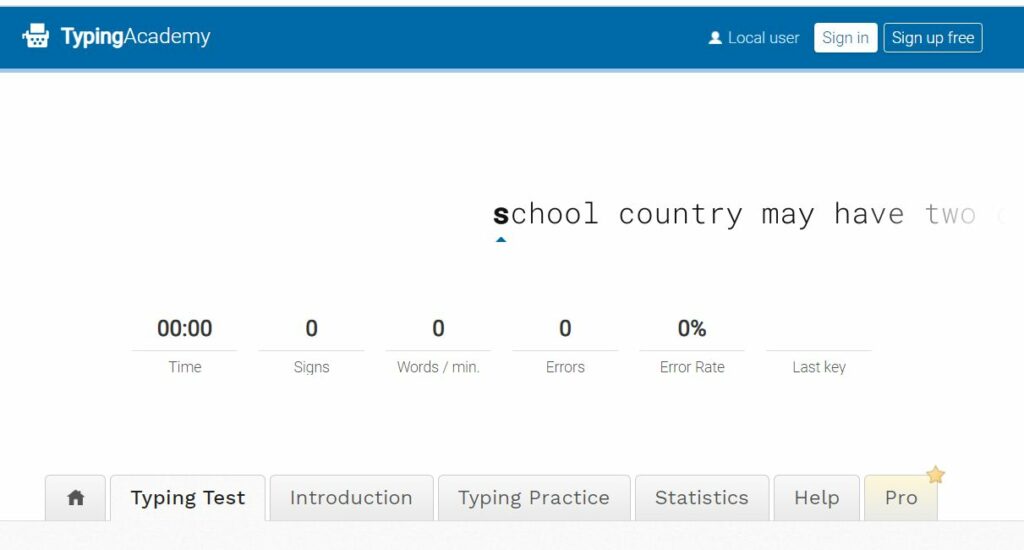 Typing Academy is a typing speed tester online tool to check your typing speed. The website also comes with a bunch of exercises to increase or improve your typing speed as well. I used the website personally, and it worked great for me.
At first, it will ask you to select your configuration and typing method. Once selected, you can start typing the words that appear on the screen. Just beneath that, you will find real-time information about your typing like time, error, last error, speed, accuracy, etc. The high scores section will show you the list of people who scored the most WPM.
You can use the website without having the need to log in .In this case, your scores will be locally stored on your web browser. If you want to save your performance to assess it in the future, you can register for a free account.
6. TypingTest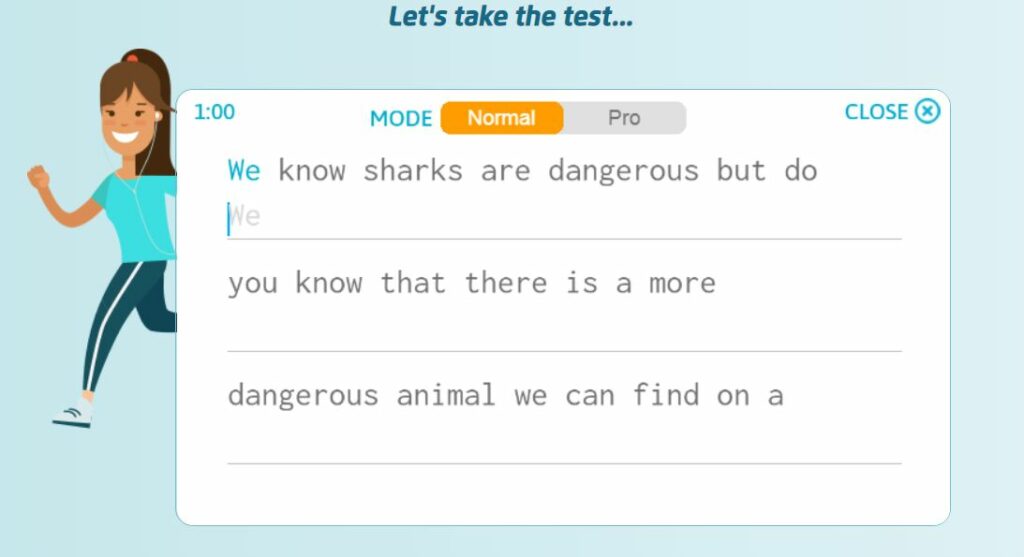 If you want to test your typing skills and speed based on different difficulty modes then TypingTest can help you in that. As soon as you visit the website, in order to start the test, you need to select a few preferences. The first one is to select the typing test duration. There are 5 duration modes available. You can select 1 minute, 2 minute, 3 minutes, 5 minutes, or 10-minute typing duration.
Once the duration is selected, next you need to select the difficulty level. There are three difficulty levels available – Normal, Medium, and Hard. You can select one that you are comfortable with. If you are just getting started then go with Normal typing difficulty.
Apart from the three basic modes mentioned above, there are some complex modes like tricky spelling, blind typing, story typing, etc as well. You can try out these too.
7. 10FastFingers

With support for over 50 languages, 10FastFingers is a good typing test analyzing websites to use. It is also one of the oldest typing test websites on the Internet. While comparing with others in the list, you might miss out on features like the ability to adjust duration, etc. The website comes with a default one-minute typing test only.
But what makes it interesting is the multiplayer typing test that you can take. This basically lets you compete with a real person and test your speed. From the left-hand side of the screen, you can select various options including advanced mode, custom text mode, multiplayer mode, etc.
If you are looking for a simple-to-use typing speed website then give this website a try.
8. TypeRacer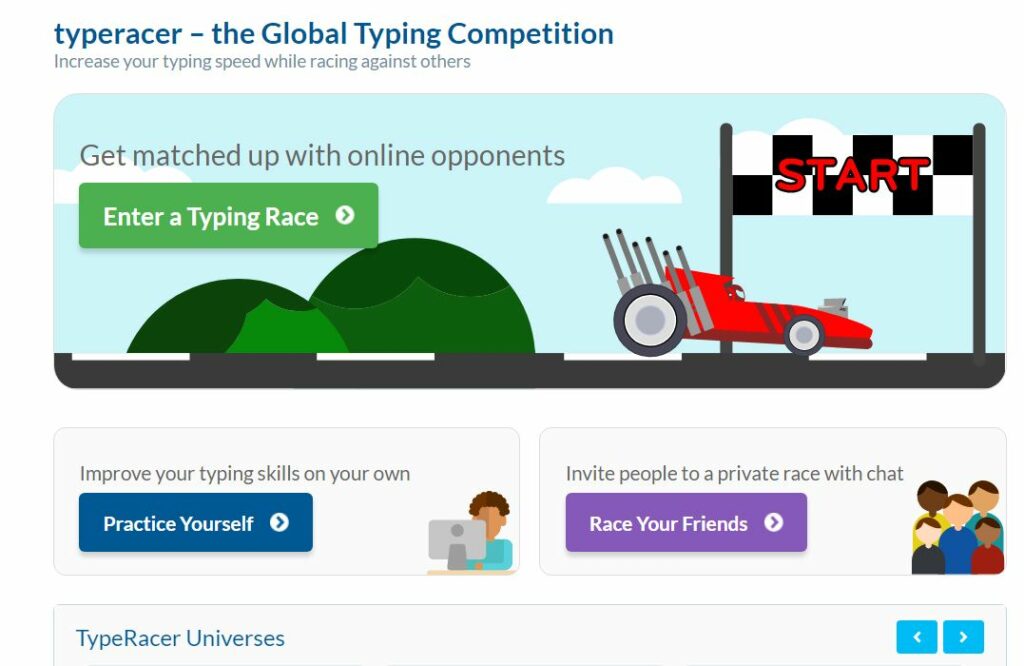 As the name itself indicates, this website's concept is a little different from others on the list. How about a keyboarding typing car racing? On this website, you can compete with your friends in a car race model. Your typing speed and accuracy determine your car's speed. There will be five players in a race and the first to reach the finish point wins.
If you are not interested in this mode of typing test then normal keyboard typing test mode is also available on the website. You can use the 'Practise Yourself' mode to enter into normal mode. Furthermore, you can also compete with your friends by inviting them to the website and playing together.
There is something called TypeRacer Universe where you can select typing speed tests based on various themes like dictionary words, anime, jokes, etc.
9. NitroType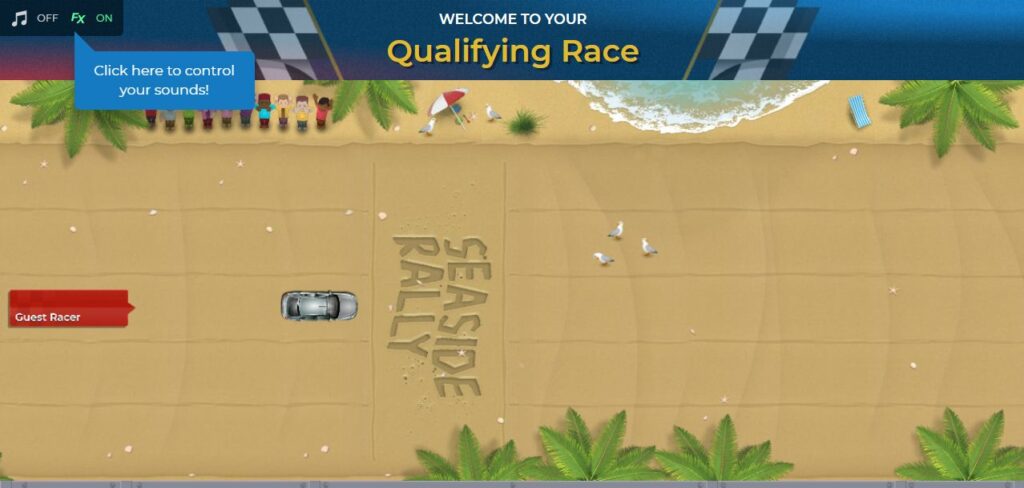 NitroType is a typing speed test website that is very similar to TypeRacer. But NitroType takes it to a different level by introducing cool animations, graphics, and sound effects. On TypeRacer, we only had 2D-based cars moving in the x-axis but when it comes to NitroType, there are lots of graphical content to make your experience fun.
As soon as you visit the website, you need to enter a qualifying round to see if you can compete with other players. You need to finish a simple paragraph and once done, you can start competing with others in the car racing model.
To the top left side of the screen, you have sound controls that you can use to turn it off or on depending on your use case.
10. Typing Cat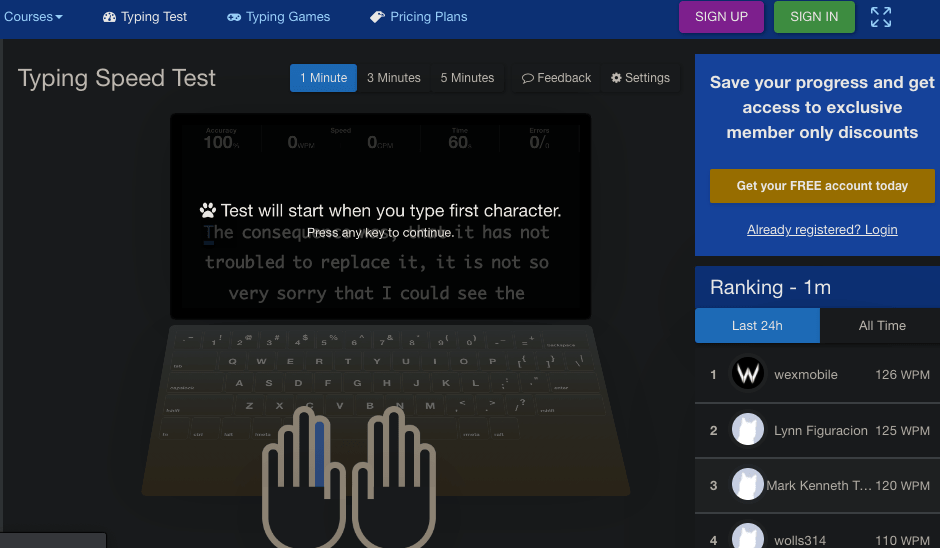 Typing Cat is a simple to use typing speed test website to assess your typing skills. Having a high number of WPM metrics while writing will save you a lot of time. This is where Typing Cat comes into play. The website lets you assess your typing skills by taking a short test. The website offers 1 minute, 3 minutes, and 5 minutes tests.
The UI of the website is good and you get a clicky sound every time you click a key. The sound is so satisfying and lets you take long sessions. To the right side of the screen, you will find a leaderboard section where it displays the names of people with top writing speeds.
Apart from the test, the website also comes with Typing Games as well. If your typing skills are not up to the mark then you can join their typing courses as well.
11. Key Hero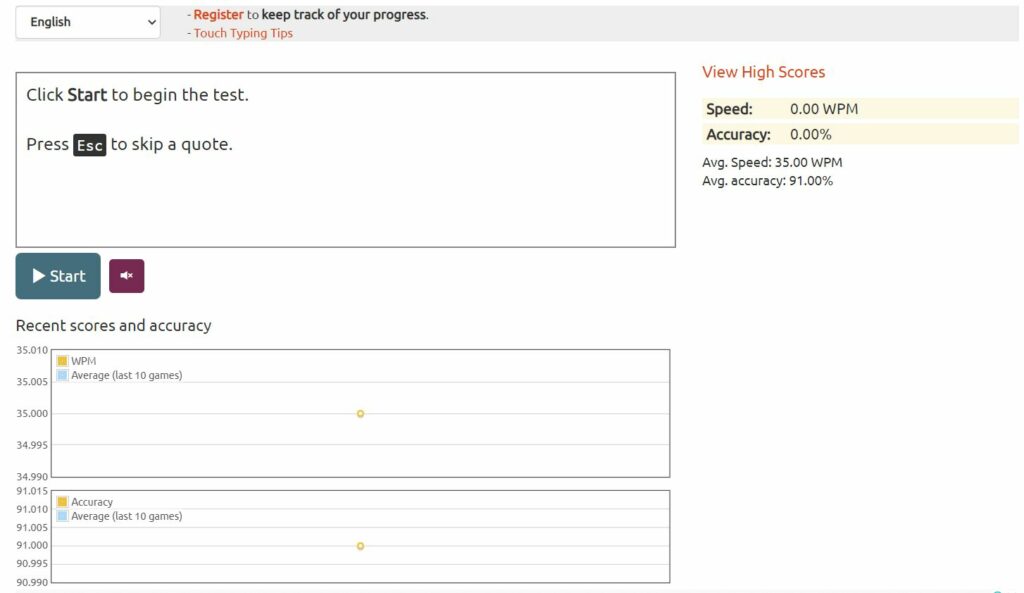 KeyHero is the tenth option on our list. Key Hero is a simple typing speed website to check your typing speed. The best part of using Key Hero is that it shows your details in a graph so that you can better assess your performance. You can see when your graph dropped and when it shot back.
The graph might come useful for certain people to evaluate themselves. Other than that, the website has all other basic functions like checking the speed as well as accuracy too.
You can select multiple languages to do the test on and you also have the option to mute the sound effects as well. Key Hero is a free website to test your typing speed easily.
Best Typing Test Websites to Use for FREE in 2023
This is our final list of the best typing test websites to check typing speed. My personal favorite on the list is Keybr and MonkeyType. You can go through all the websites and select one that you find is interesting to you. All the websites get the job done, that is to check our typing speed. There are certain website that comes with a different approach like car racing to make your typing more fun.
To access any of the online tool mentioned above, all you need is a web browser like Google Chrome.