Apple has recently started focusing more on the Safari Extensions side of things. Now, day by day, a lot of useful and free extensions are being made available on the App Store. You will be able to find a dedicated Safari Extensions section on the App Store for Mac.
One of the main reasons why a lot of people kept using Google Chrome is the support for wide range of free extensions. Extensions for running Android apps, grammar checking, etc were available on Google Chrome. Finally, things have changed and Safari too now comes with a collection of good extensions, both paid and free.
In this article, we will take a look at the top 15 Safari Extension that you should be using to make your web surfing experience simple and easier. This list will include extensions from all categories like Productivity, Shopping, User Experience Improvement, etc.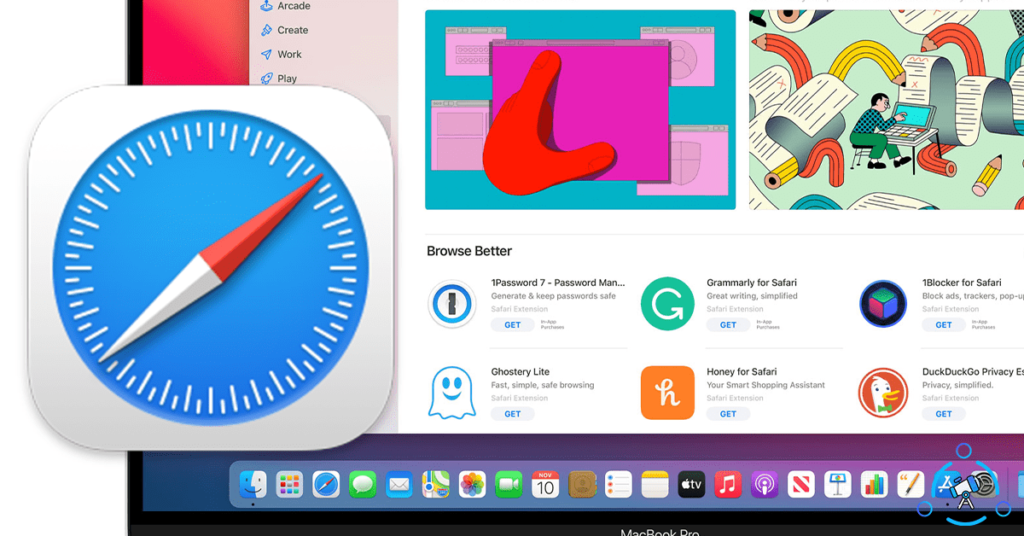 What is a Safari Extension?
If you are new to this whole extensions thing, let me break it down for you. Extensions are like add-ons that you can add inside of your Web browser, in this case, Safari. There are extensions available for various tasks. For example, you can use the Grammarly extension to check spelling and grammar every time you type something on Safari. Similarly, you may use any customization extensions to change the entire look and feel of Safari browser.
In short, Safari Extensions let you add extra functionalities and features to the Safari web browser.
How to install a Safari Extension?
Installing an extension for Safari is simple and straightforward. All you have to do is just follow the steps below.
Open Safari and click on the Safari menu > Safari Extensions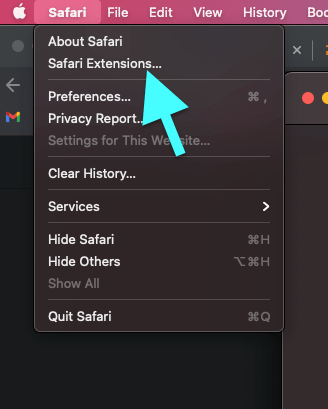 It will now open up App Store's Safari Extensions section. (You may also directly open the App Store and move to the Safari Extensions section as well)
Select the extension you want to install and click on Get button. Authenticate with your Apple ID and click on the Install button
Once installed, head back to Safari Extenstions page and tick on the extension that you want to enable.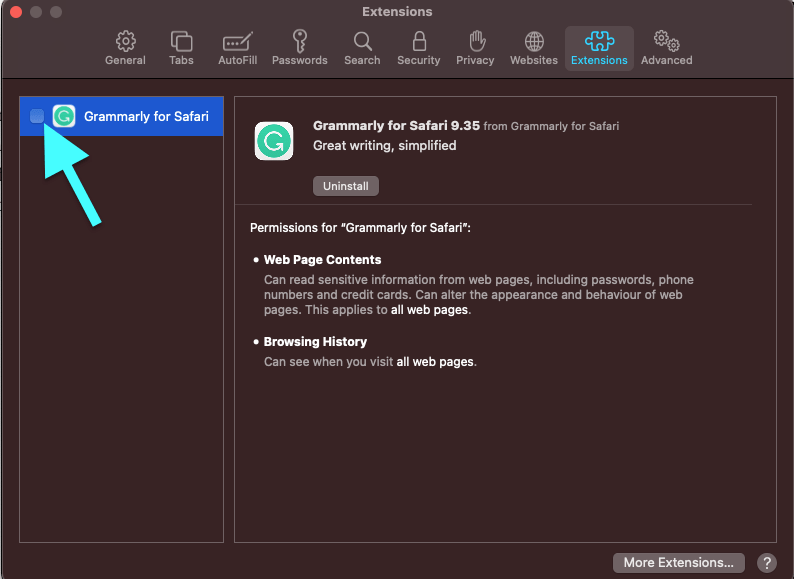 Note that even after installing the extension, you have to manually enable every single one of them. If you no longer need them, you can uninstall the same from there as well.
Must Try Safari Extensions for macOS
The list is arranged in no particular order and includes both free as well as free Safari extensions.
1. Grammarly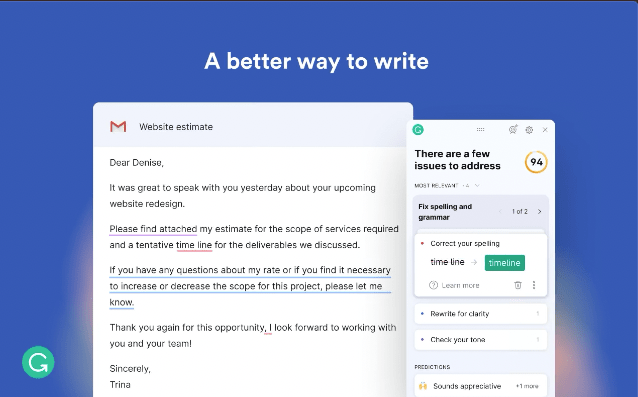 Some of you might be already aware of Grammarly. Grammarly is the most popular grammar, spelling, punctions, typo checking tool on the market. Grammarly's extension is now available for Safari as well. If you are someone who writes long documents like articles, essays, official emails, etc then Grammarly will is a life-saver for you. It will highlight all the errors and hovering on the error will show suggestions to fix it. All you have to do is a single mouse tap to fix any error.
Furthermore, Grammarly will also suggest words, synonyms, phrases to make your writing look good and unique. Grammarly works with pretty much all websites. I have been using Grammarly for years and it is one of the best extensions that you should definitely have.
2. 1Password
1Password is one of the best password managers for Safari browser. It is always recommended that you set different and unique passwords for all your accounts and remembering all of them is the real pain. 1Password helps you in better organizing all your passwords, logins details, card details, etc in a secured manner.
1Password also comes with a powerful password generator as well. You can create complex passwords with a single click and save the same to 1Password. Apart from passwords, 1Password helps you store ID cards, Notes, Driver Licenses, SSN, etc as well.
Altogether, a good Safari extension to have. 1Password is a paid extension and comes with 30 days free trial. The monthly subscription costs you about $3.99/mo.
3. PiPer: Picture-in-Picture All the Way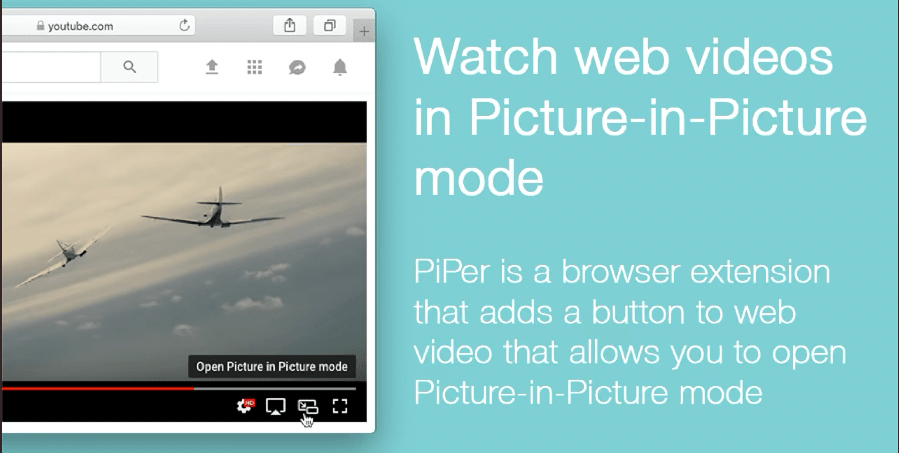 Do you want to take your multi-tasking skills to the next level? PiPer is a free Safari extension that will let you watch any video in PIP(Picture-in-Picture) mode. Let's suppose you are doing something on Safari and also want to watch some random videos, PiPer will create a PIP floating video player that you can place anywhere on the screen. You can continue doing your work while the video floats on the screen.
PiPer supports a number of websites including YouTube and Facebook. Once installed, a new PiPer icon will appear in the video player. Click on it will make the video appear in PIP mode. You can easily disable the PIP mode by clicking the same icon itself. PiPer also supports closed captions even on the floating window.
4. Save to Pocket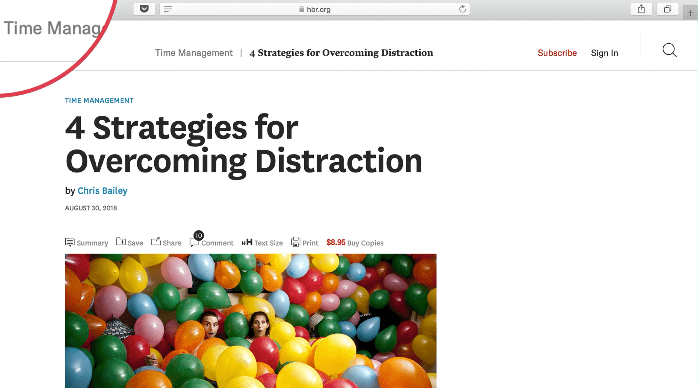 Save to Pocket extension for Safari comes in handy at times when you want to save online content for later use. Let's suppose you are busy doing something. All of a sudden, you came across an interesting article or video, but you don't have time to watch or read the same. This is where Save to Pocket extension comes into play. You can easily save the content and refer back to the same when you have free time.
Save to Pocket lets you save content and organize them for easy access. You can use colors, and tags to better manage and organize things as well. Once synced, all the saved content appears on all devices in real time. This means, even if you save the content on your MacBook, you can read the same from your iPad or iPhone as well.
5. Ghostery Lite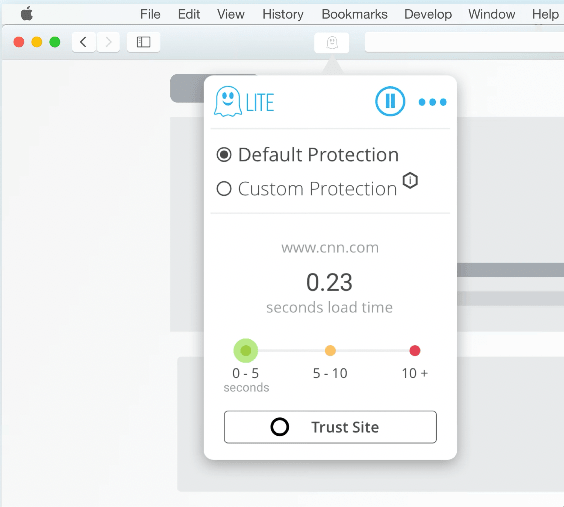 If you are fed up with ads and trackers following you while using the Internet then Ghostery Lite is here to help you. Ghostery is a cool Safari extension that will help you to get rid of all trackers from the websites you visit. This will add an additional layer of security to your personal data while you are surfing the web.
You have two options to go with. The first one is the default option which blocks all the ads and trackers from all the websites you visit. The custom option lets you customize things like what trackers to block whether or not to block ads, etc. The extension also comes with the option to whitelist websites that you trust.
6. TranslateMe for Safari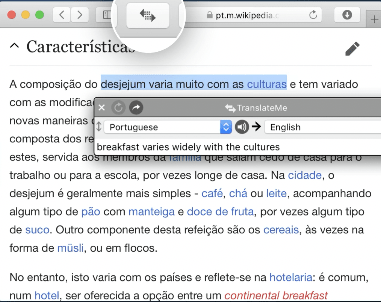 Oftentimes, we come across pages in foreign languages or languages that we don't know. This extension is something that will help us in this kind of situation. macOS Big Sur comes with certain translation features but most of the time, it does not work as expected. This is where the TranslateMe extension for Safari comes into play.
With support for over 180 plus languages, TranslateMe for Safari is a great translator to use. You can translate to and from any of these supported languages. This one is a paid extension and comes for $9.99 on the App Store.
7. Adblock Plus
There are certain websites on the Internet filled with ads only. Such sites will have only about 20 – 30 percent content and the rest will be ads. Things get messier when adware and pop-up ads are integrated. Oftentimes, we might be forced to visit such websites. This is where Adblock Plus helps us. You can block all intrusive ads from any website and make your experience clean.
If you want to let legitimate web publishers to make some revenue, the Adblock Plus extension comes with the option to whitelist websites as well. Adblock Plus will only show you non-intrusive ads. All other sorts of ads, pop-ups, etc will be cleared from every page you visit.
You can also read our comparisson of Ad Blocker and Adblock Plus.
8. HoverSee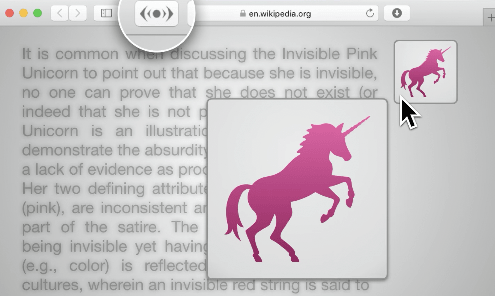 HoverSee is a super useful Safari extension for users who want to zoom in on web pages. Certain people might be using a smaller display to access the web or have some eye-related issues. In these cases, if we get an option to zoom in to a webpage, we can see a lot more details. HoverSee is here to do just that.
HoverSee will add an extra zoom button to your web browser that will be helpful to you when you want to spot minute details on photos, webpages, videos, etc. The paid extension for Safari comes at a price of $7.99.
9. Popcorn for Safari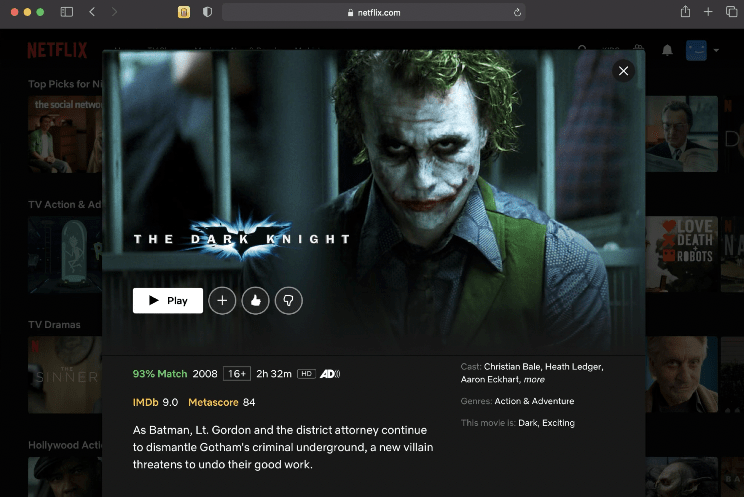 Popcorn for Safari displays the IMDb rating of all shows including series, documentaries, movies, etc. It will be super helpful if we get to see the IMDb rating of every show while surfing Netflix itself. This way, you don't want to waste time on shows that are not of your type or has a low rating.
Popcorn for Safari will add an option to see the IMDb rating while using Netflix. It is a lightweight and free Safari extension that you can install from the App Store right now.
10. Dark Mode at its Finest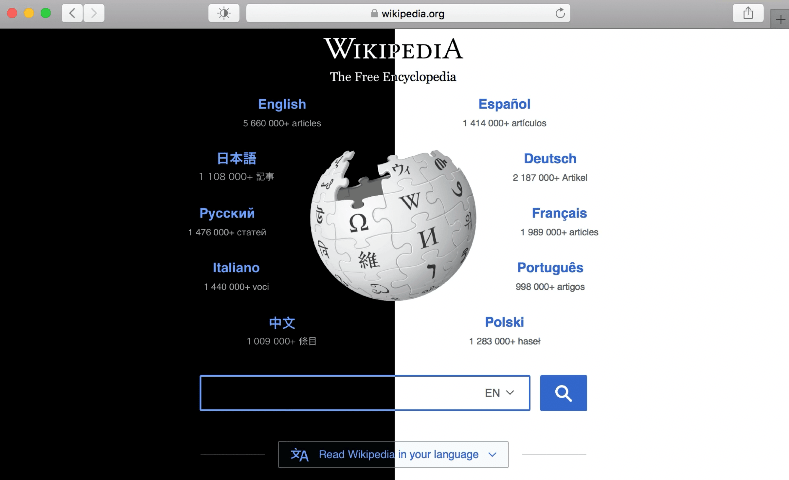 This is a super useful Safari extension if you are like me who spends a lot of time surfing the web. The blue light coming from the screen makes our eyes strained. To keep to the minimum, we use things like blue light filters on our computer, glasses with blue cut lenses, etc.
One more thing you can use is the Dark mode extension for Safari. This extension will automatically turn everything dark to make things easier for your eyes. Let's suppose you visited a website which has a light background and dark texts, the extension will turn it into dark background and light texts.
11. Speed Player for Safari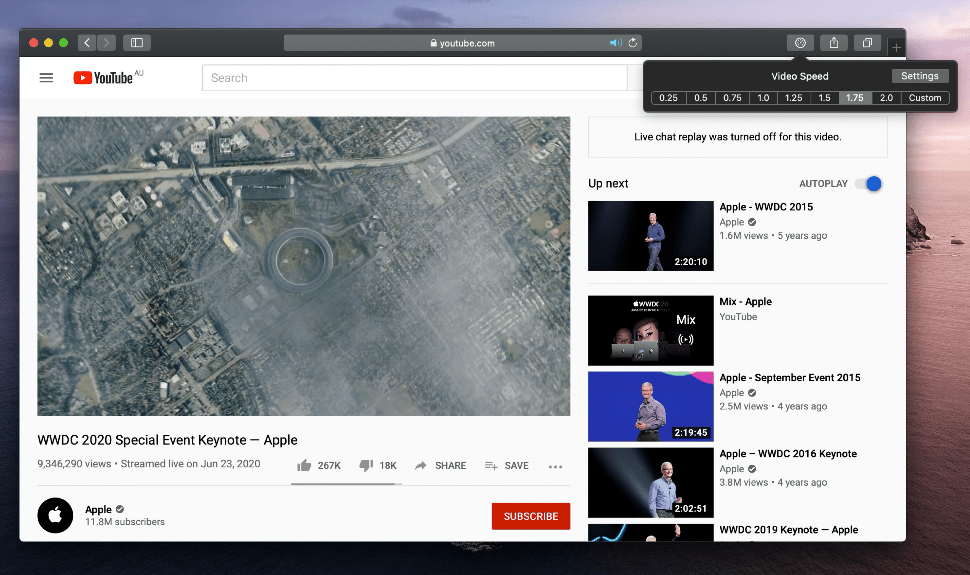 I use Safari a lot to watch videos on the Internet. Oftentimes, I come across videos which very long and the person on the video might be talking too slow. If this happens on YouTube then I would quickly click on the settings button and increase the playback speed to 2X. But not all websites come with this option to increase the playback speed, this is where this extension helps you.
Using this Safari extension, you can control the playback speed of any videos on any website. Even if the video player on the website does not provide you with the option to adjust the video playback speed, you could do it with the help of this extension.
12. Short Menu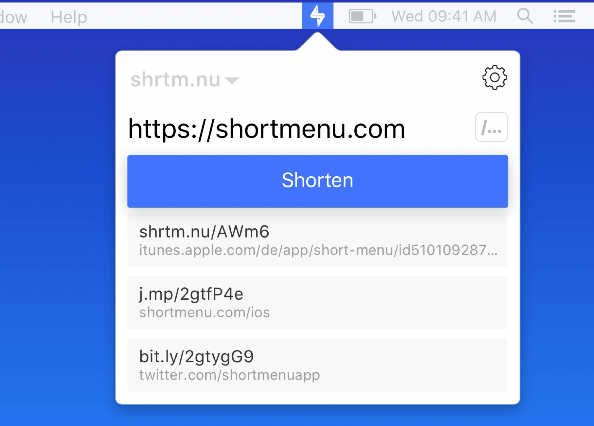 Short Menu is an extension for Safari that will help you to save some time. Oftentimes, we would be required to shorten long URLs to make them look neat. If you are someone who shares a lot of interesting content on the web with your friends then you might know how bad is it to share ugly-looking long URLs.
There are plenty of URL shortener services out there. For example, Bitly. Short Menu extension lets you shorten a URL in just a single click. After shortening the extension will automatically copy the shorter version to the clipboard, so that you can easily share it with anyone.
13. Honey for Safari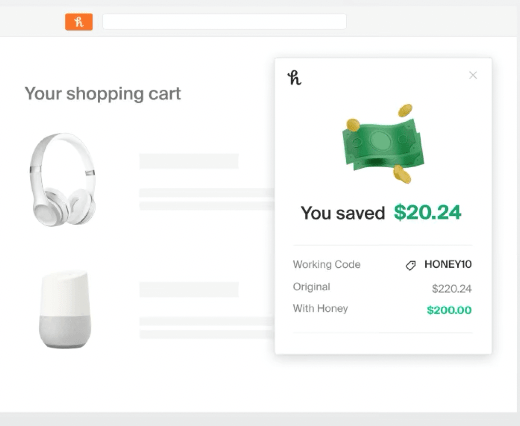 Honey is a coupon aggregator extension for Safari that shows you a list of valid coupons that you can apply while shopping to get some discounts or cashback. Honey will automatically scan the websites for available coupons and apply them for you to get maximum discount/cashback while shopping online.
Honey helps users to save hundreds of dollars every month by showing coupons and discount codes. You can too use Honey by adding it to the Safari web browser. Honey supports more than 30,000 plus sites at the time of writing this article.
14. Don't Waste My Time!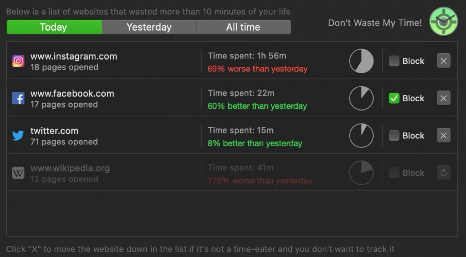 Don't Waste My Time! is a time management browser extension for Safari. The extension will help you find websites where you spend most of your time. It's true that we get distracted while we do our work. We tend to spend a lot of time surfing social media sites like Facebook, YouTube, etc.
The extension will help you know how long do you use a website and using this data, you can cut down the usage on these websites and save some time. If you are concerned about your productivity time, then make sure to use Don't Waste My Time! extension for Safari
15. Wayback Machine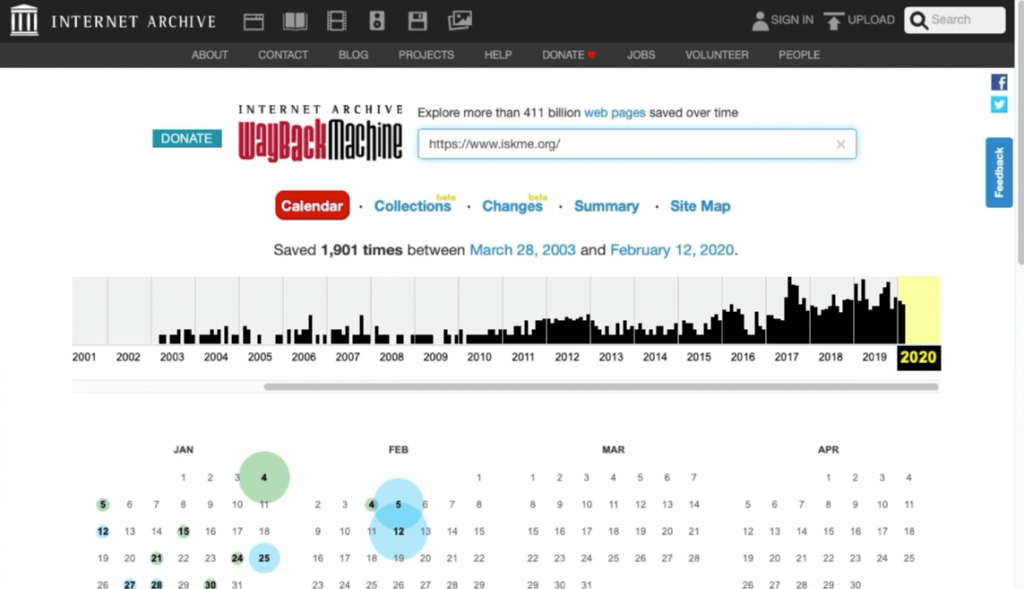 Do you want to visit and see the historical version of a webpage or find a webpage that is no longer online? Well, Wayback Machine got you covered. Sometimes, we might click on a link and find a broken page with error 404. This is where this plugin helps us. This plugin will search and find the page and displays it for you even when it is not available.
Or if you want to find content that has changed on a webpage, you may use the Wayback Machine extension for Safari. If for some reason, Wayback Machine is not working for you then take a look at Wayback Machine alternatives to find older versions of a webpage or broken pages.
Which are the best Safari Extensions?
These are certain Safari Extensions that you should have installed on your browser. Safari has changed a lot and new and new features are being added in every major update. Now, you will find more extensions for Safari than ever. These best Safari extensions make the web browsing experience easier and improves your productivity as well.