Error connecting to a server is a common error faced by Omegle users, and the best part is that it can easily be fixed in a few steps.
Even now, if you are facing this issue and relaunching the website and clearing the cache didn't work, read the different methods for fixing Omegle error connecting to server.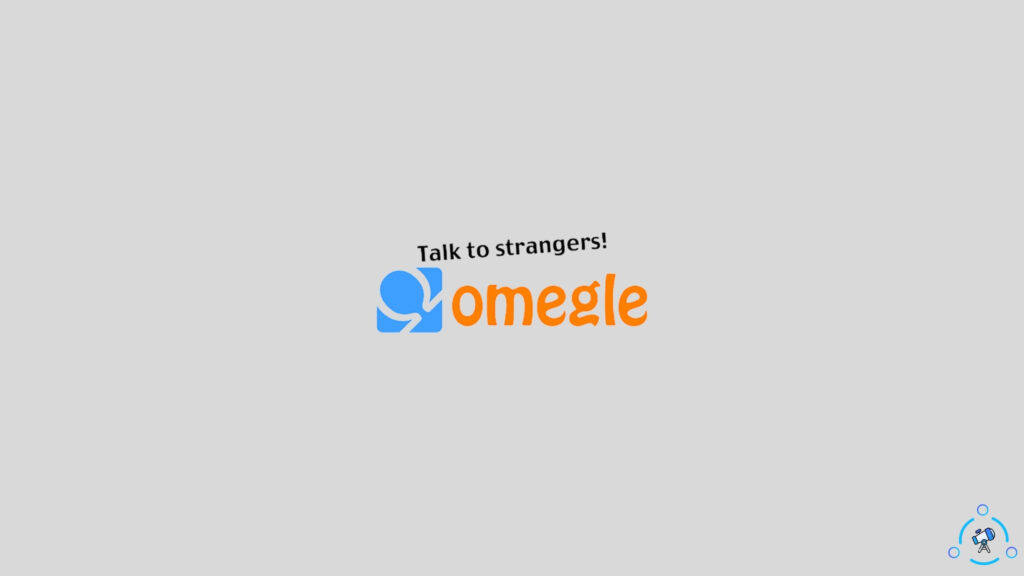 Causes of Omegle server connection error
Many people face this issue, and here are some of the most commonly encountered causes for the occurrence of this error in Omegle. Even if you don't know the reason, don't worry. I will help you find it below.
Your Internet Service Provider or ISP might have blocked Omegle in their network. Several ISPs have blocked Omegle recently, so there are chances for the same.
Unwanted cookies and cache files of Omegle
Omegle server related problem
PC configuration error
Fix Error Connecting to Server in Omegle
Depending on the underlying reason, there are different methods for fixing the issue. You may go through all the fixes mentioned below and execute them to quickly fix the server connection problem in Omegle.
Method 1: See if Omegle Server is Down
The very first thing that we need to make sure of is that there is no problem with Omegle servers. If Omegle servers are down, then there is nothing much we can do about it. You will have to wait till the server is back online.
Here's a quick method to see if Omegle servers are down.
First of all, go to Downdetector's page of Omegle.
As soon as you land on the webpage, it will tell you whether the Omegle server is down or not. See the graph and look for sudden spikes. If everything is normal and no server outages are reported, then there is no problem with the Omegle server.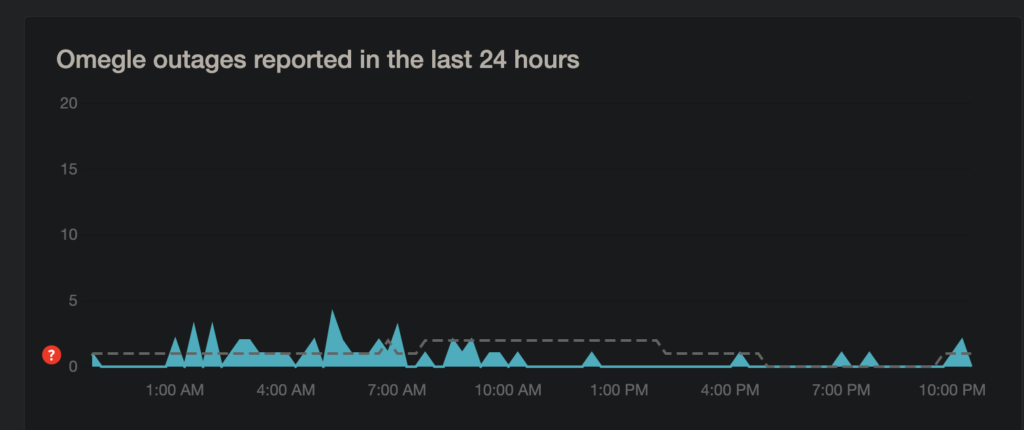 If you find many people have reported that Omegle servers are not online or working, then the problem might be with the Omegle server.
If the issue is with the Omegle server, wait until the team fixes the problem and brings the server back online.
Or, if there is no issue with Omegle servers, then follow the steps given below.
Method 2: Clear Browser Cache and Cookies
This is one of the basic troubleshooting that you need to do before moving to any other method. Sometimes cookies or cache files can cause issues like this. So, it is recommended that you clear Omegle cookies and caches before moving further.
Here's how to clear Omefle cache and cookies:
Visit Omegle.com and click on the padlock icon from the address bar.
From the menu that appears, click on Cookies.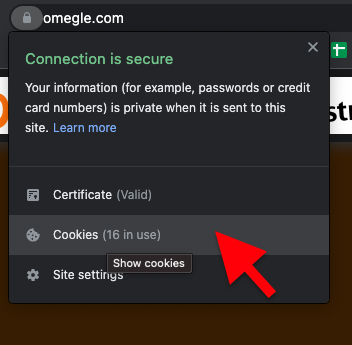 Here, you will find all the cookies in use by Omegle. Just click on the omegle.com cookie and click on the remove button. (Also, make sure that Omegle cookies are not blocked)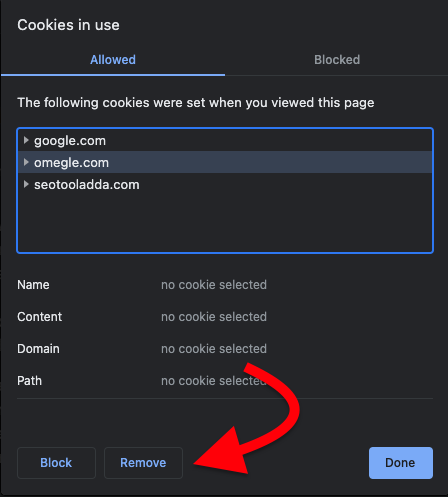 To clear Omegle cache, just open your browser history and click on the clear history option.
From the popup that appears, untick the first and second options (Browsing history, cookies, and other site data). Only tick the third option – Cached images and files.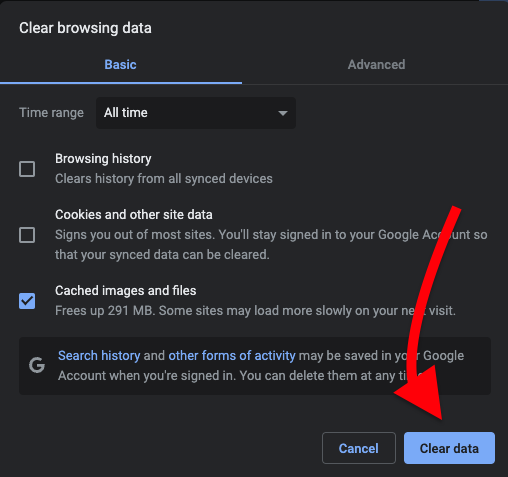 Click on the Clear data button and wait for a few seconds. It will clear the cache files, and now try to access Omegle and see it solves the issue.
Methods 3: Use a VPN
You might have heard about VPN and proxy websites a lot. A VPN is basically an app/extension that lets you access any blocked or geo-restricted websites and content in your region. For example, if a YouTube video is not available in your region, you can easily bypass it with the help of a VPN. Similarly, you even access any blocked websites as well.
If you are on Android, you can refer to this list of the best VPN apps for Android.
Below given are some popular VPN services to use to reaccess Omegle on your device.
Surfshark is one of the best VPN in the market that you can use to unblock Omegle to access it. I am using Surfshark as my default VPN, and it works great without any issue. Not just Omegle, it will help you unblock a lot of other websites as well.
Method 4: Flush DNS to access Omegle
Flushing the DNS and resetting it might help you fix server connection issues in Omegle. Depending on the operating system you're using, the method to flash the lens might differ a little bit. You need to run a few lines of commands in CMD or terminal to flush DNS.
If you are on Windows, open CMD or Command Prompt as admin and execute the below-given commands.
ipconfig /flushdns
ipconfig /registerdns
ipconfig /release
ipconfig /renew
netsh winsock reset
If you are on other operating systems like macOS or Linux then follow the guide on flushing DNS.
Method 5: Access Omegle with another device
To see this is a device-specific issue, we can try accessing Omegle with another device connected to the same or different network. For this, all you have to do is grab any other device like a smartphone, tablet, laptop, or even a smart TV (use a web browser if you are using Android TV). Open the web browser and go to omegle.com and see if it connects or not.
If the connection is established successfully, then that means something is wrong with your device. Sometimes, the firewall or antivirus might be blocking the site on your computer. If that is the case, open the firewall and add an exception for omegle.com.
If you cannot access omegle.com even on another device, then the issue has to be with your ISP or internet network.
Method 6: Use a different internet connection
Since it failed to open omegle.com on two devices connected to the same network, now let's try connecting with a different internet source. As mentioned earlier, the ISP might have blocked the site in your region. To see if this is the case, all you have to do is just connect your computer/smartphone to a different network source.
For example, if your device is connected to Wi-Fi, try connecting to mobile data or a different wifi network. This way, you will be able to tell if it is an issue with ISP or not. You can even use both wifi and mobile data simultaneously as well.
If connecting through a different internet connection solves the issue, then the problem is with your ISP. This means they might have blocked Omegle in their entire network or in your region.
But don't worry, there is a trick by which you can bypass this restriction and access Omegle.
Method 7: Restart modem/router
Sometimes restarting your modem or router might help you in fixing the issue. All you have to do is just turn off the modem or router for a minute or so and then turn it on again. If your ISP provides you with a dynamic IP address or Internet protocol, then a new one will be assigned to your modem/router after the restart. After the modem or router is turned on, try visiting Omegle again and see if you are able to access the website.
Method 8: Use an Omegle alternative
If you have tried all the methods mentioned above and still cannot access Omegle, then it is time to try out some Omegle alternatives. There is plenty of sites similar to Omegle, which you can use to video call or chat with random strangers on the Internet.
We have written a dedicated article on Omegle alternatives. So go check them out and find an excellent Omegle alternative to use right now.
What is Omegle?
Omegle is a website that you can use to talk with random strangers on the Internet. Omegle provides both video calling and text chat options. If you're feeling lonely or bored at home, then you may try using Omegle for a few minutes to talk to random people. Similar to Omegle, tons of apps will let you connect with random strangers on the Internet as well.
Fix Omegle Server Connection Issue
Omegle users face server issues quite often, and these are some methods that you can try to fix it right away. Since we are not sure about the underlying reason why it failed to connect to an Omegle server, you might have to try different methods to make it work again. Most of the time, using a VPN will solve the issue quickly.