Life360 notifications are extremely crucial as they let you know about important updates from your family members as instant push notifications. When Life360 stops sending you notifications, you must manually open the Life360 app every time to know what's going on.
Using the Life360 app without notifications is not as easy as you think. It is very annoying and not helpful at the same time.
There are several reasons why Life360 notifications are not working.
In this article, you will find why Life360 is not sending notifications and how to fix the same in less than five minutes.
Why Are Life360 Notifications Not Working?
There are several relations why Life360 is not sending you notifications.
Below are some of the possible reasons Life360 is not sending notifications.
Life360 App Notifications Turned Off
If notification access for Life360 or smart notifications in Life360 is disabled, the app won't be able to send you any notifications.
Background App Restrictions
Restricting the app's ability to run in the background may cause the app not to send any notifications. To solve the problem, you need to whitelist Life360 to allow running in the background.
Life360 Down
If the Life360 servers are down, the entire service will not work, including push notifications and smart notifications. If this is the case, there's nothing much you can do about it.
Internet Problems
An active and stable Internet connection is necessary for your phone to receive all the push notifications sent by Life360. If your phone is not connected to the Internet or is experiencing any problems, Life360 notifications may not work.
Outdated Life360 App
Older versions of the Life360 app may have bugs or technical glitches that may make it not send any notifications. You need to update the app right away to fix the problem.
Pending Software Update
The outdated operating system can also interfere with notifications. You must update your Android or iOS device to run the latest version.
How To Fix Life360 Notification Not Working?
It's incredibly frustrating to see Life360 notifications not working on your Android or iPhone.
Since we do not know the exact reason why Life360 is not sending notifications, you need to try all the troubleshooting steps below one by one.
Ensure Notification Access Is Enabled
The Life360 app needs notification permission on your phone to send push notifications. If the notifications are turned off, the app won't be able to send notifications about any updates.
Follow the steps below to ensure notification access is enabled for Life360 on your phone.
On iPhone:
Open Settings.
Scroll down and tap Life360.
Tap Notifications.
Ensure 'Allow notifications' option is enabled.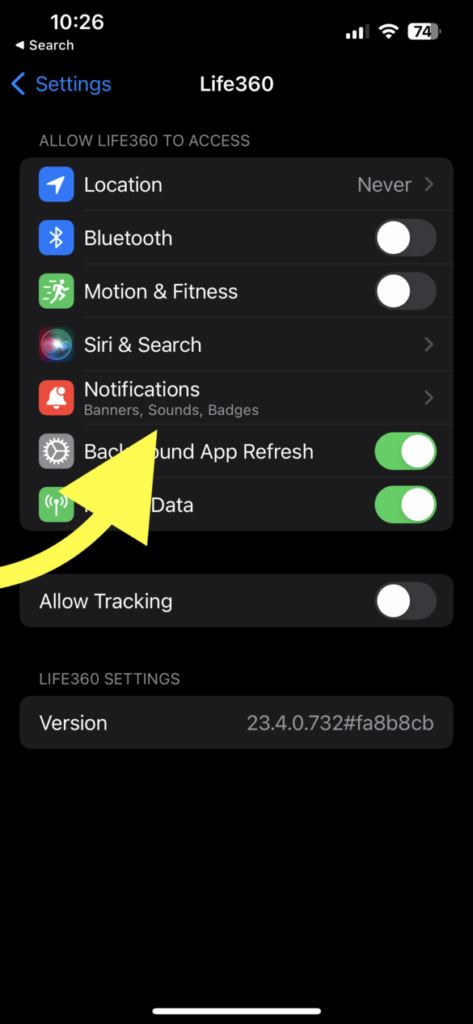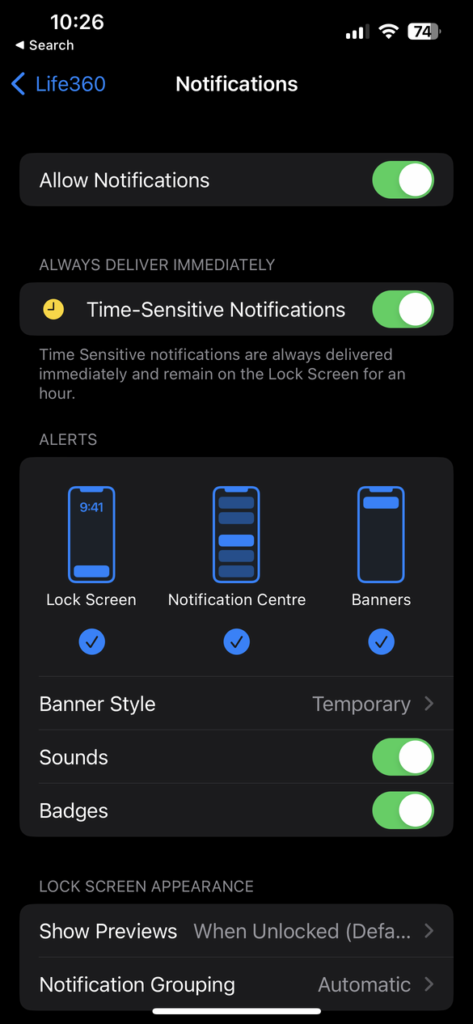 On Android:
Open Settings.
Tap Apps/Installed Apps/Managed Apps option.
Select Life360.
Tap Permissions
Select Notifications and ensure the permission is turned on.
Once the notifications access is enabled, restart the app and see if the notifications are working now.
Check If Life360 Is Down
At times, the Life360 server goes down. And when it happens, users cannot receive any notifications or see updates.
There have been many instances where the Life360 server went down for several hours. Sadly, there is nothing you can do in this situation.
You need to wait until Life360 fixes the issue that imparts their service. Once the service is restored, you will start to receive notifications again.
But how will you know if the Life360 server is down?
To know if Life360 servers are down, you have two options.
The first one is to visit the DownDetector page of Life360 and see if there are reports of Life360 outages in the past 24 hours.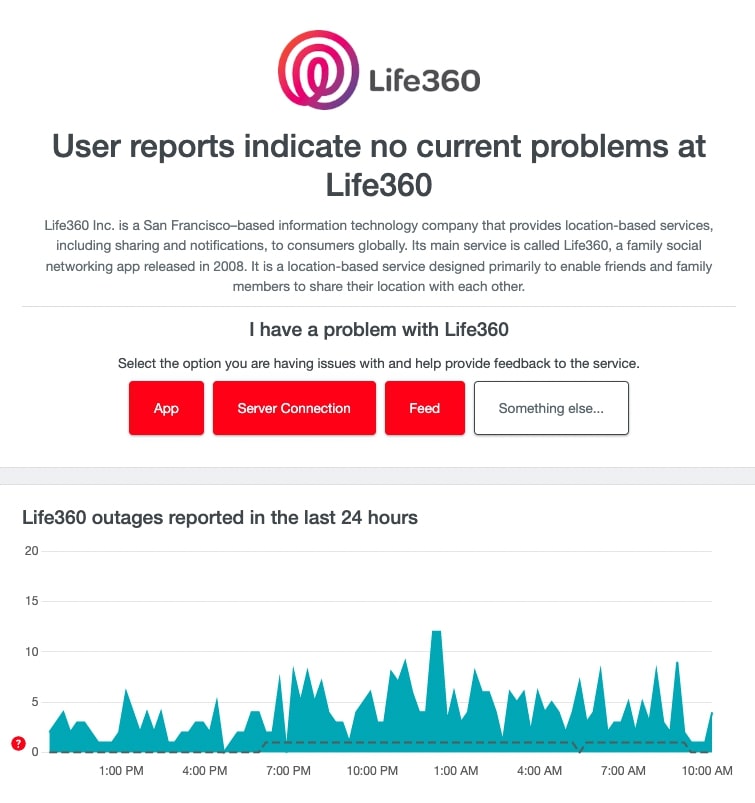 The second option is to visit the official Twitter handle of Life360 and see if they have officially reported any server downtime or service outages.
If there is any problem with Life360 server, you need to wait until it is fixed, or if everything looks good, follow the other steps below.
When the Life360 server is down, it may show last updated 2 hours ago or the ETA feature of Life360 won't work.
Remove Background App Restriction
Many people do not grant Life360 permission to run in the background. If the app and its services are not running in the background, it will fail to send any notifications.
Many enable battery saver or power saving mode, and it restricts background activity, causing certain apps not to send notifications.
To fix the problem, you need to either remove the background app restriction or turn off power saving mode.
If you really want to enable power saver mode but at the same time receive notifications from Life360 then you will need to go to power saver settings and whitelist Life360.
Similarly, if you force close or stop Life360, the app and its services won't work unless the app is opened again.
4. Update Life360
Updating Life360 is necessary to keep up with all the new features and bug fixes. If it's been a while since you updated the Life360 app, it may be one of the reasons why the notification is not working.
Even if automatic app updates are enabled, it will fail to update the same in certain cases.
Follow the steps below to update Life360 on your Android or iOS smartphone instantly.
On Android:
Open Google Play Store.
Search for Life360.
Select Life360.
See if an Update button is shown. If yes, tap it to update the app.
Wait until it is done and then open the app again.
On iOS:
Open App Store.
Tap your profile picture from the top right corner of the screen.
Scroll down and find UPCOMING AUTOMATIC UPDATES section.
See if Life360 is shown under the upcoming updates section. If yes, tap the Update button to continue.
Once updated, open the app and see if notifications work now.
5. Ensure Internet Is Working Fine
As you already know, the Internet is absolutely necessary for Life360 to work. If the WiFi network to which the smartphone is connected is experiencing some network issues or the mobile data is not working properly, notification issues as such may arise.
Firstly, you need to ensure the Internet is working correctly. You may try connecting other devices to the same WiFi network and see if it works properly. Open the web browser and visit a couple of websites and see if they load properly.
Also try performing a speed test to ensure you have enough speed for essential apps to work.
If you see no network or phone off error message, it means the phone currently does not have network access.
Try switching between mobile data and WiFi as well. If your phone is already connected to WiFi, then use mobile data and vice versa.
6. Restart Your Phone
Restarting the phone has helped many people to fix many inconsistencies and anomalies concerning many apps and the operating system.
People rarely restart or turn off their phone these days. Restarting your phone once in a while is actually considered beneficial.
Follow the steps below to restart your Android or iOS device to fix the problem.
Restart an iPhone:
Press and hold the power and either volume buttons for a few seconds
Drag the slide to turn off iPhone.
Hold the power button for a few seconds.
Restart an Android Phone:
Press and hold the power button a couple of seconds
Tap the Restart button
Wait for the phone to turn off and turn on again.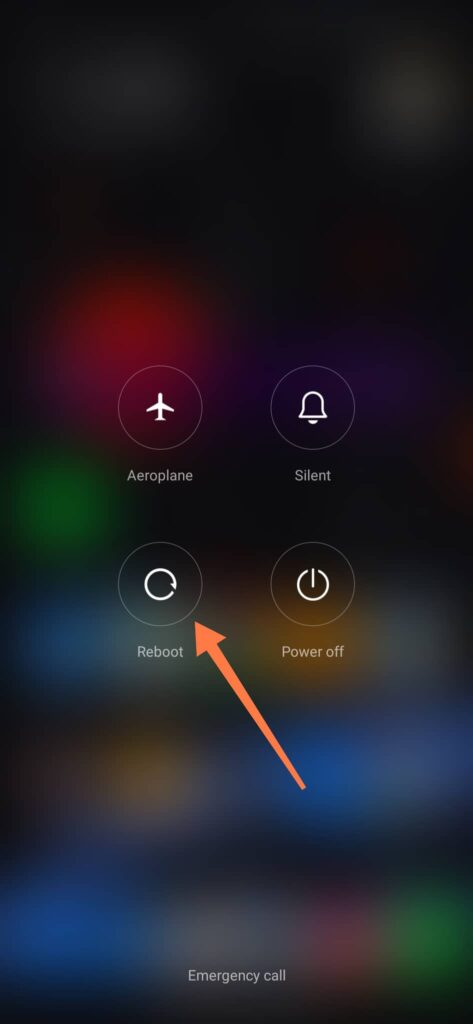 Once restarted, try using the Life360 app for a while and see if the notifications arrive on your phone.
7. Reinstall Life360
Certain issues won't go away even after you update or restart your phone, and in such cases, you need to uninstall and reinstall the application.
Reinstalling Life360 is pretty simple on Android and iOS.
So let's see how to reinstall Life360 on Android and iOS.
Reinstall Life360 on Android:
Long tap the Life360 app icon and drag it to the Uninstall option.
On the prompt that appeared, tap Yes.
Once uninstalled, open the Google Play Store.
Search for Life360.
Tap the Install button.
Wait for the installation.
Open the app and login to your Life360 account.
Reinstall Life360 on iOS:
Tap and hold the Life360 app icon.
Tap the Remove option.
Confirm it on the pop-up that appeared.
Open App Store
Search for Life360
Install the app
Once installed, log in to your Life360 account again.
If you delete Life360 from your phone, others in the circle will no longer get any location updates.
What's Next?
Once the problem is fixed, you will receive notifications from Life360 about all the updates.
You can update your notification preferences by visiting the Smart Notification settings inside the Life360 app.
The next time you notice Life360 is not sending you any notifications, start by updating the app, restarting the phone, checking the Life360 server, etc.
If you are curious more about Life360, see if Life360 can see your search history or what does the grey circle mean on Life360.