There are tons of useful bots for Discord and the MEE6 bot for Discord is one of them. MEE6 is different from many other bots for a variety of reasons. First of all, the most interesting thing is that MEE6 can replace a lot of other bots. It combines the functions of 3 or more bots to make things easier for you.
MEE6 bot is a hidden gem for all server admins as it will help you better manage the server. If you frequently use Discord and manages multiple servers on the platform then you should definitely try MEE6 Bot for Discord. There are a good number of MEE6 commands that you can use to easily manage the server. You can even assign custom commands for MEE6 as well.
In this article, you will find everything about the MEE6 bot including how to add MEE6 to your Discord server, how to set it up, its features, and finally, the full list of MEE6 commands to easily manage the server.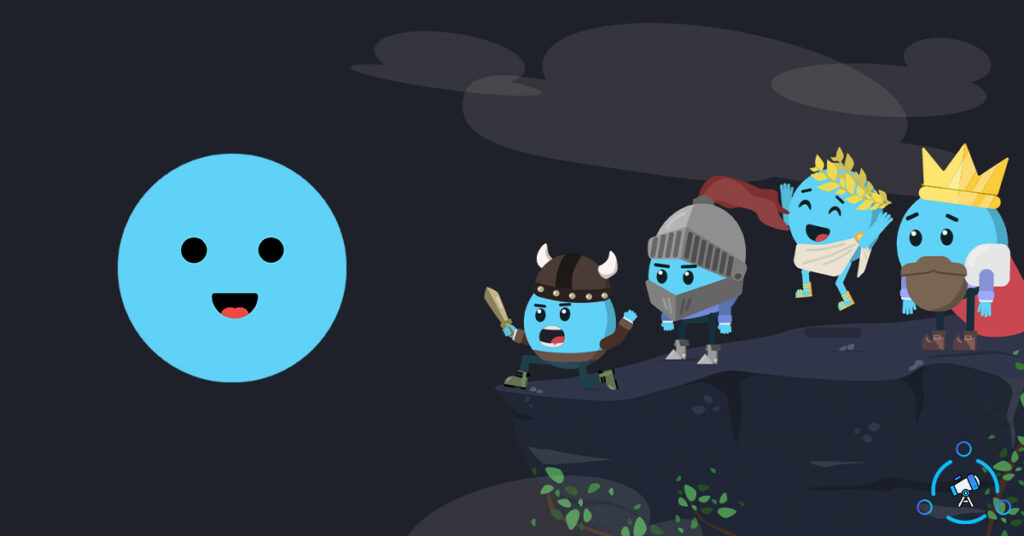 What is MEE6 Bot for Discord & it's Uses?
As mentioned earlier, MEE6 can be considered as an all-in-one bot for Discord. It combines the functions of a lot of bots. This way, you can reduce the number of bots you use on Discord. You can use MEE6 to say hi to new users on your Discord Server, create custom commands with the function of your choice, set up streaming, social media alerts, and more.
Apart from everything, MEE6 is the most powerful and best moderation bot for Discord with tons of features. MEE6 makes the life of admins easier by helping them in managing the server. No matter what rules and regulations you set on the server, there will be someone always to ruin the experience. If you find yourself in this kind of situation then MEE6 is there to help you.
At the time of writing this article, MEE6 is already active on more than 12 Million+ servers all around the globe.
If you are here for the MEE6 Commands List then Click Here to directly jump to the commands list.
Next, let's take a look at highlighted MEE6 Bot Features and what makes them different.
MEE6 Bot Features
Here are some features that make MEE6 one of the best bots available for Discord.
Say hi to the new users on your Discord server
The welcome message feature will let you automatically wish everyone who joins the server. You can set a custom message to be displayed while someone new joins the server. By default, it will be set as Hi. And the best part is that you can set and design your own custom welcome card.
Easily create your own custom commands
MEE6 is known for the ability to create custom commands to automate things. You can use this feature on the MEE6 bot to create commands to give or remove roles and send messages in the current channels or DM.
Give users the freedom to choose roles by reacting
MEE6 bot lets users of your server be pinged for new announcements, etc by clicking on the server's emoji icon.
Levels and XP in your Discord Server
The leveling system available on MEE6 lets you reward the most active members of the community. You can set up things like roles and rewards to be awarded to certain members who are the most active or completes a milestone.
Setup Streaming
MEE6 can automatically notify all your server members when you start streaming, upload new content or post new content to any of your social media platforms like YouTube, Twitch, etc.
Social Media Alerts
You can also set up social media/streaming alerts to notify users about your new upload on YouTube, live streaming on Twitch, or post alerts for Reddit or Twitter.
These are some of the notable features available on the MEE6 bot for Discord.
How to Add MEE6 to Discord?
Now that you know pretty much everything about MEE6 and its uses, let's see how to add MEE6 to your Discord server. It is a simple process, just follow the instructions given below and you are all good to go.
Step 1: Head over to the MEE6 homepage and click on the Add to Discord button.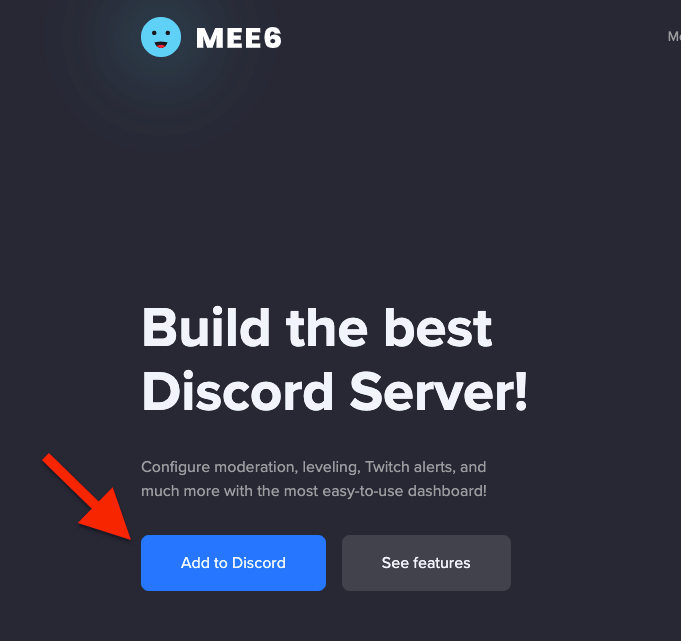 Step 2: Now a popup will appear asking you to authorize access to your Discord account. You can read about all the permissions that will be granted to MEE6 once you authorize MEE6 to access your account. Just click on the Authorize button.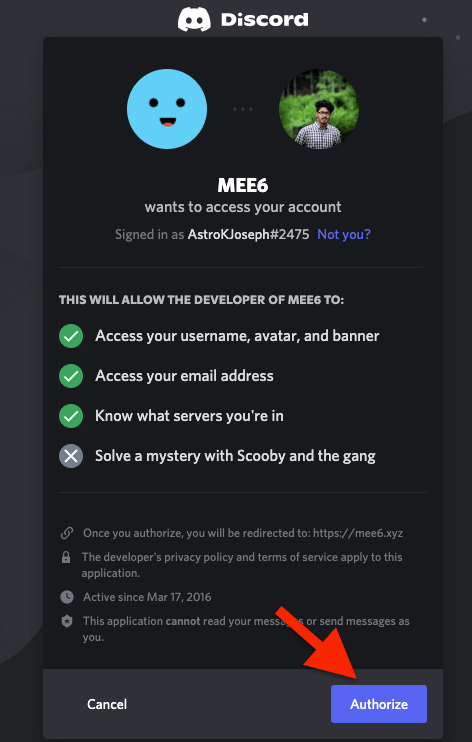 Step 3: Once authorized, you will be automatically logged in to MEE6 Dashbaord.
Now the list of servers you manage will appear. Just click on the Server on which you want to add MEE6. Click on the Set up MEE6 button next to the server name.

Step 4: Now a new popup will appear asking you to add MEE6 to your server. Just click on the Continue button.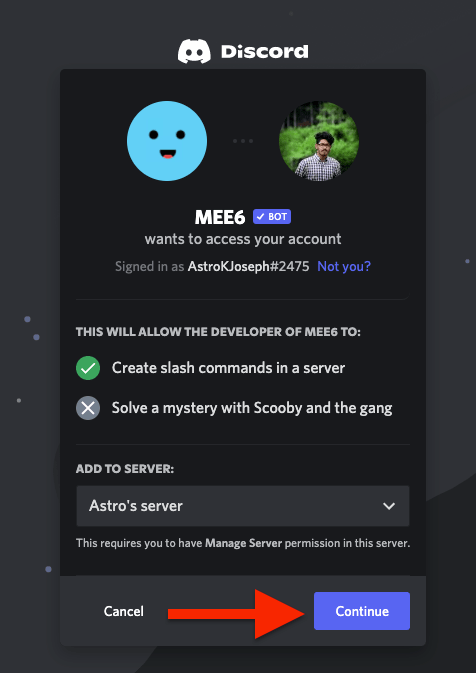 Step 5: A new pop will display the entire list of permission that will be granted to MEE6 on your server. Go through the list and finally click on the Authorize button.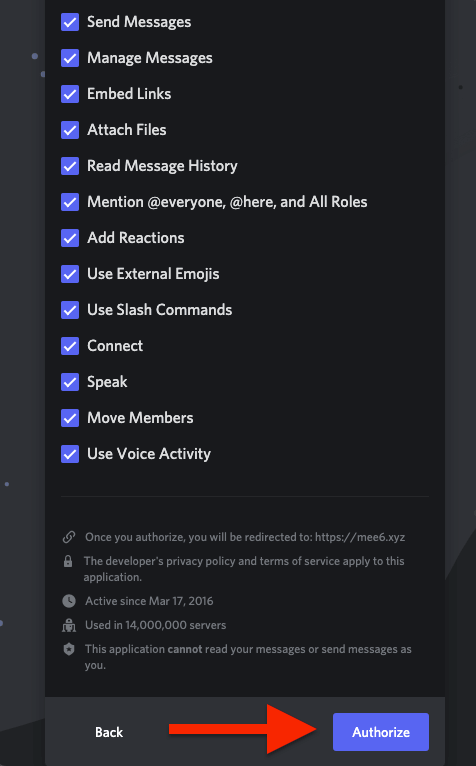 Verify the captcha to prove that you are not a robot and you have successfully added the MEE6 bot to your Discord server.
You will be taken to the MEE6 dashboard where you can set up and modify each and every action of the bot on your server.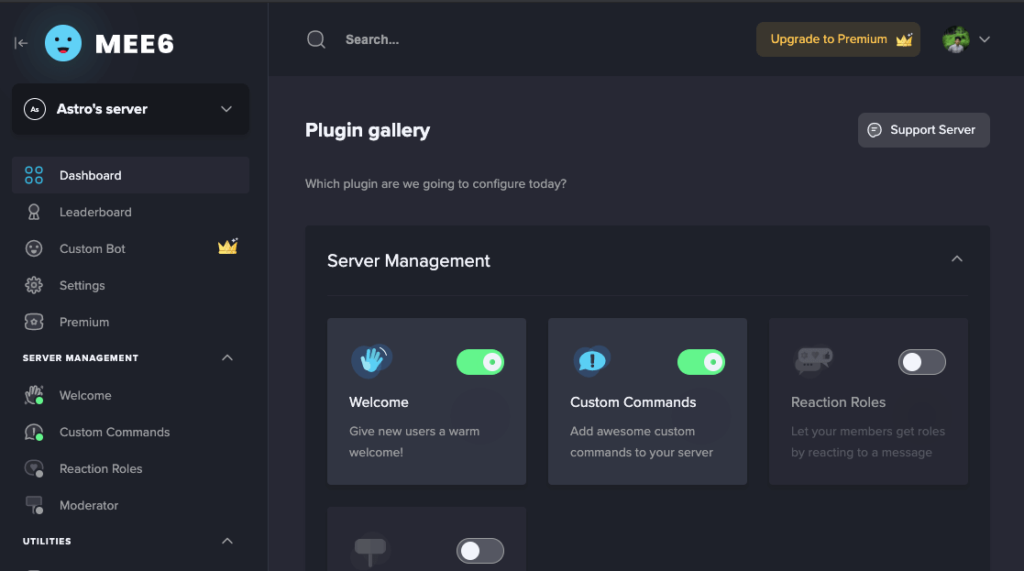 It might take some time for you to get used to the MEED6 dashboard as there are tons of different options and features to configure.
If you want to add more servers to the MEE6 dashboard, you can do it by clicking on the downward arrow next to the current server name and click on Add new server button.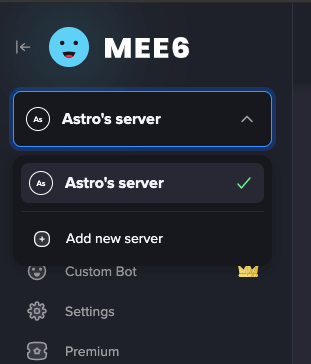 How to use MEE6 on Discord?
Now we have successfully set up and configured the MEE6 bot on our server. Now let us see how to trigger or access the MEE6 bot on our server.
In order to trigger the MEE6 bot, you have to use the prefix ! before the command. For example, to execute examplecommand, you have to type it as !examplecommand. MEE6 provides you with the option to set up custom commands of your choice. You can do it in the free version.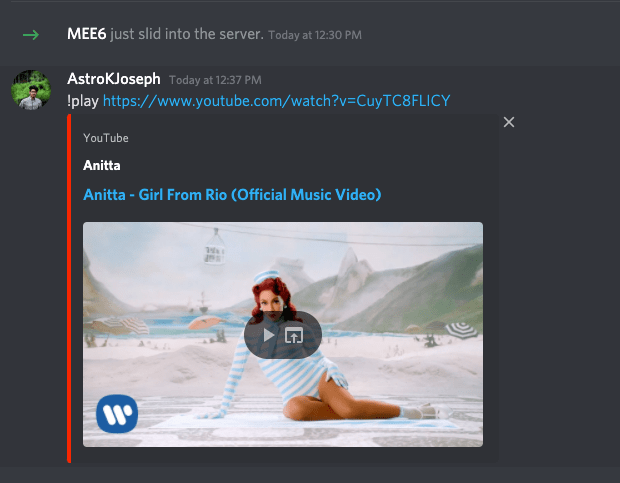 But if you want to change the prefix ! then you will have to subscribe to MEE6's premium plan. You can find more details about MEE6's premium plan at the bottom of the article.
Complete List of MEE6 Commands
Here's the ultimate list of all commands that you can use on MEE6. Knowing some basic MEE6 commands will come in handy at times when you want to do things like warn a user, ban a user, play music on the server, etc.
MEE6 Moderation Commands
These are the command used for user moderation on your server.
| Command | Action |
| --- | --- |
| !ban | Bans a user from the server |
| !tempban | Temporarily bans a user from the server |
| !clear | Delete a channel's messages |
| !infractions | Displays a user's infractions |
| !kick | Kicks a user from the server |
| !mute | Server-mutes a user |
| !tempmute | Temporarily server-mutes a user |
| !role-info | Get information about a particular role |
| !server-info | Get information about the current server |
| !slowmode | Enables or Disables slowmode in a channel |
| !unban | Unbans a user from the server |
| !unmute | Unmutes a user |
| !user-info | Get information about a particular user |
| !warn | Warns a user |
MEE6 Music Commands
Various music-related commands like adding new songs, seeking, skip, etc
| Command | Action |
| --- | --- |
| !play [URL] or [song name] | To start playing a song |
| !seek [position] | Seek through a music |
| !join | Add bot to a voice channel |
| !vote-skip | Create a vote to skip the song |
| !start-quiz | Start a music based quiz |
MEE6 Search Commands
Search various platforms for videos, streams, GIFs, etc
| Command | Action |
| --- | --- |
| !youtube [search] | Search a youtube video |
| !twitch [search]: | Search a twitch stream channel |
| !imgur [search] | Search a imgur meme |
| !urban [search] | Search a urban slang |
| !anime [search] | Search a kitsu for anime |
| !manga [search] | Search a kitsu for manga |
| !pokemon [search] | Search a pokeapi pokedex for pokemon |
If you are looking for the best music bot for Discord then make sure to check Rythm bot for Discord.
Create a Custom Command on MEE6
The above-mentioned commands are prebuilt commands that are already available on MEE6. If you wish to create your own set of commands, MEE6 provides an option for that as well.
Login to your MEE6 dashboard and select the server of choice
Under Server Management, click on Custom Commands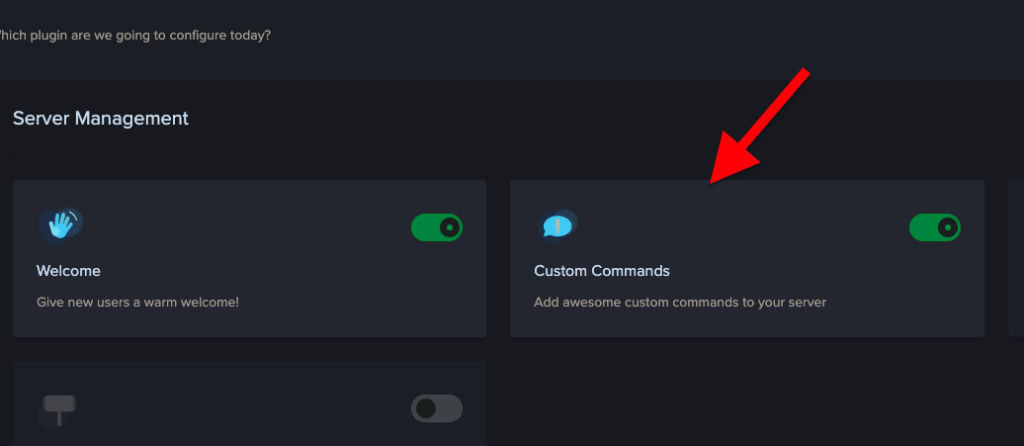 Click on New custom command + button

Configure the new command as per your requireements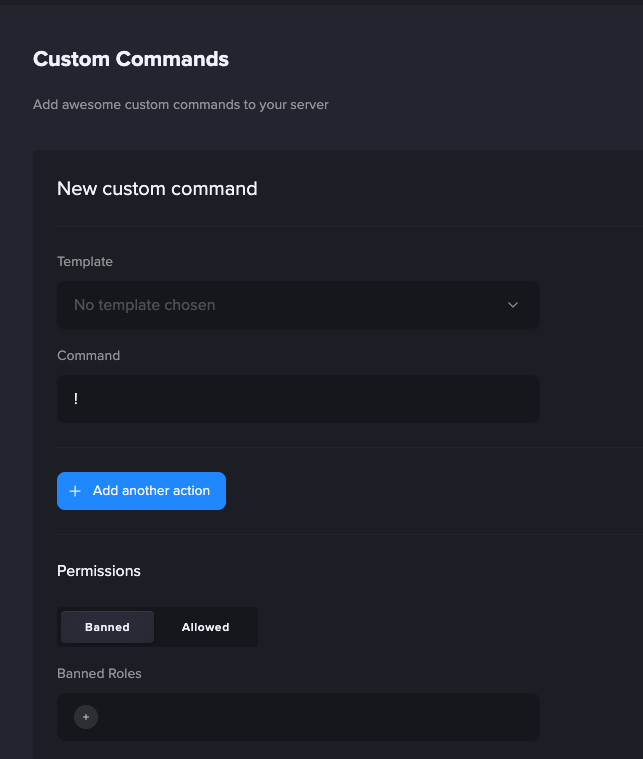 Finally click on the Create new command button to save the changes and enable it.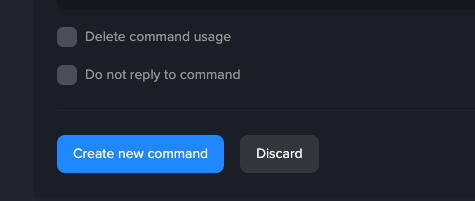 What's in MEE6 Premium?
If you are planning to upgrade to MEE6 Premium then here is the list of every options that are available on the Premium version along with their prices as well.
MEE6 Premium plans are as follows:
Lifetime plan – $89.90
1-year plan – $49.99/yearly
1-month plan – $11.95/monthly

The additional features you get with the premium plan are as follows:
Welcome images
Number of custom commands – 500
Advanced custom commands (give/remove role)
Number of embed messages – 100
Audit logging for all events
Advanced automatic moderation (server invites, external links)
Number of reaction role messages – 40
Maximum number of reaction on each reaction role message – 20
Role rewards based on XP
Adjustable XP rate
Give/remove XP commands
Number of economy boosts – 10
Customisable economy items
Give/remove coins commands
Editable counters channels names
Instagram, Reddit, Twitch, Twitter & YouTube counters
Number of channels to create temporary channels – 100
Advanced temporary channels options
Advanced temporary channels options
Twitch notifications
YouTube notifications
Twitter notifications
Reddit notifications
Music quiz – Unlimited
Recording – up to 6 hours
Max music queue size – 1000 tracks
Custom prefix
Leaderboard vanity URL
Leaderboard join button
These are all the additional benefits that you will enjoy by subscribing to MEE6 Premium.
Final Words
This is everything you need to know about the MEE6 bot for Discord. MEE6 is a super cool Discord bot that you should definitely add to your server to make things easy. Two powerful things that MEE6 offers are the moderation feature and the option to play music on your server. If you use MEE6 on your server then you are not required to use any other music bot for Discord.
The free version of MEE6 will be more than enough for almost all people out there. The premium version of MEE6 offers more enhanced features like the ability to change the command prefix, etc.